FISCAL 2017
GIZ'S BUSINESS VOLUME IN 2017 WAS SOME EUR 2.6 BILLION, AROUND SEVEN PER CENT HIGHER THAN IN THE PREVIOUS YEAR (2016: EUR 2.4 BILLION).
BUSINESS VOLUME IN 2017
About EUR 2.5 billion of the total business volume was generated by the public-benefit business area. The majority of our work in this area is commissioned by the German Federal Ministry for Economic Cooperation and Development (BMZ) and other German public sector clients.
Around EUR 88 million of the total business volume is attributable to GIZ's taxable business area, International Services, through which we are commissioned by international institutions such as the European Union, the United Nations, governments worldwide, businesses and private foundations.
BUSINESS VOLUME OF AROUND EUR 2.6 BILLION
MORE FUNDING ACQUIRED THROUGH COMPETITIONS
GIZ is increasingly acquiring funding through ideas competitions, in which it competes with public and public-benefit institutions. Examples of these include the BMZ special initiatives One World – No Hunger, Tackling the Root Causes of Displacement, Reintegrating Refugees, and Stability and Development in the MENA Region, which generated income of EUR 255 million in 2017. This type of special initiative is playing an increasingly important role for GIZ alongside budget items for official bilateral cooperation.
COFINANCING
GIZ's competitiveness and attractiveness as an implementing organisation is also reflected in the steady rise in cofinancing in recent years. This accounted for EUR 392 million of GIZ's income in 2017. Cofinancing is funding provided by third parties for measures carried out by GIZ on behalf of BMZ or other German public sector clients.
As cofinanciers, third parties can either finance a percentage of the total costs of the measure, or partially or fully finance a component of the measure. The European Union was the largest cofinancier in 2017 with around EUR 245 million, followed by the United Kingdom's DFID with EUR 34 million.
Annual Statement of Accounts 2017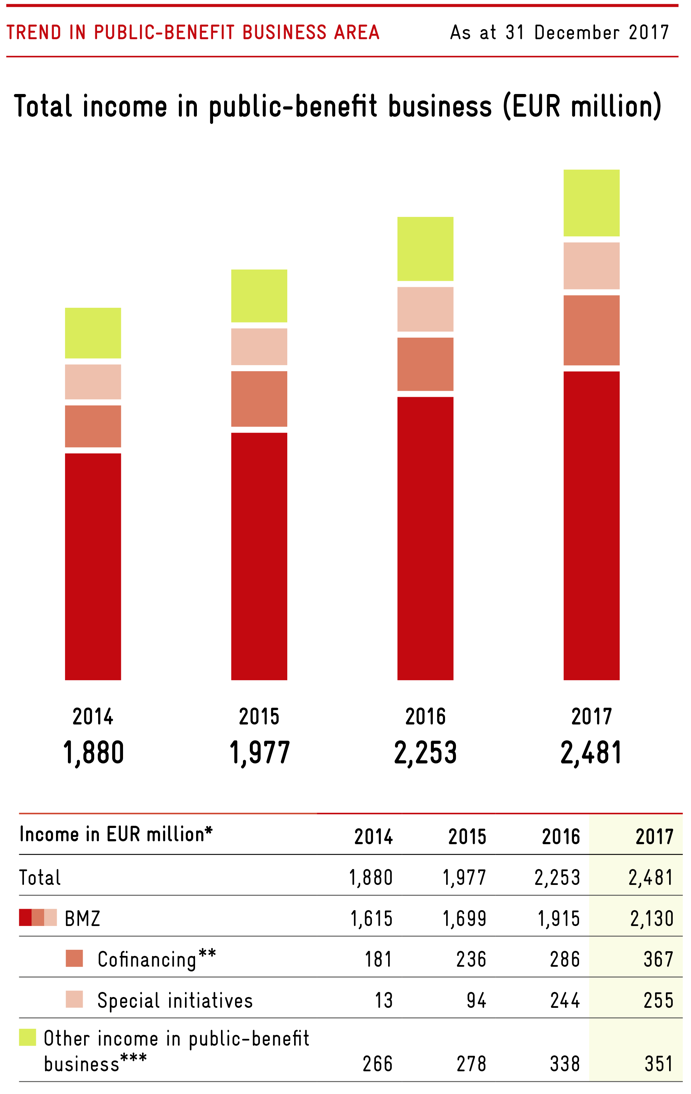 GERMAN PUBLIC SECTOR CLIENTS
As at 31 December 2017
| Income in EUR million* | 2016 | 2017 |
| --- | --- | --- |
| Federal Ministry for the Environment, Nature Conservation, Building and Nuclear Safety | 127 | 134 |
| Federal Foreign Office | 107 | 108 |
| Federal Ministry for Economic Affairs and Energy | 23 | 27 |
| Cofinancing ** | 30 | 25 |
| Federal Ministry of the Interior | 13 | 13 |
| Other federal ministries | 4 | 7 |
| EU twinning agreements*** | 6 | 7 |
| Federal Ministry of Food and Agriculture | 4 | 5 |
| Federal Ministry of Defence | 1 | 4 |
| Federal Ministry of Finance | 1 | 1 |
| Total | 315 | 330 |