Sustainable procurement at giz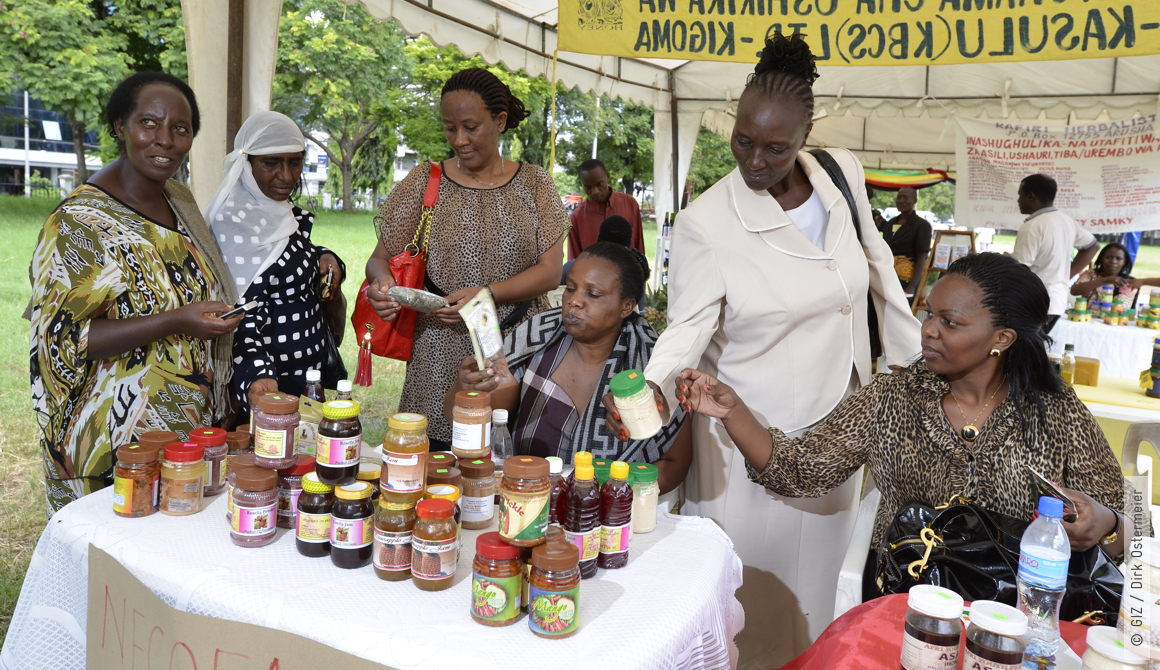 GERMAN PROCUREMENT LAW ENABLES US TO APPLY SOCIAL AND ENVIRONMENTAL CRITERIA WHEN USING PUBLIC FUNDS. MINDFUL OF THE OBJECTIVE OF COST-EFFECTIVE PROCUREMENT, WE ARE STRIVING TO TAKE GREATER ACCOUNT OF SOCIAL, ENVIRONMENTAL AND INNOVATIVE FACTORS WHEREVER POSSIBLE IN PROCUREMENT.
GIZ's Procurement and Contracting Division is responsible for the procurement of services, materials and equipment in line with the requirements of the relevant commission, in line with contract award legislation and cost effectively, and for making financing arrangements. As well as advising on and designing procurement processes, it organises training measures and develops policies, formats, and orientation and rules (O+R).
ENVIRONMENTAL CRITERIA PLAY A MAJOR ROLE
In doing so, the Procurement and Contracting Division continuously shares information and experiences with the Sustainability Office. For sustainability-related tenders and tenders for framework agreements in particular, we are currently developing a process that will require the mandatory involvement of the Sustainability Office ‒ and thus the environmental management officer.
This will ensure that relevant environmental criteria are taken into account in tenders for framework agreements. The agreed criteria – such as compliance with the Blue Angel eco-label or RAL standards, energy-saving mode and the disposal of packaging – will then be included in the respective agreement.
DEFINING ENVIRONMENTAL REQUIREMENTS
As part of its assessment of environmental aspects, the Procurement and Contracting Division also identifies other product groups and services that are of environmental relevance. In a second step, it can then assess whether GIZ can influence the establishment of sustainability criteria for service providers and their products and services.
We inform our key suppliers of our Environmental Statement and provide regular updates on our environmental activities to encourage them to step up their efforts to protect the environment and benefit from our experience.
In the tender documents for all key framework tenders, we advise potential participants
that we are EMAS-certified and
that, in the long term, we intend to purchase only goods and services, the entire life cycle and supply chain of which complies with the sustainability and social criteria applied by GIZ itself.
read more
read less
FOCUS ON SUSTAINABLE PROCUREMENT
Sustainability is a cross-cutting theme in our Corporate Strategy 2017‒2019. In the 'value for money' area of action, sustainability is addressed in the separate sub-item 'sustainable business practices'. GIZ places particular emphasis on sustainable procurement, and has set itself the target of ensuring that all procured equipment, materials and services satisfy the toughest sustainability criteria by 2020. In 2017, we therefore redefined the sustainability criteria we use for tenders of important framework agreements, such as IT hardware, canteens and travel agencies.
The most complex tender for GIZ is catering and company canteens. This is because service providers need to satisfy sustainability requirements in relation to their own corporate responsibility as well as taking into account a variety of products. These must not only be produced on a fair and environmentally friendly basis, but also meet other requirements, such as providing a balanced diet and being allergen-free.
Numerous aspects of sustainability were considered when awarding the canteen contracts for Bonn and Eschborn in 2017. Environmental criteria played an important role in various aspects of the tender. Tea and coffee are sourced from fair trade suppliers. The ingredients for meals are purchased seasonally, with a high proportion of organic and regional produce, and fish must be MSC or ASC-certified. In addition to the salad bar, at least one wholesome vegetarian or vegan meal must be offered in each canteen. Bakery products must be organic, and snack machines must also offer fair and organic products as well as fruit. The use of disposable packaging and cups must be avoided.
read more
read less
INSISTING ON LOCAL PRODUCTS WORLDWIDE
To ensure that procurement in GIZ's international offices is also made sustainable, depending on the specific conditions in each country, in 2017 new tenders were issued for printed materials, hotel services and IT equipment in conformance with binding environmental and social criteria, initially with India as the pilot country. The findings of this pilot scheme will be incorporated into plans to provide further support in the area of sustainable procurement for GIZ's country offices through, for example, training.
As part of the Corporate Sustainability Handprint® (CSH) process, many GIZ country offices have begun placing greater emphasis on local produce. In the GIZ office in Rwanda, for example, most of the office furniture is produced locally. However, due to increasingly globalised value chains and the special nature of GIZ's work, which often requires specialised goods for project implementation that are not available locally, procurement of local products is still not a priority. No records are currently kept of the proportion of good procured locally. And because there is currently no systematic screening, the extent to which suppliers and service providers meet environmental criteria cannot be calculated as a percentage.
FURTHER INFORMATION
New procurement criteria at GIZ´s country office in Armenia: Leaving a positive handprint
The Sustainability Programme as the principal guideline and management instrument for the work of the Sustainability Office: Sustainability programme 2016-2020