FIGHTING CORRUPTION FROM WITHIN
MANY PEOPLE WITH SPECIALIST KNOWLEDGE HAVE LEFT AFGHANISTAN, WHICH POSES A REAL PROBLEM WHEN FUNCTIONING STRUCTURES NEED TO BE REBUILT. INTERNATIONAL EXPERTS ARE LENDING A HAND.
Properly functioning ministries and government agencies are the foundation of any state. In Afghanistan, however, there is a shortage of experts available to improve administrative structures and access to state services. Many people with specialist knowledge have left the country. The Afghan Government is receiving support in this regard on behalf of the German Federal Foreign Office. International experts are placed with employers via the Centre for International Migration and Development (CIM), which is run jointly by GIZ and the German Federal Employment Agency. They work for a limited period of time in key positions, directly employed in authorities and organisations in the cooperation country.
GERMAN-AFGHAN EXPERT WORKS AS SPECIALIST IN KABUL
The Afghan Anti-Corruption Committee was instituted in 2011 to monitor and enhance the anti-corruption efforts undertaken by the government and the international community in Afghanistan. CIM has placed an integrated expert with the Committee: Cheirollah Sarag, a German-Afghan political scientist. As an advisor on monitoring and evaluation he has developed a monitoring tool that lists all anti-corruption measures and can be used to produce reports and statistics.
Recording this data is essential for making efficient use of the authority's limited resources and planning future projects. In his special role as an international expert employed in-house, Sarag was also able to drive investigations into a scandal at Kabul Bank which involved the granting of dodgy loans amounting to USD 935 million, mainly to influential shareholders and staff at the bank.
Capacity development in ministries and administrative systems
SECURITY AND STABILISATION: DELIVERING RESULTS AT ALL LEVELS
GLOBAL IMPACT
90 MILLION PEOPLE WORLDWIDE HAVE BENEFITED FROM STATE SERVICES.*
REGIONAL IMPACT
IN EUROPE AND CENTRAL ASIA ALONE, MORE THAN 33 MILLION PEOPLE HAVE GAINED ACCESS TO STATE SERVICES.*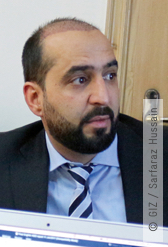 LOCAL IMPACT
'THE EXPERTISE PROVIDED BY INTEGRATED EXPERTS IS HIGHLY VALUABLE TO US IN THE PRACTICAL FIGHT AGAINST CORRUPTION. TOGETHER WITH THE INTERNATIONAL EXPERTS WE HAVE MANAGED TO GET GOVERNMENT INSTITUTIONS, CIVIL SOCIETY AND INTERNATIONAL ACTORS AROUND THE TABLE AND MAKE AN OFFICIAL FORM OF COOPERATION OUT OF THIS.'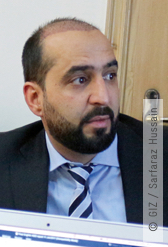 * These results were achieved thanks to the contribution of GIZ and its commissioning parties and partners. Survey period: 2010 – 2015.