Our commitment to human rights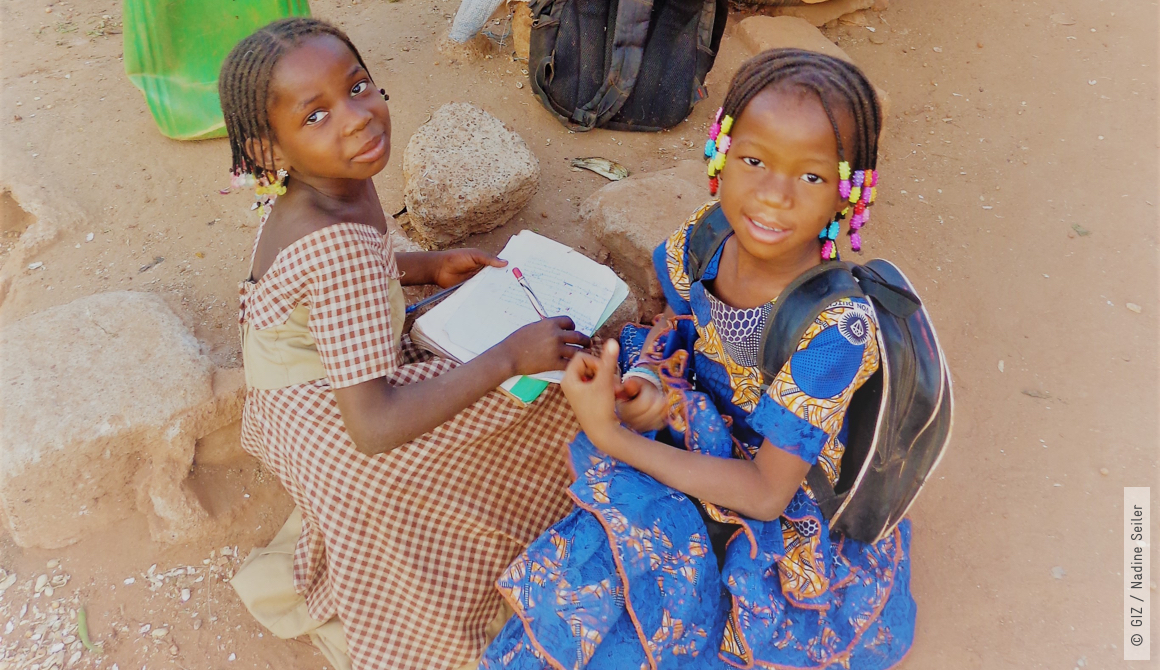 GIZ'S COMMITMENT TO HUMAN RIGHTS HAS BEEN ANCHORED IN THE GIZ ORIENTATION ON HUMAN RIGHTS SINCE 2012. PROMOTING RESPECT FOR AND THE FULFILMENT OF HUMAN RIGHTS IS PART OF OUR UNDERSTANDING OF SUSTAINABILITY AND A KEY COMPONENT OF OUR CORPORATE VALUES. WE ARE INCREASINGLY WORKING IN COUNTRIES THAT – DUE TO VIOLENT CONFLICT, FRAGILE STATE STRUCTURES OR DIFFICULT HUMAN RIGHTS SITUATIONS – PROVIDE PARTICULARLY CHALLENGING ENVIRONMENTS FOR OUR WORK. WE CAREFULLY MONITOR THE IMPACT OF OUR WORK, TAKE OUR RESPONSIBILITY FOR HUMAN RIGHTS SERIOUSLY AND TAKE ACTION TO COUNTERACT ANY NEGATIVE EFFECTS.
As a service provider in the field of international cooperation for sustainable development, GIZ supports its partners worldwide in their efforts to strengthen human rights. On behalf of the German Government and other commissioning parties, we implement projects that aim to improve the human rights situation and strengthen the political, economic and social participation of people in regions around the world.
In doing so, we support government and civil society institutions and organisations that are tasked to protect and promote human rights. We also provide training for relevant actors in individual sectors of international cooperation, such as sustainable economic development or peace-building, with a view to enabling the realisation of human rights.
In line with the human rights-based approach, we strengthen state actors' capacities to respect, protect and fulfil rights. We support civil society organisations in knowing and asserting their rights.
We use the following documents as a frame of reference for aligning our projects with international human rights standards and principles:
Key United Nations human rights treaties
Regional human rights conventions
This international legal framework is also used as a frame of reference for implementation of the 2030 Agenda, the global framework for sustainable and inclusive development.
SAFEGUARDS+GENDER MANAGEMENT SYSTEM
Since December 2016, the Safeguards+Gender Management System has been implemented in GIZ's project business. This enables us to realise even more systematically our objective of ensuring that our actions 'do no harm', and to better comply with existing standards.
The Safeguards+Gender Management System was used for the first time in 2017. Safeguards are measures that prevent our projects from having unintended negative effects on people or the environment, and that protect against the risks of climate change. Mandatory checks are carried out for the areas of human rights, conflict and context sensitivity, gender equality, environment, climate change mitigation and climate change adaptation.
As part of the Safeguards+Gender Management System, all projects in the planning phase are assessed for possible unintended negative effects.
This is done using a standardised review procedure and with the involvement of a central Safeguards+Gender Desk staffed with relevant experts. If possible negative effects are identified, the necessary measures to avoid or minimise these effects are developed and integrated into the project design. During project implementation, the effectiveness of safeguards is monitored and adjusted where necessary.
The Safeguards+Gender Management System also ensures that gender equality is taken into account even more rigorously in project planning, implementation and monitoring.
read more
read less
As part of the Safeguards+Gender Management System, a total of 223 assessments of projects to be implemented by GIZ worldwide were carried out in the 2017 reporting period and reviewed by the Safeguards+Gender Desk. These assessments all analysed the human rights context of the respective projects and the resulting implications for project design. A further 109 in-depth human rights assessments were carried out in addition to these. These examined in greater detail the human rights contexts of the projects and possible unintended negative effects, and formulated appropriate measures to avoid or mitigate these effects.
Through our complaints mechanism, we immediately and judiciously follow up on any information indicating that our actions may be having a negative effect on human rights. The complaints mechanism can be accessed worldwide at: humanrights@giz.de
BMZ STRATEGY PAPER AS A GUIDELINE FOR OUR WORK
Above and beyond the Safeguards+Gender Management System, BMZ's 2011 Strategy Paper on Human Rights in German Development Policy serves as a development policy guideline for the projects we plan on behalf of BMZ.
TRAINING FOR OUR STAFF MEMBERS
GIZ presents the human rights-based approach and its own standards and procedures for human rights in various training courses. In the 2017 reporting period, a total of 1,198 employees (seconded field staff and staff in Germany, development workers and integrated experts) took part in mandatory monthly induction events that include a two-hour module on key topics related to sustainable development and the 2030 Agenda. This module covers, among other things, GIZ's orientation on human rights, the human rights complaints mechanism and the Safeguards+Gender Management System.
The majority of GIZ's staff are national personnel working in the field. The country offices are responsible for planning and managing induction events and training courses for national personnel. No data on this topic is collected or collated centrally.
read more
read less
In 2017, a total of 177 staff took part in full-day training sessions on the Safeguards+Gender Management System, and on the importance and requirements of safeguards for human rights and conflict and context sensitivity. Most of these participants play an important role as multipliers within the company.
In addition to these standardised training courses, GIZ has also developed online consultations and various information events on the Safeguards+Gender Management System, including safeguards for human rights. Hundreds of staff members, including staff working in projects in partner countries, have benefited from these measures.
The Academy for International Cooperation offers various digital and classroom-based courses both in and outside Germany on topics and quality standards relevant to the company as a whole. The courses on projects in fragile contexts, the Safeguards+Gender Management System, and displacement and migration all cover human rights issues. In 2017, these accounted for 157 participant days for staff in Germany and 32 participant days for national personnel and field staff.
FURTHER INFORMATION:
Our work is supposed to change social and instutional frameworks to let humans achieve their rights and dignity: Human rights: GIZ as a responsible company
We train our staff regularly GIZ as an employer: Increasing employability
The Sustainability Programme as the principal guideline and management instrument for the work of the Sustainability Office: Our sustainability programme 2016-2020