NIGER: STRENGTHENING COMMUNITIES ALONG TRANSIT ROUTES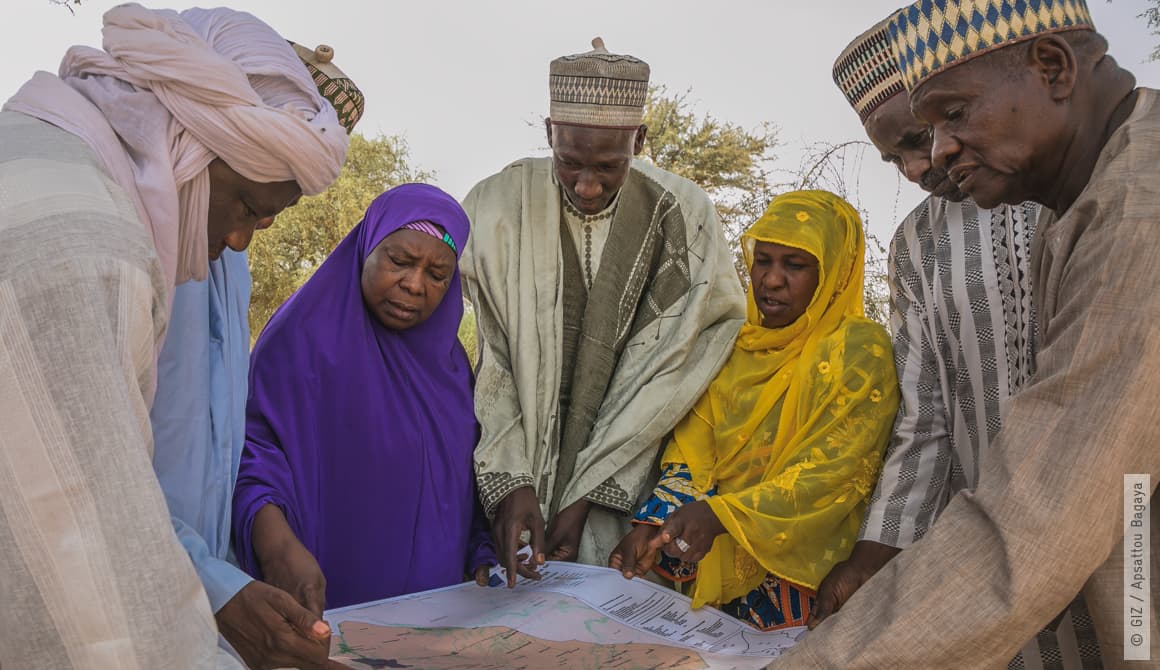 FLOWS OF PEOPLE ALONG THE MIGRATION ROUTES ARE PLACING AN ENORMOUS STRAIN ON COMMUNITIES. IN 20 PROJECTS, GIZ EXPERTS ARE ASSISTING PARTICULARLY AFFECTED REGIONS, FOR EXAMPLE IN NIGER. BASIC ESSENTIALS – SUCH AS WATER, FOOD, HEALTH CENTRES AND SANITATION FACILITIES – ARE MOSTLY LACKING.
Niger is a transit country. Every year, tens of thousands of people pass through here on the way to North Africa or Europe. Many Nigeriens, too, hope to earn money abroad and generate sufficient income to live on, mainly in neighbouring countries in the region. Almost half of the population of Niger lives below the poverty line.
ENORMOUS STRAIN ON COMMUNITIES ALONG THE TRANSIT ROUTES
These large-scale flows of people to, through and away from the towns and villages along the migration routes are an enormous strain on the communities there: they need more water and food, larger health centres and maternity wards, and new schools and sanitation facilities. Social cohesion is also under threat. How, though, can demand on the ground be accurately assessed? On behalf of BMZ and cofinanced by the EU Emergency Trust Fund for Africa (EUTF), GIZ experts are now assisting affected communes and regions in their efforts to expand basic services to match needs.
As part of this process, 17 communes and three regions have set up local advisory committees. GIZ is helping their 200 or so members – who include mayors, councillors and representatives of local authorities, central government and civil society – to gather and evaluate information about the current situation and to draw up appropriate development measures. The communes have already selected around 20 projects, such as the building of health centres, classrooms, wells and latrines, which are now being implemented with GIZ support. This process encourages dialogue between the government and communes so that local experience can be incorporated into national policy.
Supporting communities and regions in managing the challenges of migration
'BEING ABLE TO RESPOND QUICKLY TO EMERGENCIES'
Interview with Ulrike Maenner, Director of the Western Africa 1 Division at GIZ
INTERVIEW
Altogether, the EU Emergency Trust Fund for Africa (EUTF) cofinances ten projects – nine on behalf of BMZ and one on behalf of the German Federal Foreign Office. What is special about the Fund?
ULRIKE MAENNER The Fund is a new instrument. It was launched in 2015 with two main strands: enabling the EU to respond to emergencies more quickly with 'European solutions', while also addressing underlying causes of migration and displacement in Africa. Cooperation with EUTF requires great flexibility and innovation on the part of all EU states and their implementing organisations, because it is often a matter of achieving results for the affected population within a very short space of time.
What are the priorities for these projects?
One of the areas they focus on is employment promotion and vocational training as drivers of economic development, for instance in Cameroon and Sudan. Promoting micro, small and medium-sized enterprises is also part of this. The other focus is on migration and its consequences, such as in Niger and Burkina Faso or in the Horn of Africa, where the aim is to protect refugees, prevent conflict and promote the rule of law in general. Resilience is another important theme, in other words enhancing countries' ability to cope with difficulties – such as improving food security in Chad.
Do the projects have a common goal?
First and foremost, each project has its own specific objectives, of course, but in principle it is all about stabilising the region and bringing tangible improvements to everyone's lives – whether local people, migrants or refugees.
Read interview
Close interview