STAFF COMMITMENT TO SUSTAINABILITY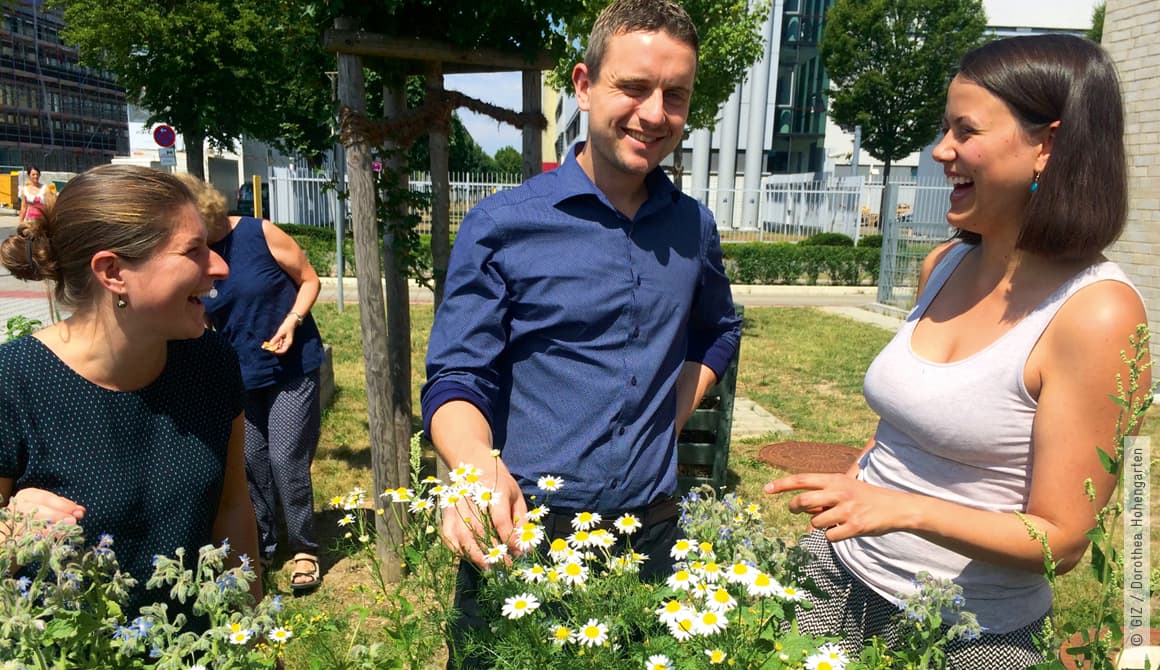 SUSTAINABILITY IS UP TO EACH AND EVERY ONE OF US. IT IS FOUNDED ON A CLEAR DECISION ON HOW WE CAN MAKE OUR COMPANY EVEN MORE SUSTAINABLE AND WHAT WE AS INDIVIDUALS CAN CONTRIBUTE TOWARDS IT EVERY DAY. PROMOTING EMPLOYEE COMMITMENT IN THIS WAY IS PART OF OUR SUSTAINABILITY STRATEGY. IT TURNS GOOD IDEAS INTO SPECIFIC CONTRIBUTIONS TO GREATER SUSTAINABILITY.
BYE-BYE, PAPER CUPS!
In 2016, a total of 261,500 paper cups, around 100 per person, were used in Eschborn and Bonn by people getting their daily caffeine hit. This isn't just a vast amount of waste, the volume of water needed to produce the paper cups is also huge – a massive 130,000 litres. This doesn't fit in with our corporate philosophy on sustainability.
Our Berlin Representation has been setting a good example for years. Coffee there has always been served in porcelain mugs, nothing else. Since mid-2017, this has also been the case in Eschborn and Bonn: a small but important contribution to corporate sustainability.
RECYCLING SYSTEM FOR PLASTIC AND E-WASTE
There are no waste disposal services in Burundi. Most offices and private households burn their waste themselves. As a result, pollutants contaminate the soil and toxic gases are a danger to health. This has led the GIZ office in Burundi to set up its own recycling system.
Plastic waste and e-waste – including from employees' private households – is collected at a central point and 'donated' to local recycling enterprises. This not only supports these businesses, it also protects the environment, improves health and safety at work and has generally increased environmental awareness in everyday life.
GARDENING ON YOUR LUNCH BREAK
In the Meander Garden in Bonn about 50 members of staff are investigating how to garden sustainably using simple means. Every Thursday during their lunch break they get together to hoe, weed and water, and arrange a garden picnic to go with it.
The communal garden was created in 2016 on the south side of the Meander Building, which was constructed in line with the latest environmental standards. The operation of the building is carbon-neutral, groundwater is used for heating and cooling, and solar panels on the roof generate electricity. Now this sustainable structure has been enhanced with 32 raised beds featuring organically grown fruit and vegetables.
SUSTAINABLE IDEAS FOR THE CAPITAL
As a private individual, how can I save energy or choose a green investment for my money? These are some of the questions covered by the 'environment heroes' at the GIZ Berlin Representation.
They email their colleagues circulars full of environmental and sustainability tips, and also organise their own campaigns, for example during the German Sustainability Action Days. These deal with topics such as sustainable consumption and green and healthy mobility by bike.