JORDAN: MONEY FROM YOUR MOBILE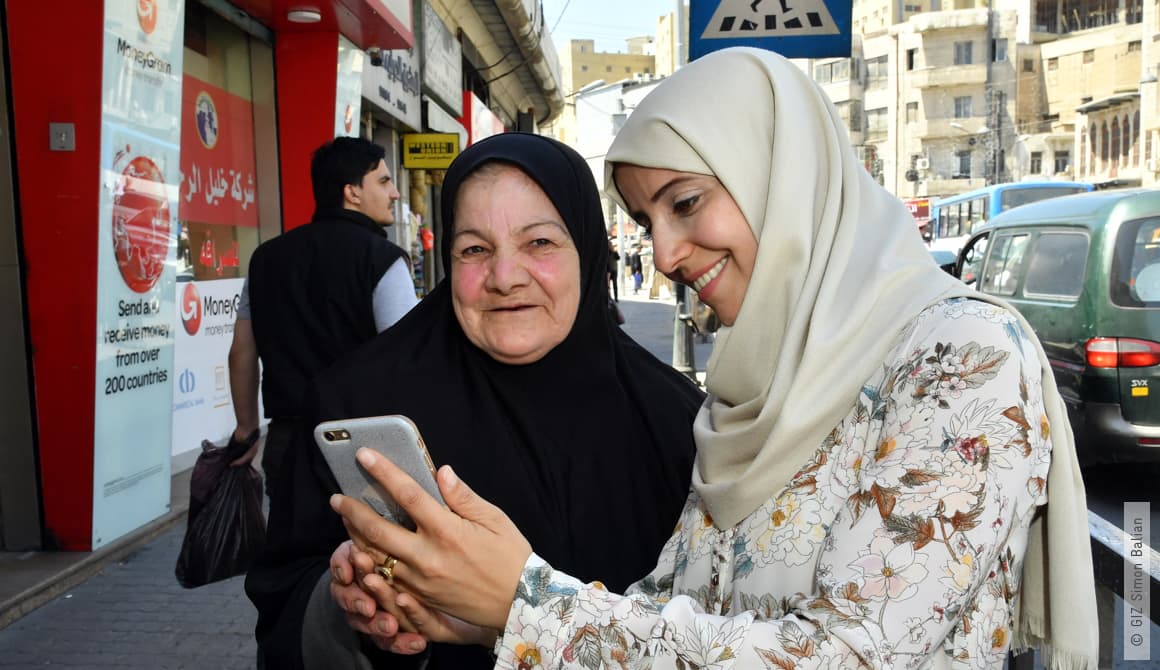 IN JORDAN, ALMOST 70 PER CENT OF THE POPULATION HAVE NO ACCESS TO FINANCIAL SERVICES. THE SOLUTION: MANAGING MONEY VIA AN APP.
In Jordan, only the wealthy have a bank account. 69 per cent of Jordanian adults – in low-income households, and especially women – have no access to financial services from banks. At the same time, private remittances from family and friends abroad are a significant economic factor in the country. This private financial support is also extremely important for the more than one million refugees living in Jordan who are unable to open a bank account. This leads to money being sent via risky, informal channels or using costly money transfer service providers, and being paid out in cash.
MONEY IS SENT, RECEIVED AND KEPT SECURE USING AN APP
Together with the Central Bank of Jordan and the private sector, a GIZ team working on behalf of BMZ is developing a digital solution to this problem. The idea was to turn mobile phones into a wallet. Now people can use an app on their phone to send and receive money within the country and keep it secure in a digital safety deposit box. Information campaigns and special training courses teach local residents and refugees, and above all women, how to use the digital financial services.
Some 60,000 Jordanian users and 4,000 refugees have already opened their own phone-based account. The plan is for international money transfers to be available soon as well. To make this dream a reality, the project team is advising the Central Bank on developing regulatory and supervisory mechanisms that meet international standards on consumer protection, anti-money laundering and anti-terrorism financing.
Money transfers without borders
DISPLACEMENT AND MIGRATION:
DELIVERING RESULTS AT ALL LEVELS
GLOBAL IMPACT
4.4 MILLION FORCIBLY DISPLACED PEOPLE AROUND THE WORLD HAVE BEEN REACHED.*
REGIONAL IMPACT
OF THESE, 2.2 MILLION WERE IN THE MIDDLE EAST AND THE MAGHREB. MORE THAN HALF OF THEM WERE WOMEN.*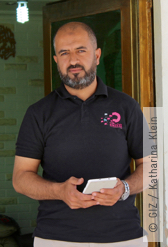 LOCAL IMPACT
'ONLY A YEAR AGO I STILL HAD TO CLOSE MY BARBERSHOP FOR SEVERAL HOURS TO PAY MY BILLS IN CASH AT VARIOUS PLACES AROUND TOWN. THANKS TO THE APP, I NOW DON'T LOSE THIS TIME. I THINK IT'S GREAT, AND TELL ALL MY CUSTOMERS ABOUT IT WHILE I'M CUTTING THEIR HAIR OR GIVING THEM A SHAVE. I'VE ALREADY OPENED AN ACCOUNT FOR 300 PEOPLE IN MY NEIGHBOURHOOD. MY OLDEST CUSTOMER IS 73 YEARS OLD.'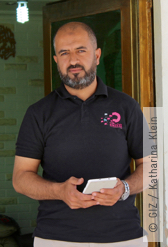 * These results were achieved thanks to the contribution of GIZ and its commissioning parties and partners. Survey period: 2010 – 2015.