FOREWORD BY THE MANAGEMENT BOARD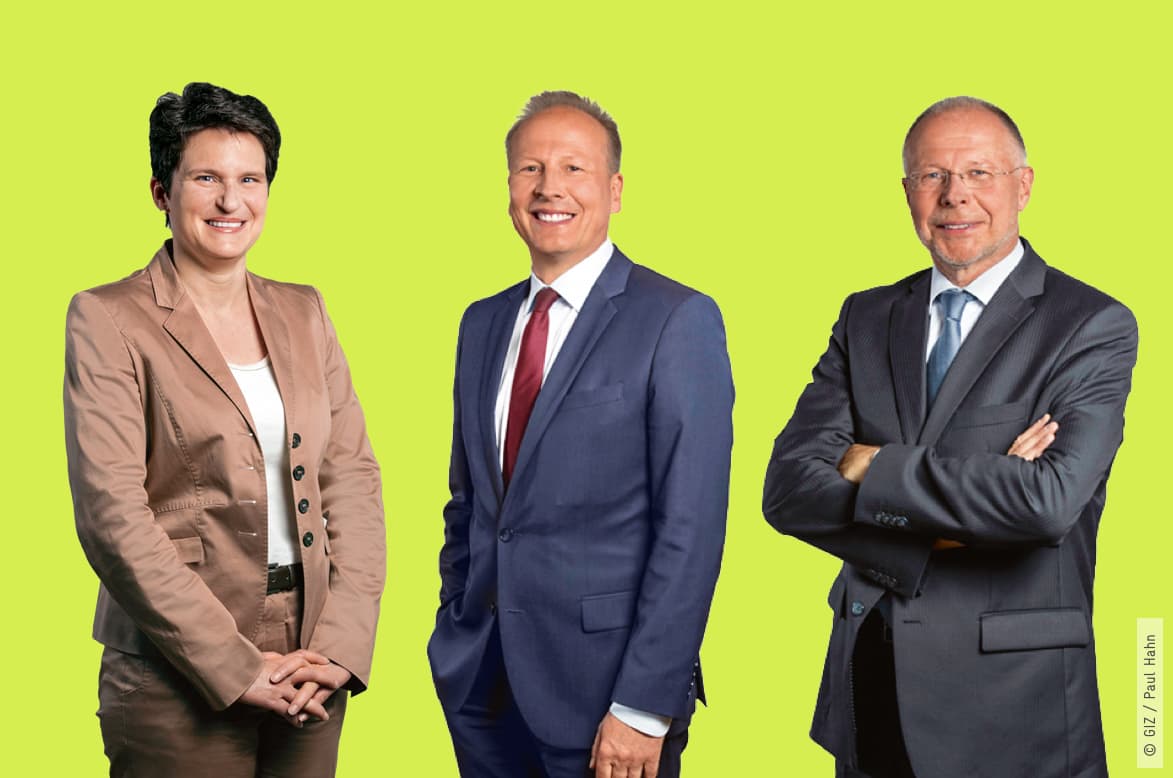 3D printers made of electronic waste, digital health management and drones that collect information on environmental events – digital technologies are playing an increasingly important role in our project work across all continents. For some time now, the digital transformation has been opening up new prospects for international cooperation. Huge leaps forward are being made the world over, thanks in part to advances in digitalisation.
As a federal enterprise that often operates in inaccessible areas, we recognise that digital change also affords opportunities for both us as an organisation and the services we provide for our commissioning parties and partners. In what areas can digital applications help to make our work even more effective? Where can digital tools be used to improve the efficiency of our processes at the company level?
These are questions we are constantly asking ourselves and that last year ultimately led to the launch of a company-wide ideas competition. The result: we received over 250 innovative proposals – ranging from the possibility of making a digital donation when purchasing pineapples in West Africa to digitally optimised water supply in Jordan. It is important that the benefits of these and other innovative solutions are continuously assessed and integrated into our work. However, we must also remain alert to the risks of using data and ensure that risk assessments are carried out in order to identify the best possible ways of using digitalisation to support sustainable development.
Sustainable development can only succeed if we deliver lasting results
"Sustainable development is our guiding principle and our aspiration."
Sustainable development is our guiding principle and our aspiration, but it can only succeed if our work delivers lasting results. In the context of the 2030 Agenda and the Sustainable Development Goals, in particular, keeping track of the funds used is just as important as the objectives and results achieved. How can GIZ contribute to finding solutions to regional and global problems, such as helping children to obtain an education or mitigating the effects of climate change? How many people around the world found a job between 2010 and 2015 with support from GIZ? And how many of them were women?
GIZ, like many other organisations, faces the challenge of finding the best possible way of demonstrating the effectiveness of its work and of analysing and communicating this in a logical and understandable way. That is why we focus on the results of our projects not only at various points in this report, but also in our Corporate Strategy.
The same applies to sustainable action at the company level, another area that is part of our Corporate Strategy and one in which we are constantly striving to make improvements. With our GIZ Corporate Sustainability Handprint®, we measure the company's active contribution to sustainability at our country and project offices worldwide – at the social, environmental, economic and political levels.
The participation rate at our offices outside Germany currently stands at over 90 per cent. We also reaffirm our commitment to the Ten Principles of the UN Global Compact in the fields of human rights, labour, environment and anti-corruption. Once again, we felt that our efforts and achievements in the field of corporate sustainability in the past year merited their own chapter.
We are working on solutions for climate change mitigation and adaptation in more than 100 countries
As a company, taking responsibility for sustainable action is one aspect of what we do. Another is supporting countries and our local partners in their activities for sustainable development. One of the four dimensions of sustainability is ecological balance: we are working on solutions for climate change mitigation and adaptation in more than 100 countries. One in three of our projects already deals with climate-related issues.
These issues galvanise experts and the general public alike, as shown by the positive reaction to the numerous events at the UN Climate Change Conference in Bonn – including the Climate Planet, which was co-organised by GIZ. For us as a company, a highlight of this event was the accreditation agreement with the Green Climate Fund that we signed during the conference.
Feedback on our work – as presented at several points in this report – and dialogue with our partners and commissioning parties are a constant source of innovation for us. We consider this exchange to be the basis for our success. With a business volume of around EUR 2.6 billion, 2017 was another very satisfactory year for us. We are pleased that our commissioning parties continue to place their trust in us.
Our success can be attributed to the expertise, creativity, passion and vision of the 21,000 or so staff members, development workers and integrated and returning experts who are involved in projects around the world. On behalf of the entire Management Board, I would like to thank them sincerely for their commitment. I would also like to thank our commissioning parties, our partners and our Shareholder, the German Government.
All that remains to say is that I hope you enjoy reading about the often challenging, but always rewarding world of international cooperation, as experienced by GIZ in 2017.
Best regards,
Tanja Gönner
Chair of the Management Board