Taking action together against corruption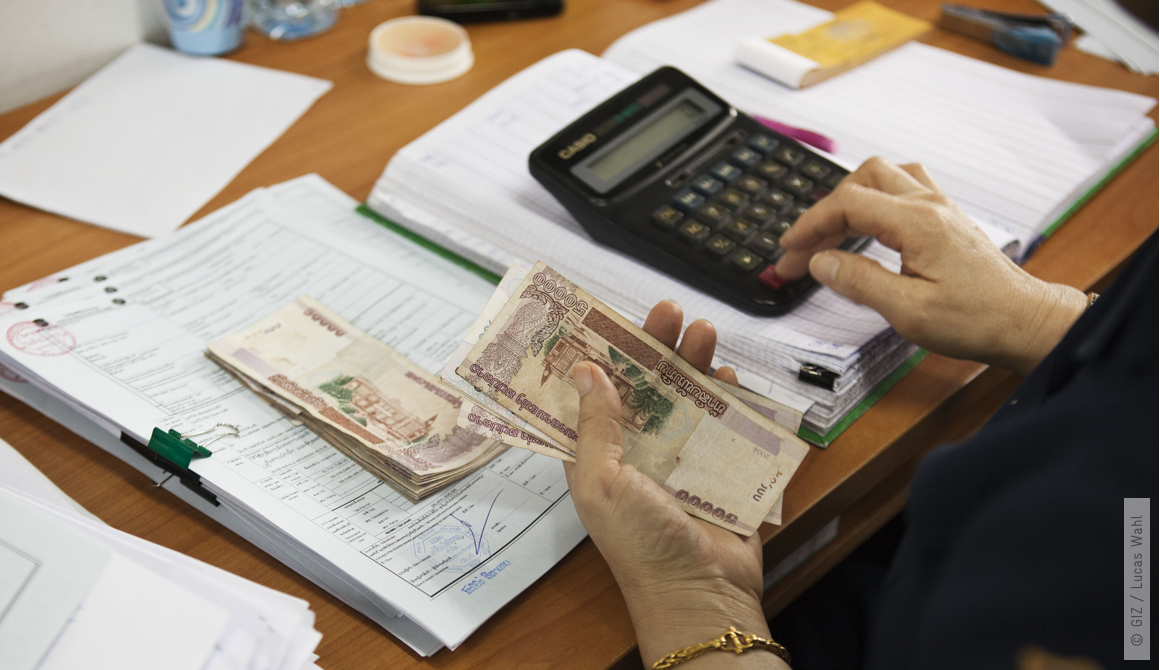 OUR REPUTATION AS A TRUSTWORTHY COMPANY IS A KEY FACTOR IN OUR SUCCESS. AND COMPLIANCE, INTEGRITY AND ANTI-CORRUPTION ARE CORE ELEMENTS OF OUR COMPLIANCE MANAGEMENT SYSTEM.
ANTI-CORRUPTION AT GIZ
Anti-corruption management is an important element of our compliance management system. We define corruption as the clandestine abuse or misuse, for personal gain, of the power conferred by public office or through private sector authorisations. This includes active and passive bribery, giving and accepting gifts and other benefits, employing or awarding contracts to closely connected or related persons and other conflicts of interest. Fraud and embezzlement are also crimes generally associated with corruption.
Our Code of Conduct contains clear rules for dealing with conflicts of interest and avoiding corruption. All staff members have undertaken to comply with these rules.
For the projects and programmes we implement on behalf of BMZ, the strategy paper Anti-Corruption and Integrity in German Development Policy serves as an additional binding frame of reference for us. Furthermore, we are a member of Transparency International and regularly take part in its forums.
Contracts with service providers and consultants are subject to strict rules, with a view to minimising corruption risks.
SYSTEMATIC COMPLIANCE MANAGEMENT
To ensure compliance, integrity and anti-corruption, GIZ is expanding its compliance management system. In 2015, this was manifested in the formation of a dedicated Compliance and Integrity Unit that, within the compliance management system, is responsible for coordination and management in conjunction with all relevant business units.
To strengthen our compliance management system, a compliance committee consisting of two Management Board members and several directors general of departments and directors of corporate units was also set up. It is tasked with resolving overarching integrity and compliance issues and making basic policy decisions. The Integrity and Compliance Unit reports to the Management Board on compliance management measures every year and to the Supervisory Board every two years.
GIZ has a comprehensive risk identification system that systematically combines individual surveys with routine processes. The continuous recording of compliance, integrity and corruption risks is integrated into the standard company-wide risk management process. By analysing and assessing existing and potential compliance risks, problem areas are systematically identified and addressed as part of a risk-based compliance programme, with emphasis on measures for prevention, awareness-raising and response.
The country offices provide updates on the status of their measures to minimise compliance risks and fight corruption every year. As part of GIZ's risk management system, every organisational unit within GIZ must also report on its risks – including compliance, integrity and corruption risks – and the measures it has taken to counteract them, every six months.
Our internal control systems ensure proper commercial management of our projects. We regularly check whether the financial and administrative procedures within our projects are correct and efficient and whether we are in compliance with our own internal regulations. The focus is on procurement processes, proper accounting and HR management. GIZ's internal systems are also monitored through various external audits.
The correct use of financial resources is a top priority for GIZ. Procurement processes are therefore always carried out by at least two people from different organisational units. In addition, our rotation principle requires functions with a high corruption risk to be restaffed at least every six years. Any deviation from the rotation rule must be justified and documented.
Our IT systems ensure the transparency of purchasing activities in our country offices. They can be used, for example, to check whether local fees correspond to those typically charged in the respective country.
read more
read less
EMBEDDED GLOBALLY IN ALL GIZ OFFICES
In 2017, the groundwork was laid for the introduction of a systematic compliance management system for the entire field structure that was then introduced in 2018.
Countries with a potentially increased compliance risk must put together a core compliance team that is responsible for organising and managing the compliance process in the respective country office. The focus is on country-specific risks with respect to corruption and failure to comply with corruption regulations. To minimise the risks identified on an ongoing basis, corresponding countermeasures are initiated and their impact is assessed.
RAISING AWARENESS AND RECOGNISING VIOLATIONS
The Code of Conduct is also designed to support employees in recognising and avoiding conflicts of interest. New staff members are trained from the outset to enable them to recognise situations with a high corruption risk. Every new GIZ employee must successfully complete the company's web-based training on ethical conduct. Classroom-based training at mandatory induction events for new staff are also used to raise awareness of possible conflicts of interest and corruption prevention.
Staff members, project partners, clients and the general public can contact our internal integrity advisors or an external ombudsperson to report any violations.
WE FOLLOW UP ON ALL INFORMATION
The Legal Affairs and Insurance Unit advises and supports the entire company on all legal and insurance-related issues. No illegal activities or financial or non-financial penalties for violations of competition law were reported in the 2017 reporting period. In 2017, 57 concerns were raised about possible corruption cases (2016: 52 concerns), all of which were investigated.
| | (2015) | (2016) | (2017) |
| --- | --- | --- | --- |
| Total number of reported cases | 44 | 52 | 57 |
| Still being processed | 8 | 0 | 3 |
| No evidence of misconduct | 13 | 22 | 22 |
| No involvement of GIZ staff members, but third-party involvement | 3 | 3 | 6 |
| Measures successfully initiated | 5 | 10 | 11 |
| Disciplinary proceedings initiated | 15 | 17 | 15 |
read more
read less
FURTHER INFORMATION
An example of integrity and compliance in our projects can be found in our Integrated Company Report: Fighting corruption from within
The Sustainability Programme as the principal guideline and management instrument for the work of the Sustainability Office: Sustainability Programme 2016-2020