WORKING TOGETHER FOR GREATER PEACE
DEVELOPMENT, PEACE AND SECURITY ARE CLOSELY INTERLINKED: SECURITY AND STABILISATION ARE FUNDAMENTAL PREREQUISITES FOR SUSTAINABLE DEVELOPMENT AND LASTING PEACE.
How, though, can countries that have been worn down by conflict, or indeed are still war-torn, find their way back to security and stability? In these contexts, GIZ advances solutions that make people's lives safer and restore lost trust. One way in which we consolidate internal peace is by fostering a culture of remembrance and encouraging reconciliation. This is vital, because a peace treaty is not in itself a guarantee of lasting peaceful coexistence, even if it sets the seal on the end of what has often been years of fighting between opposing groups.
THE STATE MUST PERFORM ITS ROLE OF PROTECTING THE POPULATION
To help achieve a visible peace dividend within a short space of time, we support local administrative bodies in their efforts to regain their ability to exert their powers, and involve the once hostile groups in joint projects to quickly reconstruct damaged infrastructure. If trust in the state is to be restored, it has to perform its role of protecting the population. First and foremost, this means strengthening structures founded on the rule of law, in the judicial system and the police, for instance, and taking on the fight against corruption.
SECURITY AND STABILISATION:
DELIVERING RESULTS AT ALL LEVELS
GLOBAL IMPACT
90 MILLION PEOPLE WORLDWIDE HAVE BENEFITED FROM STATE SERVICES.*
REGIONAL IMPACT
IN EUROPE AND CENTRAL ASIA ALONE, MORE THAN 33 MILLION PEOPLE HAVE GAINED ACCESS TO STATE SERVICES.*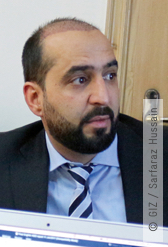 LOCAL IMPACT
'THE EXPERTISE PROVIDED BY INTEGRATED EXPERTS IS HIGHLY VALUABLE TO US IN THE PRACTICAL FIGHT AGAINST CORRUPTION. TOGETHER WITH THE INTERNATIONAL EXPERTS WE HAVE MANAGED TO GET GOVERNMENT INSTITUTIONS, CIVIL SOCIETY AND INTERNATIONAL ACTORS AROUND THE TABLE AND MAKE AN OFFICIAL FORM OF COOPERATION OUT OF THIS.'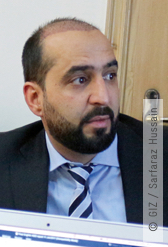 * These results were achieved thanks to the contribution of GIZ and its commissioning parties and partners. Survey period: 2010 – 2015.