Staff safety and security is paramount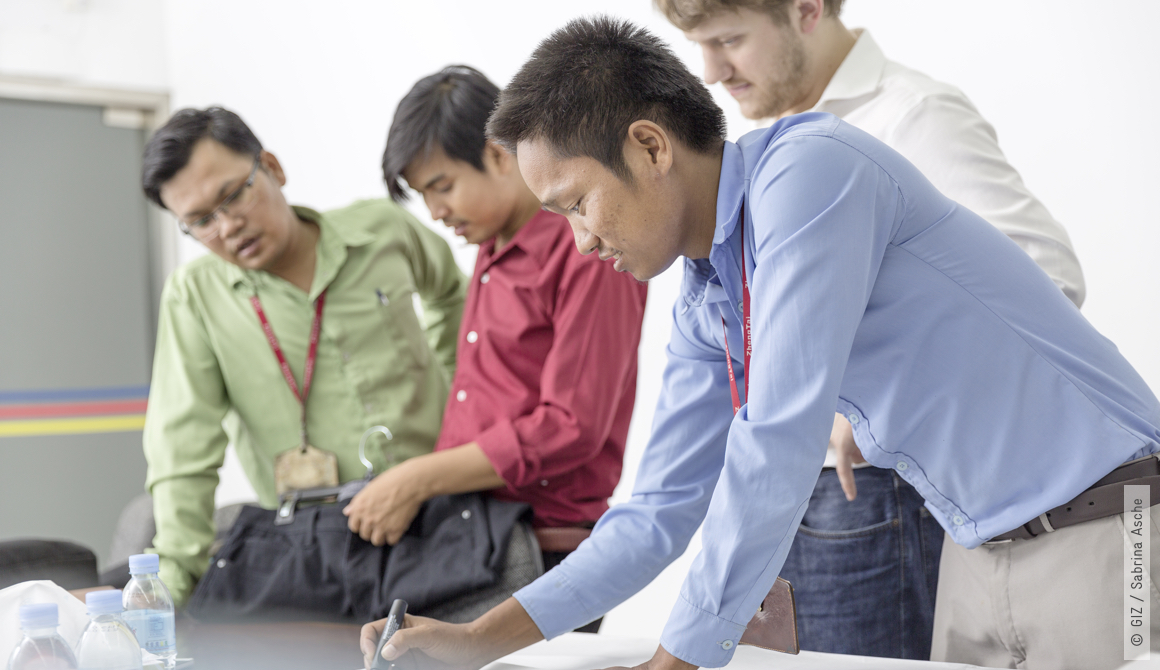 THE WORK CARRIED OUT BY GIZ, AS A DEVELOPMENT ORGANISATION, FOCUSES PURELY ON CIVIL ACTIVITIES. HOWEVER, THAT IN ITSELF IS NO GUARANTEE OF SAFE AND SECURE LIVING AND WORKING CONDITIONS IN OUR PARTNER COUNTRIES. WE THEREFORE HAVE A TRIED-AND-TESTED AND PROFESSIONAL SECURITY RISK AND CRISIS MANAGAMENT SYSTEM. THIS ENABLES US TO PROTECT OUR STAFF AND ENSURE SAFETY IN FRAGLE CONTEXTS AND HIGH-RISK COUNTRIES AS WELL AS DEVELOPING COUNTRIES AND EMERGING ECONOMIES. WE GO TO GREAT LENGTHS TO ENSURE THAT OUR PROJECTS ARE IMPLEMENTED AS SAFELY AS POSSIBLE.
GIZ's work in our partner countries has always involved a variety of risks, including natural disasters, terrorism, violent crime, unsafe transport routes and poor medical care.
The safety and security of our staff is of the utmost importance to us – over and above business development or interests.
OVERALL RESPONSIBILITY FOR STAFF SAFETY AND SECURITY LIES WITH THE MANAGEMENT BOARD
Overall responsibility for staff safety and security lies with GIZ's Management Board. The Corporate Security Unit was established in 2016 and reports directly to the Management Board. Corporate Security includes the Security-risk and Crisis Management Section and an analysis unit. It is responsible for all GIZ staff worldwide.
TASKS OF THE CORPORATE SECURITY UNIT
The core tasks of the Corporate Security Unit are conducting security analyses, coordinating crisis management and establishing a global security risk management system in line with the relevant standards.
Corporate Security advises on the establishment and quality assurance of security risk and crisis management systems around the world, and is the home base for GIZ's security risk management advisors. Within the company, it works with various departments on different aspects of security risk management. In the event of crisis, it is the single point of contact for GIZ and the German Government's crisis teams. In these situations, it coordinates crisis management and manages GIZ's crisis team. The information security officer is also attached to this unit.
The Corporate Security Unit also provides training for personnel groups in order to meet GIZ's duty of care. It supports the establishment of a company-wide security risk culture. Its tasks also include integrating security considerations into relevant company-wide processes and procedures.
In the field structure, the resources required to ensure safety and security are best clarified through dialogue between Corporate Security and the office of the country director, based on a country-specific security risk analysis. Corporate Security can advise on this process. A costing for security risk management is included in the budget plan of the office of the country director. Its plausibility is then verified by Corporate Security.
SECURITY AND RISK MANAGEMENT OUTSIDE GERMANY
GIZ's minimum standards for safety and security provide the framework for the company's security and risk management outside Germany. They cover key aspects, basic principles and approaches that are important when developing a country-specific safety and security concept for a country of assignment. They are implemented systemically in the relevant countries worldwide, and their implementation is monitored and controlled through status reports. If general conditions change, measures are adapted accordingly to ensure that security risk management is tailored precisely to security requirements and the needs of staff.
STAFF SAFETY AND SECURITY: RESPONSIBILITIES
Responsibility for the safety and security of staff lies with the relevant line manager. The country director is responsible for security risk and crisis management in the respective country of assignment. This includes annual preparation of a status report in accordance with the minimum standards for safety and security. Employees, development workers and integrated experts follow the safety and security information and instructions issued by the country director. They implement the necessary measures and thus help minimise risk.
Managers ensure that staff members, development workers and integrated experts are not exposed to high individual risks in the country of assignment without suitable and adequate risk-reduction measures having been taken. In the case of integrated experts, the officer responsible for the commission does this.
Employees, development workers and integrated experts report security-related incidents to their line manager, the country director, the security risk management advisor or directly to Corporate Security. They must ensure their availability in the country of assignment and report any absences to the relevant GIZ office at least one day before they are due to be absent.
Before undertaking a business trip, all business travellers must obtain timely information on the security situation in the country of travel and about special regulations that apply to that country. They must also inform the relevant GIZ office of their travel details. All business travellers and all staff taking up assignments outside Germany must successfully complete the online training course on travel safety and security and present the certificate to their manager.
Employees, development workers and integrated experts must take part in the training specified for them by the Corporate Security Unit depending on the country of assignment. They must do so before they leave Germany. If courses or alternative courses are fully booked prior to departure, the training can be completed up to three months after departure. If the staff member can prove that, in the last three years, they have participated in a training course that is recognised as comparable by Corporate Security, then renewed participation is optional.
read more
read less
GIZ'S SECURITY-RELATED GUIDELINES
The following table provides an overview of GIZ's security-related guidelines.
| Guideline | Published | Updated |
| --- | --- | --- |
| Security and crisis management in the field | 2008 | 2012 |
| Policy on staff safety and security | 2008 | 2012, 2016, 2017 |
| Minimum standards for safety and security | 2016 | 2017 |
| Flight safety | 2018 | —- |
FURTHER INFORMATION
Assessing risks properly in order to manage risks properly is key to GIZ's work.
Find out how GIZ promotes risk awareness through risk management under We promote responsible risk management