Reducing emissions is key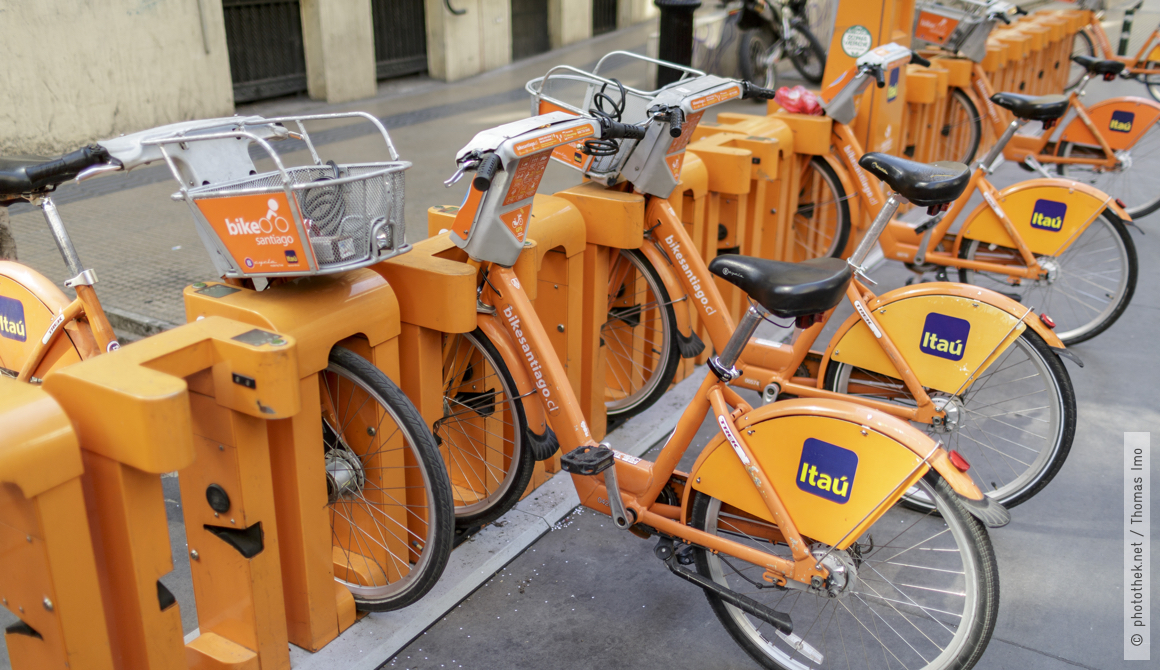 REDUCE, SUBSTITUTE, OFFSET – THIS IS HOW GIZ PROMOTES CLIMATE CHANGE MITIGATION IN ITS GUIDELINES ON CORPORATE ENVIRONMENTAL MANAGEMENT.
In order to maintain an ecological balance and counteract global climate change, reducing GHG emissions is a core component of our Corporate Strategy. Our approach to GHG emissions in Germany comprises three steps – reduce, substitute and offset.
VIDEO CONFERENCES INSTEAD OF LONG JOURNEYS
International air travel is by far our biggest source of GHG emissions. That is why we are striving to reduce our business trips wherever possible. We have installed more than 70 video conference systems in Germany that help us reduce the number of business trips we make. Virtual meetings and conferences are also possible from every workstation.
For journeys within Germany, we encourage our staff to travel by rail. By participating in Deutsche Bahn's Environment Plus scheme, they travel using 100 per cent green electricity. In recent years, the number of rail journeys per staff member in Germany has increased, while the number of air kilometres has fallen. Company cars are not a significant environmental factor for us in Germany. In 2017, GIZ had just 18 vehicles in total.
In Germany, GIZ procures 100 per cent green electricity wherever possible. Preventing GHG emissions is especially important outside Germany, as alternatives (such as the use of green electricity) are often not available on the market.
COMMUTING IS AN IMPORTANT ENVIRONMENTAL FACTOR
Commuting is an important indirect environmental factor for us in Germany. It accounts for around 12 per cent of our mobility-related GHG emissions in Germany and around nine per cent outside Germany. As well as offering employees a subsidised travel pass for use on local public transport, we therefore also support measures such as the expansion of cycling infrastructure. Furthermore, we are expanding our e-mobility infrastructure. The Meander Building in Bonn now has four charging stations in addition to those in Eschborn. Charging stations have also been incorporated into the underground car park of the new building at GIZ's Kottenforst Campus.
To gain a better understanding of the mobility behaviour of our staff, a commuter survey was conducted at GIZ's three biggest locations in Germany (Bonn, Eschborn and Berlin) in September 2017.
The purpose of the survey was to establish a reliable database for GIZ's corporate sustainability reporting obligations. A further aim was to shed light on how satisfied employees are with existing mobility services. The results will also be used to improve construction of GIZ's new Campus 2020 office complex in Bonn.
read more
read less
The response rate of 48 per cent delivers a solid database for CO2 calculations. The survey also provided numerous ideas and requests concerning the further development of our mobility services.
GIZ'S EMISSIONS OUTSIDE GERMANY
GIZ produced 103,854 tonnes of GHG emissions outside Germany in 2017. This is equivalent to 6.54 tonnes per person. The figure outside Germany is calculated on the basis of:
electricity and heating energy;
generators;
company vehicles;
air travel.
Calculations of GHG emissions outside Germany include all national and international air travel by field staff, national personnel, development workers, consulting companies and consultants working for us as well as representatives of partner organisations whose air tickets were purchased through our local travel agencies and included in GIZ's accounts. The total value of emissions is divided by the number of field staff, national personnel and development workers.
Evaluating the environmental impact of company vehicles in our partner countries is different than in Germany. In most cases, there are no environmentally friendly alternatives. Thus, almost 4,000 vehicles were in use worldwide in 2017 and insured via our Eschborn office. These are primarily private cars and motorcycles. In 2017, we developed a tool that can be used to estimate GHG emissions from commuting outside Germany. These values are not yet included in the figures on GHG emissions because, when determining the reduction targets for the field structure, no database was available for outside Germany in 2016.
Germany
Abroad
Year
2016
2017
2016
2017
Total GHG emissions from mobility in t
20,236
22,218
93,463
89,127
Total GHG emissions from mobility per staff member in t
5.62
5.46
6.18
5.61
GOAL: ACHIEVE CARBON NEUTRALITY BY OFFSETTING UNAVOIDABLE GHG EMISSIONS
GIZ's reporting of the GHG emissions it produces is based on the Greenhouse Gas Protocol (GHGP).
This categorises direct and indirect emissions into three broad scopes:
Scope 1 Direct emissions owned by or under the control of the reporting entity (e.g. fuel for vehicles, gas heating)
Scope 2 Indirect emissions from consumption of energy (e.g. electricity, district heating)
Scope 3 Other indirect emissions in the value chain and thus under the responsibility of the reporting entity (e.g. business trips)
read more
read less
In our Environmental Programme 2016‒2020, we set ourselves the goal of reducing our GHG emissions globally. Specifically, we intend to reduce emissions by 2 per cent per capita per year in the field and by 2.5 per cent in Germany. In addition, we are committed to offsetting the GHG emissions we generate around the world.
In 2015, GIZ for the first time obtained CDM Gold Standard certificates for emissions generated in Germany in 2013. These were purchased via an external provider for 24,445 tonnes of GHG emissions. In 2016, 20,441 tonnes of GHG emissions from 2014 were then offset through a Thai company in the biogas sector.
Due to further structural changes at the biogas facility in Thailand, which led to significant delays in verification, no new certificates have been issued by this contractual partner to date. Further offsetting of emissions generated in 2015 and 2016 through the offsetting project is still pending. Thus, GIZ still has to offset emissions generated in 2015 (21,791 tonnes), 2016 (22,509 tonnes) and 2017 (25,088 tonnes) by obtaining the relevant certificates.
read more
read less
In Germany
2016
2017
Scope 1
Gas heating [in t]
1,592
1,964
Fuel consumption, company vehicles [in t]]
51
57
Coolants [in t]
115
63
Generators [in t]
3
3
Scope 2
District heating/district cooling [in t]
440
392
Electricity [in t]
124
391
Scope 3
Commuting, staff members in Germany [in t]
3,287
3,018
Air travel, staff members in Germany [in t]
16,898
19,200
Total GHG emissions (GHG emissions to be offset) [in t]
22,509
25,088
FURTHER AIR EMISSIONS IN GERMANY
'Further air emissions' are emissions generated by air and other business travel, company vehicles, staff commuting, and electricity and heating consumption.
| Further air emissions | 2016 | 2017 |
| --- | --- | --- |
| NOx (nitrogen oxides) in kg | 34,639 | 50,644 |
| SO2 (sulphur dioxide) in kg | 31,060 | 35,914 |
| PM10 (particulate matter) in kg | 905 | 1,319 |
FURTHER INFORMATION
GIZ's locations in Germany and many other countries organised a variety of events as part of the german action days in 2017. They all promote more responsible and sustainable use of consumer goods and energy. You can find further information under: GIZ's commitment to sustainable social change