HOW WE WORK: INTERLINKED AND WITH STRONG PARTNERS
TO MEET GLOBAL GOALS AND ADDRESS INDIVIDUAL ISSUES, WE FOCUS ON FORWARD PLANNING, RAPID RESPONSES IN CRISIS SITUATIONS AND EFFICIENT COOPERATION. THE FOLLOWING EXAMPLES ILLUSTRATE PRECISELY WHAT THAT MEANS IN PRACTICE, HOW WE ARE LEARNING FROM EXPERIENCE AND WHAT CHALLENGES WE FACE.
1. EFFECTIVELY INTERLINKED: SHORT-TERM ASSISTANCE AND LONG-TERM APPROACHES
Prolonged and recurrent crises are increasing in number and scale worldwide. More and more of the countries in which GIZ operates are now affected directly by crises and are classified as 'fragile states'. This poses enormous challenges for humanitarian aid actors, such as those in the field of long-term development cooperation. Only by working hand in hand can we reduce the need for humanitarian assistance, safeguard the development progress made so far and pave the way for sustainable development.
This calls for even greater efforts to interlink the often separate approaches to humanitarian and development support used so far. One option is to assist local actors in a way that enables them to better manage both acute shocks and prolonged crises.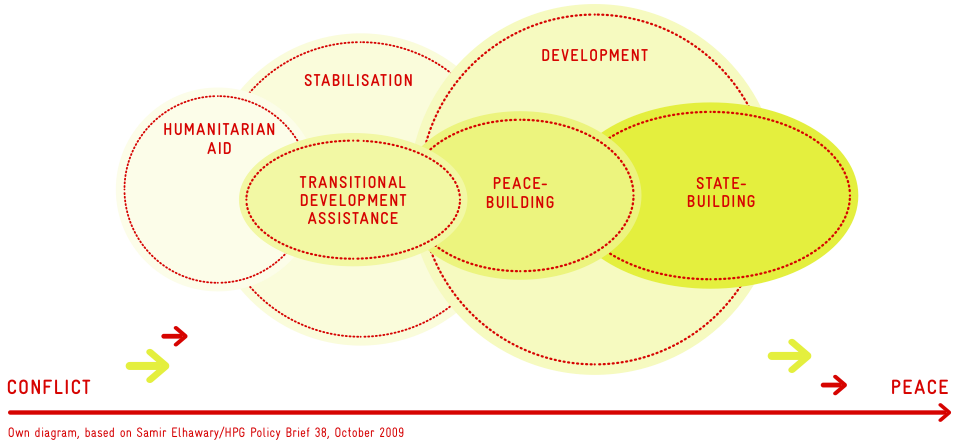 EXAMPLE FROM NORTHERN IRAQ: STRUCTURE-BUILDING IN A FRAGILE CONTEXT
One example of such an approach is the Qudra Project, which aims to strengthen resilience in countries bordering on Syria that have taken in refugees in the wake of the crisis there. Financed by BMZ and the EU, it is being implemented by GIZ in Iraq, Jordan, Lebanon and Turkey.
The Kurdistan region in northern Iraq alone has provided refuge for around 1,200,000 internally displaced persons and about 240,000 Syrian refugees. There, GIZ's experts teach local government institutions how to plan, coordinate and realise small-scale projects that take people's needs into account and involve them in the process.
This creates effective structures that are better able to withstand recurrent crises. Rapidly implemented measures also provide the local and displaced population with basic services, significantly improve their lives and thus strengthen confidence in government structures. By the end of 2017, the project had reached more than 33,000 people through activities such as enabling access to a better electricity supply, renovating an educational facility for children with disabilities and modernising a children's intensive care unit that provides care for around 1,000 children per year.
read more
read less
2. PRIVATE SECTOR PARTNERS: FORGING STRATEGIC ALLIANCES
In the face of the current global challenges, partnerships between governments, civil society, the private sector and the academic and research community are now more crucial than ever. We, too, are increasingly entering into a broad range of partnerships as we seek to learn with and from our partners in order to address the current challenges as best we can.
Commissioned by BMZ, the develoPPP.de programme implements development partnerships with the private sector in developing countries and emerging economies with a view to minimising risks and doubling opportunities. The programme aligns commercial goals and development policy objectives. Each partner assumes different tasks, contributing and combining their own strengths. They share responsibility, costs and risks. Strategic alliances are particularly far-reaching development partnerships. They unite different actors from trade and industry, government and non-governmental organisations and other national and international organisations across the globe.
EXAMPLE FROM MADAGASCAR: COVERING MORE REGIONS AND THEMATIC AREAS
The joint goals of our strategic partnership in Madagascar are to improve living conditions for some 10,000 smallholder vanilla producers and their families and also to improve the quality of vanilla for the processing companies.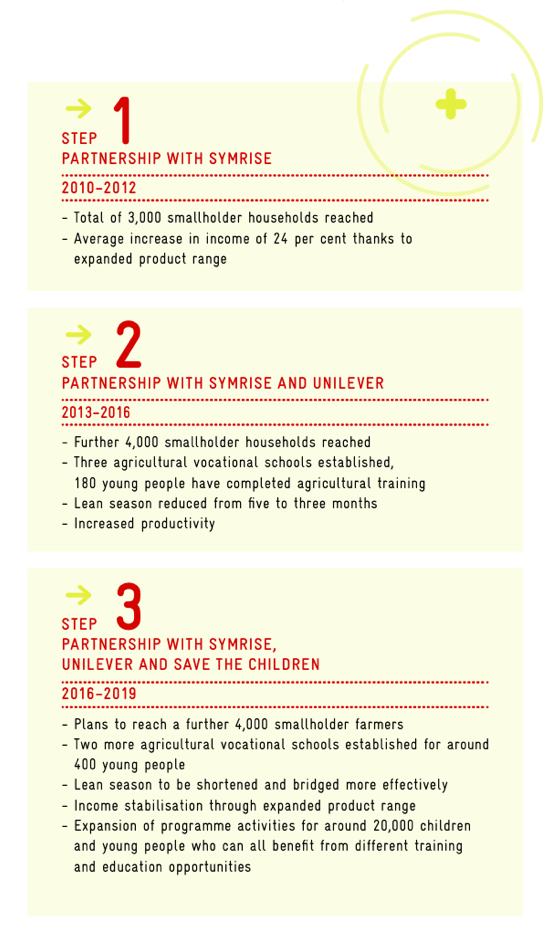 Financed by BMZ, the development partnership has grown considerably over the years. GIZ's first partner was Symrise, a supplier of flavourings and fragrances, in 2010; in 2013, the food corporation Unilever came on board; and in 2016, they were joined by the children's rights organisation Save the Children.
The range of thematic areas covered has also increased and now includes training on good vanilla farming practices, the mitigation of financial risks for the lean season, better health care and sound basic education. In addition, the number of agricultural colleges has increased from three to five, and the network of small farmer field schools that provide extension services to smallholder producers has also expanded beyond the original project region, with the partnership now operating in 70 communities in north-eastern Madagascar. Save the Children is supplementing activities with a view to strengthening households and supporting children and young people particularly at risk of falling into poverty. Within the space of a year, for example, more than 4,000 households received medical insurance designed especially to meet their needs.
read more
read less
Further examples of how we work with private businesses and foundations can be found in this report and at:www.giz.de/companies