Our stakeholder management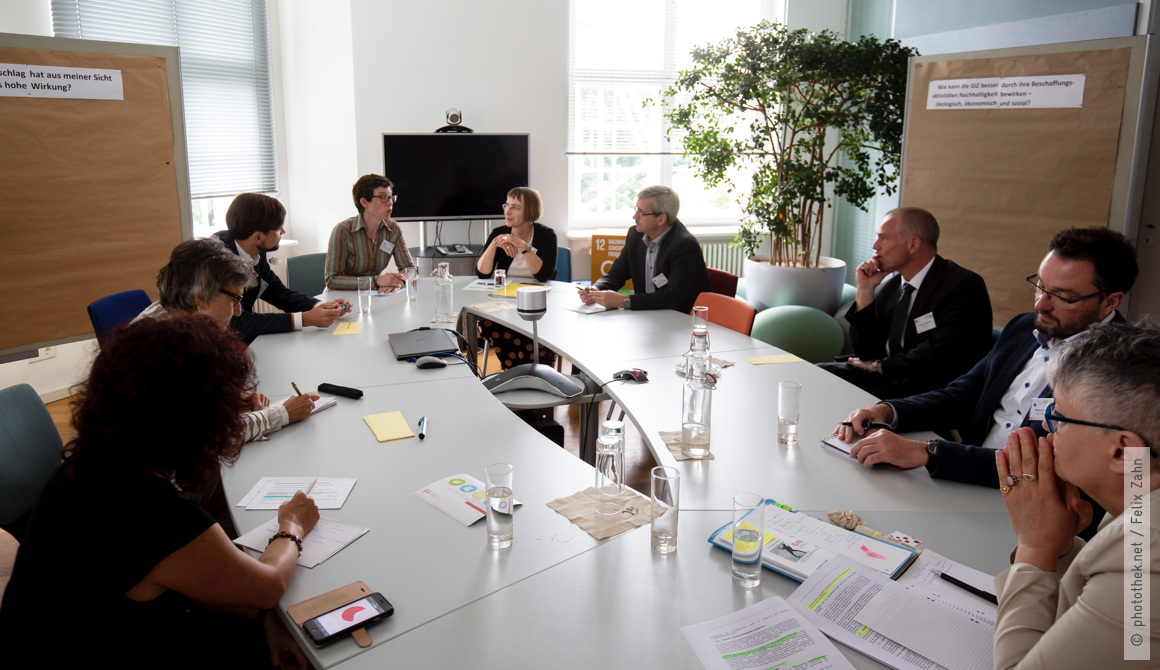 GIZ'S STAKEHOLDERS ALL HAVE DIFFERENT RELATIONSHIPS WITH THE COMPANY. THEIR OPINIONS ARE EXTREMELY IMPORTANT TO US, AND THEIR INVOLVEMENT IN RELEVANT PROCESSES IS AN INTEGRAL PART OF OUR SUSTAINABILITY MANAGEMENT PROCESS.
As a sustainable enterprise, we take the involvement of and dialogue with our interest groups very seriously. Our objectives, working methods and performance are influenced by many stakeholders. We address the interests of our external stakeholders by engaging in various forms of dialogue. Key stakeholders include:
clients, commissioning parties and partners;
national and international cooperation, alliance and network partners;
service providers and suppliers;
the general public.
In addition to these, our shareholder, monitoring bodies and advisory bodies play an important role. Internally, our staff are important company stakeholders.
Stakeholder-Map
SHAREHOLDER, MONITORING BODIES AND ADVISORY BODIES
The Shareholder Meeting, Supervisory Board and Management Board are the three official bodies that GIZ is required to have under German law. The Board of Trustees advises the company. It ensures an exchange of information and opinions and fosters relations between GIZ and the individuals and institutions represented on the Board of Trustees. These are the lower house of the German parliament (Bundestag), government departments, the federal states and local authorities, civil society, private sector companies, trade unions, development workers and academic bodies.
The Private Sector Advisory Board provides a platform for regular dialogue between the private sector and international cooperation organisations. The Board comprises representatives of companies and business associations. It meets at least twice a year to identify common fields of activity and possible avenues for cooperation. The goal is to create stronger links between the private sector and international cooperation organisations.
NETWORKS AND COOPERATION ARRANGEMENTS
We systematically develop our strategic alliances and cooperation arrangements with other development cooperation organisations, civil society organisations and private sector stakeholders. We also participate in networks in Germany and around the world and are members of various organisations. We maintain an intensive dialogue on corporate sustainability issues at the global, national, regional and local levels and have entered into a number of voluntary commitments, including the following:
UN GLOBAL COMPACT
We have been a participant in the United Nations Global Compact since 2004 and have undertaken to adhere to its ten principles in the areas of human rights, environment, labour and social standards and anti-corruption. We report our progress on these principles on a yearly basis. Moreover, we support the implementation of the Global Compact. Since 2001, GIZ has run the Focal Point of the German Global Compact Network on behalf of BMZ.
B.A.U.M.
We have been a member of B.A.U.M. (the German Association of Environmental Management) since 2011 and are therefore bound by the B.A.U.M. code of conduct. B.A.U.M. aims to raise awareness among companies, municipalities and organisations of the importance of pro-active environmental protection and its vision of sustainable management, and to support them in implementing ecologically effective, economically sensible and socially just schemes. It does so on the basis of the B.A.U.M. code of conduct for sustainable management.
BIODIVERSITY IN GOOD COMPANY
GIZ has been a member of the Biodiversity in Good Company initiative since it was first established. The initiative is a collaboration of companies from various sectors. They have joined forces to promote the protection and sustainable use of the world's biodiversity – in line with the Convention on Biological Diversity (CBD). The initiative aims to stop the dramatic loss of ecosystems, species and genetic diversity.
100 COMPANIES FOR CLIMATE PROTECTION
We have signed the 100 Companies for Climate Protection charter. The 'Hesse Gets active: 100 Companies for Climate Protection' initiative is part of Hessian State Government's sustainability strategy. It contributes to improving Hesse's long-term prospects and to ensuring that life today and tomorrow is environmentally sound, socially just and economically efficient.
CODETERMINATION AND PARTICIPATION
German workers' right to be involved in decision-making processes is enshrined in the German Works Constitution Act. The local or – in the case of issues affecting the company as a whole – Central Staff Council represents employees in such matters. The interests of staff members in the field are safeguarded by seconded representatives. They form a separate committee within the Central Staff Council. To build a working relationship and meet legal requirements, several forms of dialogue take place – from monthly meetings of local Staff Councils to annual conferences.
GIZ's national personnel regularly elect representatives at the country level. In the event of disputes, they can steer ideas and proposals in the right direction. They are also involved in discussions affecting larger groups of employees. The Human Resources Department has set up a special help desk to support colleagues in the field.
Staff meetings are held regularly and include open space events such as live video discussions with managers and many other forms of dialogue. Important communication channels include our intranet, internal newsletters and staff magazine 'wir'. Twice a year, surveys are sent to all staff members and development workers in our projects.
FURTHER INFORMATION
Promoting biodiversity is a priority at all locations: Building sustainably and supporting biodiversity