Working on a results-oriented basis and achieving lasting results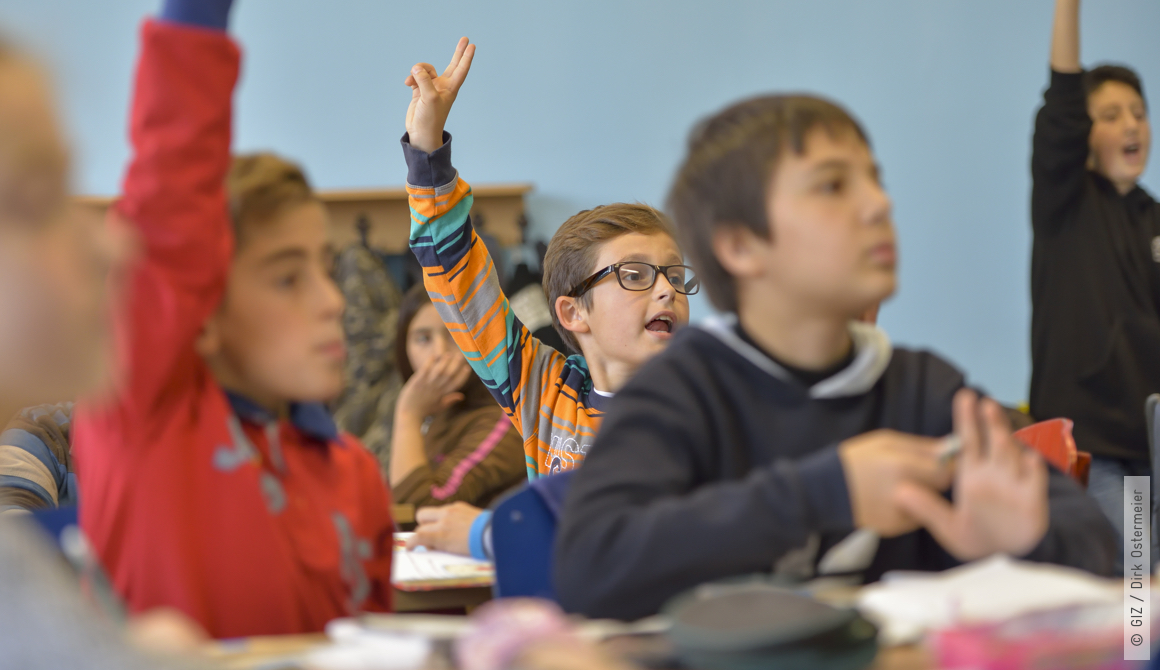 RESULTS ORIENTATION IS FIRMLY EMBEDDED IN GIZ'S CORPORATE STRATEGY.
THE IMPORTANCE OF EFFECTIVENESS AT GIZ
As an area of action in our Strategy Architecture, effectiveness – along with business development, expertise and alliances, and value for money – is instrumental in achieving our vision. We are increasing our focus on indicators that can be measured and compared in order to better monitor the results of our work.
KNOWING WHAT WORKS – EVALUATION AT GIZ
GIZ's evaluation reports in 2015 and 2016 reviewed and assessed a total of 169 projects. The average score for these assessments was 1.9 in 2016, an increase of 0.3 compared with 2015. Of the 169 projects evaluated, 28 per cent were rated 'very successful', more than half (53 per cent) 'successful', 16 per cent 'rather successful' and 2 per cent 'rather unsatisfactory'.
For the evaluation criterion 'sustainability', projects were assessed on their ability to produce lasting results. The following was found to apply to most projects: 'The positive effects of the project are likely to have a lasting impact. The project takes into account possible risk factors that could influence the longer-term sustainability of results.' In 2015 and 2016, sustainability received an average score of 2.4. Despite this positive rating, it remained – as in previous years – the worst rated evaluation criterion overall.
'We want to learn, and part of that is openly and transparently assessing what works well and what doesn't,' states Christoph Beier, Vice-Chair of the GIZ Management Board. 'That is the only way to move forward in our work, implement what's good on a broader scale, and acknowledge and correct shortcomings.'
GIZ has a long tradition of carrying out evaluations based on a results-based and utilisation-focused evaluation approach. Detailed information on the principles, guidelines and requirements of our evaluation practice can be found in GIZ's evaluation policy.
read more
read less
MAKING EFFECTIVENESS VISIBLE
How does GIZ help solve regional and global problems such as mitigating the effects of climate change or reducing poverty in the world? For instance, how many people worldwide found employment in the period from 2010 to 2015 as a result of GIZ's projects? And how many of them were women?
It is not only experts who are interested in the answers to these questions – the general public also wants more information about the results achieved. In connection with the 2030 Agenda in particular, reporting in international cooperation focuses not only on funding and activities, but increasingly on the objectives and the results achieved.
Like many other organisations, we are therefore faced with the task of providing the best possible evidence of the effectiveness of our work and communicating this in a readily understandable way, not just for individual projects, but on a global level too. To do so, GIZ compiles cross-project and transnational results data every two years.
LIMITATIONS OF GIZ'S RESULTS DATA
However, GIZ's results data does not measure the sustainability of projects. It is often difficult to verify intended effects at the exact time of data collection. For example, results data does not show whether people will remain in newly created jobs. And tangible results may not be felt until much later, as in the case of policy advice.
read more
read less
FURTHER INFORMATION
We drive change with our partners in about 120 countries worldwide: Our work around the world: Working together for change
'Knowing what works' – projects evaluated during the 2015–2016 reporting period: Evaluation report 2017
We are working for a liveable future around the world. Effectiveness as a benchmark in GIZ GIZ´s corporate strategy: Our strategy at a glance
Overview of the principles and guidelines of our evaluation policy: GIZ´s evaluation policy