ACHIEVING EVEN MORE WORLDWIDE WITH NEW PARTNERSHIPS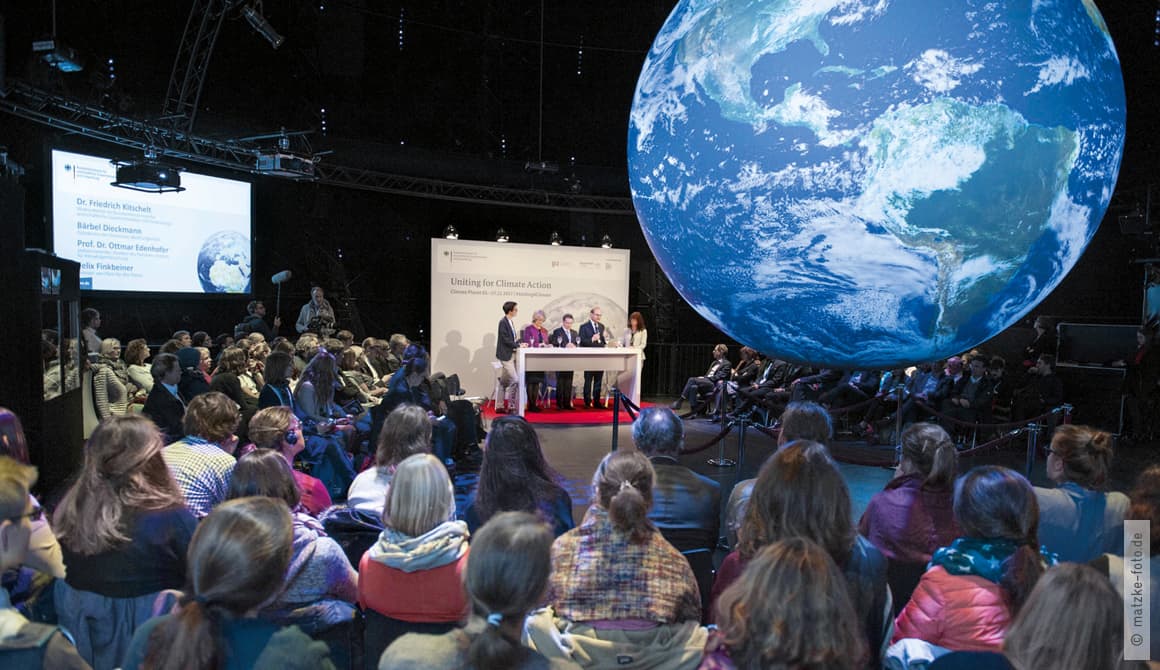 TO ACHIEVE EVEN MORE WHILE SUPPORTING CLIMATE CHANGE MITIGATION AND ADAPTATION, GIZ EMBRACES A VARIETY OF DIFFERENT APPROACHES: WE ARE INCREASINGLY WORKING WITH KEY INTERNATIONAL STAKEHOLDERS, ACQUIRING MORE FUNDING FOR CLIMATE PROJECTS AND SUPPORTING COUNTRIES IN THEIR EFFORTS TO IMPLEMENT GLOBAL AGENDAS SUCH AS THE PARIS AGREEMENT ON CLIMATE CHANGE AND THE 2030 AGENDA.
2030 AGENDA INITIATIVE: SUPPORT FOR MEXICO AND GREECE
GIZ is supporting countries such as Mexico and Greece in their efforts to translate the climate goals of the 2030 Agenda into action at the national level. As part of BMZ's 2030 Agenda initiative, for example, GIZ's experts are advising the Office of the President of Mexico on how to formulate a sustainability architecture that is firmly anchored at the institutional level for future governments. A key aim is to identify overlaps between the 2030 Agenda and the Paris Agreement on climate change, and thus establish an institutional framework.
In Greece, GIZ has been commissioned by the German Federal Ministry for Economic Affairs and Energy to provide advice on the development of a national energy and climate plan for the period from 2021 to 2030. GIZ is also providing support on the reforms required to achieve the national targets for climate change mitigation, renewable energy and energy efficiency by 2030. The GIZ team is offering advice on a variety of issues, including simplifying approval procedures for solar systems and wind turbines, integrating renewable energy into the electricity market and reducing energy consumption in public buildings. The project is cofinanced by the European Commission.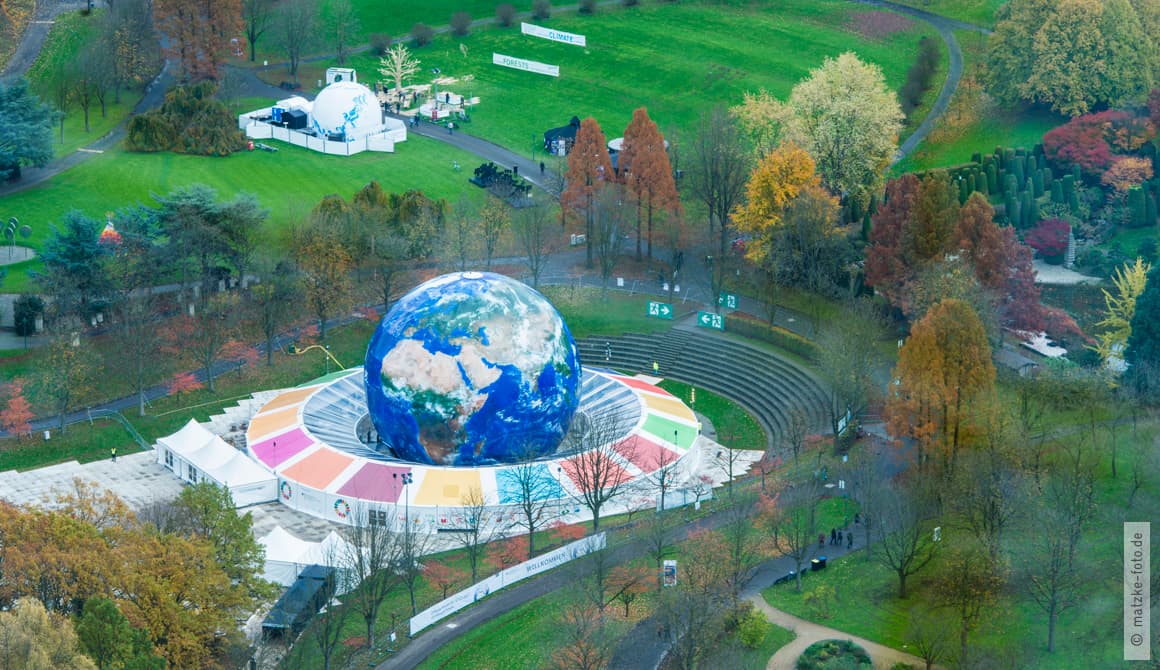 GIZ AT COP23: GETTING INVOLVED
Developing specific implementation measures and guidelines on the basis of the resolutions of the Paris Agreement – that was the task facing the 22,000 participants at the 23rd UN Climate Change Conference (Conference of the Parties, or COP23) in Bonn in November 2017. And GIZ was on hand to support the Fijian COP23 Secretariat.
GIZ's experts also advised the European and German delegations, the German Pavilion and partner countries – and presented their own work in the field of climate and energy. A new feature at the Climate Change Conference was the Climate Planet, which was co-organised by GIZ on behalf of BMZ. More than 23,000 people visited 'the depths of the Earth' to explore climate issues in the globe-shaped tent.
read more
read less
HOWARD BAMSEY, EXECUTIVE DIRECTOR OF THE GREEN CLIMATE FUND
'WE ARE LOOKING FORWARD TO RECEIVING INNOVATIVE IDEAS FROM GIZ ON HOW TO SHIFT PARADIGMS DRIVING LOW-EMISSION AND CLIMATE RESILIENT GROWTH.'
GREEN CLIMATE FUND: ACCESS TO MORE CLIMATE FINANCE
During the UN Climate Change Conference COP23 in Bonn, GIZ also signed an agreement that will enable it to further expand its active role in the fight against climate change at the international level. As an implementing organisation that is now accredited to carry out projects on behalf of the Green Climate Fund (GCF), GIZ has direct access to the world's largest multilateral climate fund – and therefore to more financing and more opportunities.
GCF was established under the United Nations Framework Convention on Climate Change, with the aim of supporting implementation of the Paris Agreement. GCF projects aim to improve climate change mitigation in developing countries and emerging economies and assist local people in adapting to the effects of climate change.
FIRST PROJECT: SECURE DRINKING WATER IN GRENADA
In 2017, the groundwork was laid for the first of GIZ's GCF proposals to be approved. The project aims to secure the long-term supply of drinking water in the Caribbean tri-island state of Grenada.
Climate change is aggravating water scarcity problems on all of Grenada's islands . Climate models show that severe droughts will be the norm there by 2050. Extreme weather events are also taking their toll on water supply.
On behalf of GCF, GIZ is therefore working with local construction companies to create 16 climate-resilient reservoirs in Grenada and improve water catchment from rivers and wells. Conditions in the water sector are also being improved, with a view to ensuring that water is used more efficiently in the long term.
read more
read less
EUROPEAN INVESTMENT BANK: COMBINING EXPERTISE FOR CLIMATE CHANGE MITIGATION
GIZ's cooperation with the European Investment Bank (EIB), the European Union's financing arm, also promises to expand the company's capacity for action – because together we can achieve more. In 2017, GIZ and EIB therefore decided to combine their expertise on sustainable investment projects and step up their cooperation – on climate change mitigation and renewable energy, but also on agriculture, infrastructure development and employment promotion in developing countries and emerging economies.
FIRST COOPERATION PROJECT: LOW-CARBON URBAN DEVELOPMENT
For the first cooperation project to be carried out jointly by EIB and GIZ, two experts from GIZ were seconded to EIB. FELICITY, as the project is known, helps cities in Brazil, China and Mexico to invest in low-carbon infrastructure development. GIZ's experts provide advice on planning suitable measures in buildings, public transport, wastewater management and district heating, and on how to fill out applications with the aim of securing financing from international banks. FELICITY is implemented with funding from the International Climate Initiative, which was set up by the German Federal Environment Ministry.
read more
read less