Committed to promoting health and a good work-life balance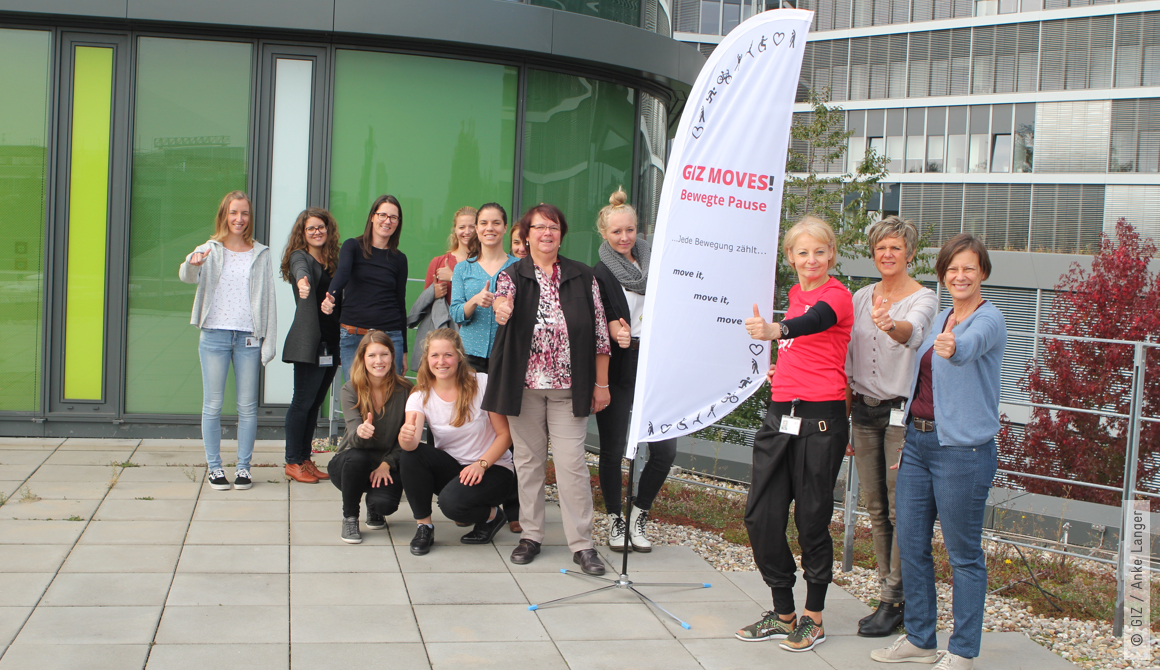 AS AN EMPLOYER, GIZ HAS A KEEN INTEREST IN THE WELL-BEING OF ITS STAFF. IT HAS THEREFORE IMPLEMENTED A CORPORATE HEALTH MANAGEMENT SYSTEM THAT TAKES A HOLISTIC APPROACH TO HEALTH, OFFERING A VARIETY OF SERVICES TO HELP EMPLOYEES AROUND THE WORLD STAY HEALTHY. STAFF SATISFACTION ALSO PROMOTES HEALTH. WE THEREFORE DO ALL WE CAN TO SUPPORT OUR STAFF IN ACHIEVING A HEALTHY WORK-LIFE BALANCE.
CORPORATE HEALTH MANAGEMENT
Corporate health management designed to maintain the performance capacity of our workforce is an intrinsic part of GIZ policy. Health management services at GIZ include health courses, ergonomic consultations and e-learning. Through its approach to corporate health management, GIZ aims to create working structures and conditions that are conducive to long-term health. The seven pillars of GIZ's corporate health management approach enable the company to comprehensively fulfil its social responsibility and duty of care for its employees. The pillars cover:
Health and prevention
Emergencies and accidents
Safety and security
Work-life balance
Ergonomics
Sport and exercise
Best practices
Our system of corporate health management is based on the principle of shared responsibility. Maintaining performance capacity is the responsibility of staff. The company, in turn, is responsible for providing an enabling environment for them to do so. Managers have a special role, in that they represent the values and objectives of the company, have a duty of care for their staff and are responsible for maintaining their own performance capacity. They therefore serve as role models, too.
As part of this process, numerous activities have been designed for managers and staff, including a seminar and guidelines on healthy leadership, the 'GIZ Moves! Active break culture' initiative, plus a workload management guide in conjunction with related e-learning courses.
At the company's main offices in Germany, GIZ's corporate health management programme also offers a wide range of additional health services. These include sport and exercise courses, advice on ergonomics and achieving a work-life balance (for example, reconciling work and family commitments, and mobile working), seminars and check-ups. The options available depend on the location.
read more
read less
HEALTH TEAM
To facilitate coordination of the various units that contribute to occupational health and safety and health promotion, an interdisciplinary Health Team has been formed. It consists of staff from different departments, and meets regularly.
The 'GIZ Moves! Active break culture' initiative strengthens staff participation, sovereignty and health literacy by encouraging staff to act as exercise multipliers. By instilling an active break culture, GIZ's Corporate Health Management Team aims to motivate staff members to be more physically active by taking breaks together.
The topic of health and safety is also firmly embedded in the staff and development worker survey, with a view to identifying needs and trends. The staff and development worker survey is an HR instrument that reflects staff opinions on specific topics and the mood of participants at the time of the survey. The Corporate Health Management Team also conducts its own evaluations at irregular intervals and analyses general key indicators.
GLOBAL ACCESS TO SERVICES
Information about occupational health and safety, and health in general, is available to all staff on the intranet pages of Medical Services and the Corporate Health Management Team. On the Global Campus 21 platform, staff worldwide can access extensive online services on topics such as occupational health and safety, ergonomics and exercise.
GIZ provides adequate protection from the risk of disease for local personnel in partner countries. In all countries that have a functioning – state-run or private – health insurance system at the local or regional level, national personnel are covered by this system. In countries with no functioning health insurance system, cover is provided by GIZ's allowance system.
PROFESSIONAL SUPPORT FROM MEDICAL SERVICES AND COPE
The services provided by our Corporate Health Management Team are complemented by those offered by Medical Services, the Occupational Health and Safety Team and GIZ's psychosocial counselling Cooperation with Personnel in Stress, Conflict and Crisis (COPE).
Medical Services advises all those involved in health and safety within the company on issues related to health and well-being. It supports the company in implementing occupational health legislation and regulations both in and outside Germany, with the aim of creating a healthy work environment for all staff and offering advice on healthy behaviour.
As the point of contact for all those seeking counselling due to specific events or special living and working conditions, COPE's services (for trauma, addiction and workload, for example) complete GIZ's holistic approach.
WORK-LIFE BALANCE
GIZ supports efforts to find better ways of combing work and family life. This is reflected in, for example, the certification it has been awarded by the Hertie Foundation. Following successful audits, most recently in 2016, the Hertie Foundation repeatedly found that GIZ's human resources policy is geared towards families and different stages of an employee's life. As well as in-house childcare facilities, GIZ offers a variety of part-time working models and support mechanisms for staff with family members requiring nursing care.
In practice, many employees can determine when they work and where they work from on an increasingly flexible and independent basis. However, the company still lacks a uniform, company-wide working time model that does justice to this growing flexibility. GIZ and the relevant staff councils are therefore currently negotiating an employer/staff council agreement on the flexibilisation of working hours and place of work that will enable employees to strike an even better balance between work and individual lifestyles in future. This is expected to take effect in 2019.
For staff on field assignments outside Germany, two new flexible working time models were agreed in 2017. Both provide for longer periods in the employee's place of permanent residence and therefore enable assignments to be planned in a more individual and family-friendly manner.
FURTHER INFORMATION
Health is necessary for employability. However, a number of other factors must also be taken into account. Regular feedback, career planning, capacity development and training are all important elements in ensuring that our employees are happy and enjoy their work. Find out more about this topic GIZ as an employer: Increasing employability