EMBEDDED AT THE HIGHEST LEVEL OF MANAGEMENT AND CENTRALLY COORDINATED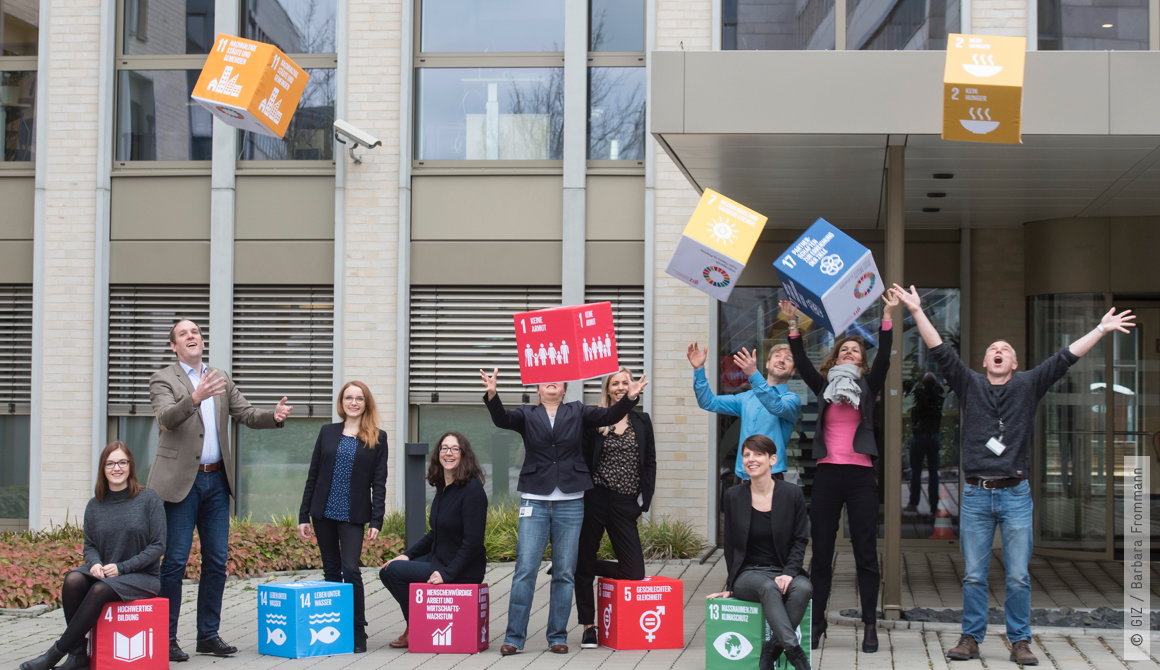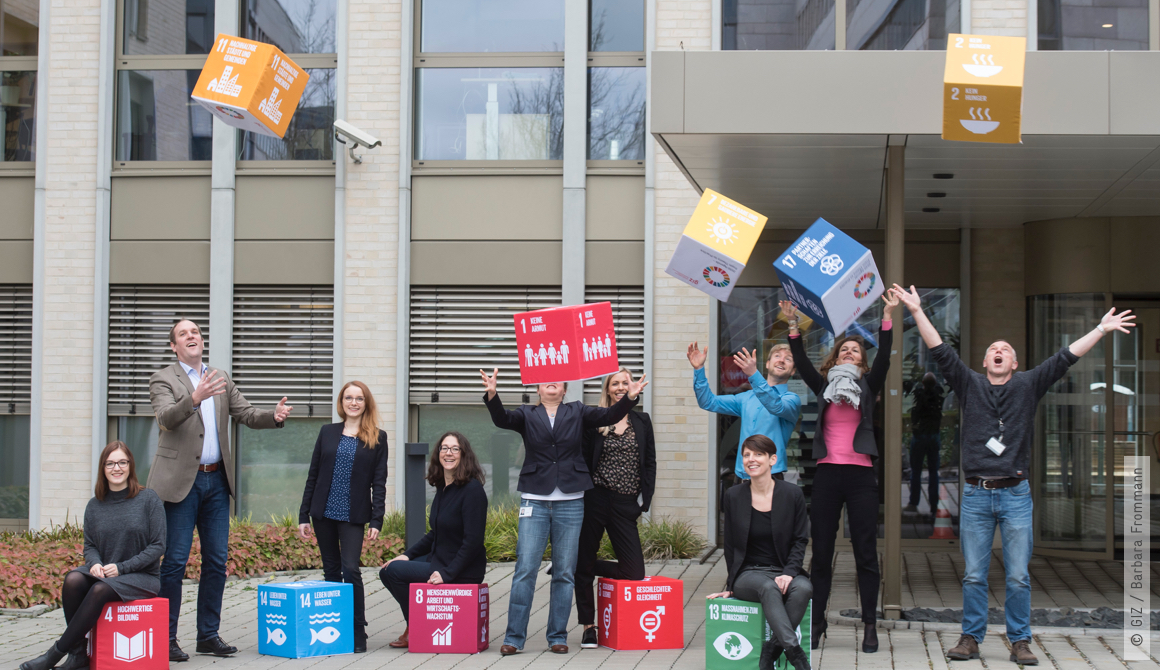 WHAT DOES SUSTAINABILITY MEAN FOR GIZ? WHAT DO WE HOPE TO ACHIEVE, AND HOW DO WE WANT TO PUT IT INTO PRACTICE?
STRATEGICALLY EMBEDDED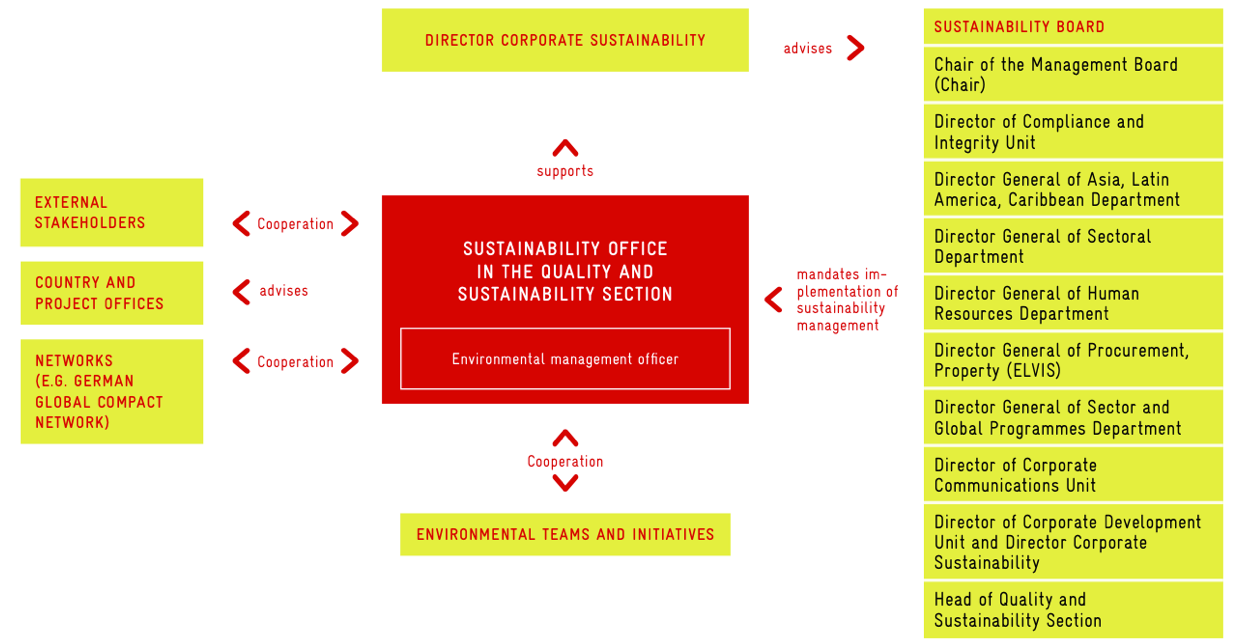 The Sustainability Board, the Director Corporate Sustainability and the Sustainability Office work closely together to systematically promote sustainability. In the highest echelons of management, the Sustainability Board, overseen by the Chair of GIZ's Management Board, lays down the long-term strategic orientation of our corporate sustainability and analyses and evaluates how it is being implemented.
The other members of the Sustainability Board are the Director of the Corporate Development Unit, in her role as Director Corporate Sustainability, and seven other heads of departments and corporate units.
CENTRALLY COORDINATED AND REVIEWED
The Director Corporate Sustainability is the central point of contact for matters relating to sustainability, both inside and outside the company, and ensures that future development of sustainability management is linked to GIZ's corporate development.
The Director Corporate Sustainability is supported by the Sustainability Office, which coordinates and monitors sustainability management across the company, cooperating closely with other organisational units at GIZ. The Sustainability Office promotes sustainability management at locations outside Germany with a specially developed instrument, the Corporate Sustainability Handprint®, which has now been introduced worldwide.
'WE ARE AIMING TO PLAY A PIONEERING ROLE AS A SUSTAINABLE COMPANY.'
Interview with Elke Siehl, GIZ Director Corporate Sustainability
INTERVIEW
How important is corporate sustainability for GIZ?
ELKE SIEHL In a nutshell, corporate sustainability management has gone from being something that it would be nice to do to an absolute must. It is a key factor in our credibility and in ensuring our long-term viability.
What part does the dialogue with stakeholders play in this?
This exchange of ideas is crucial. Our first Stakeholder Dialogue on Sustainability was held in 2016. We asked representatives from the worlds of politics, business and the scientific and academic community what issues were important to them with regard to sustainability at GIZ (note: see Materiality Matrix). One of the outcomes of this was that they wanted to see GIZ in Germany assuming a pioneering role as a sustainable company. We are organising the next Stakeholder Dialogue in 2018 as a follow-up.
How is GIZ living up to this expectation?
Our actions are guided by the principles of sustainability. As one of the pioneers in corporate sustainability, we have embedded sustainability targets in our Corporate Strategy. We are aiming to reduce our worldwide resource consumption and CO₂ emissions, for example, and by 2020 we want to be climate-neutral. Our decentralised management instrument, the Corporate Sustainability Handprint®, along with our Sustainability Programme and Environmental Programme, are helping us translate this into reality.
Read interview
Close interview