SUSTAINABLE MOBILITY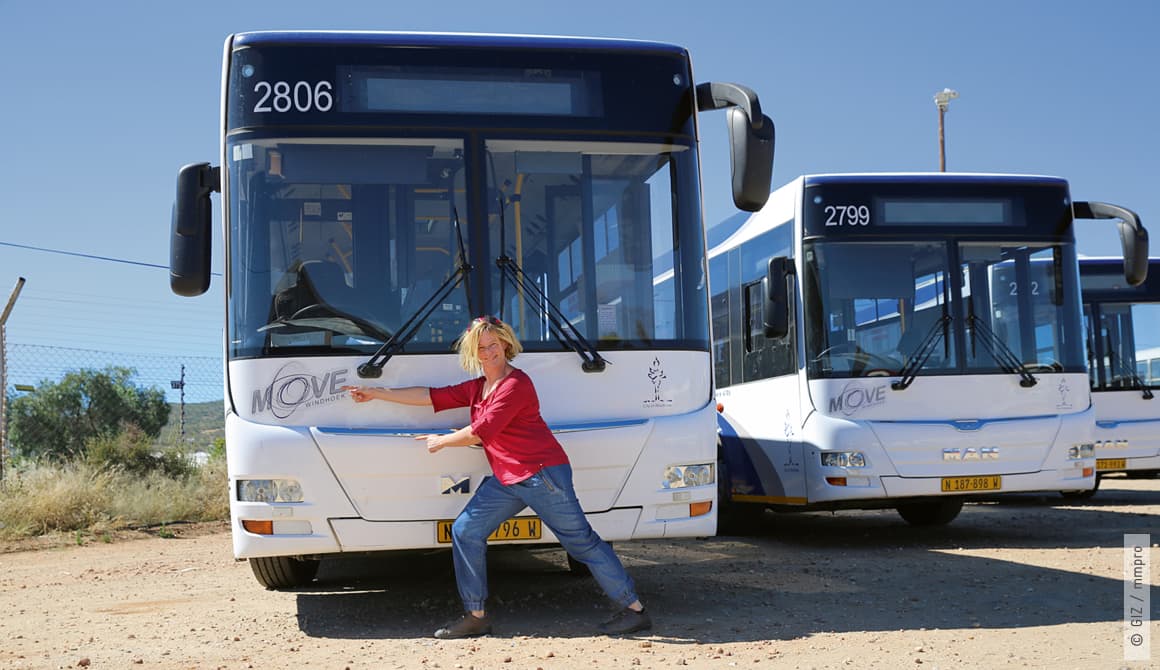 MOBILITY IS A CORE DEMAND AND A BASIC REQUIREMENT OF MODERN SOCIETIES. AFTER ALL, MOBILITY IS MUCH MORE THAN JUST MOVING PEOPLE AND GOODS FROM A TO B. IT ENABLES ACCESS TO MARKETS, JOBS, SCHOOLS, SHOPPING FACILITIES AND MEDICAL CARE AND IS THEREFORE ESSENTIAL FOR SOCIAL AND ECONOMIC DEVELOPMENT. BUT IT CAN ONLY BE REALISED WITH A SUSTAINABLE TRANSPORT STRATEGY THAT PREVENTS THE RESULTING GRIDLOCK AND AVOIDS INCREASED EMISSIONS OF HARMFUL GREENHOUSE GASES.
ELECTROMOBILITY IN BRAZIL
There is still a long way to go before collectively used, autonomous electric vehicles are so common in town centres that they no longer attract attention. However, GIZ and the Brazilian Ministry of Industry have been paving the way for this since 2017. In a joint project, financed by BMZ, they are working to establish the prerequisites for the inclusive use of energy-efficient drive systems in Brazil. The focus is on electromobility in public transport and urban goods delivery.
DEVELOPING A ROADMAP FOR EFFICIENT, SMART AND SUSTAINABLE MOBILITY
Initial pilot projects – ranging from the expansion of park-and-ride stations to the delivery of consignments using e-vehicles and e-bikes – are being tested in the city of Joinville, with its estimated population of 560,000. In this 'Mobility City Lab', which was developed by Fraunhofer-Gesellschaft, actors from the government, municipal administrations, the private sector and the scientific and academic community are working together to develop a roadmap for efficient, smart and sustainable mobility. The aim is for Joinville to become a role model for innovative mobility strategies throughout Brazil.
German-Brazilian project promoting electromobility (PROMOB-e)
A MODERN BUS NETWORK FOR WINDHOEK
Far too few buses and always overcrowded: those who rely on public transport in the Namibian capital of Windhoek often have to walk or take an expensive cab ride to get where they are going. To improve the situation, GIZ's Transport, Mobility, Logistics pProject has joined forces with the Namibian Government to develop a master plan for sustainable transport in the capital.
EXPERTISE FROM KIEL
As part of the project, Silja Fieblinger, a transport planner from Kiel, helped to design a modern bus network in Windhoek. The transport expert mapped out routes, created rosters and timetables, and also passed on her knowledge to her colleagues. To this end, she was employed directly by the municipal administration as an integrated expert. New bus lines and bus stops are now being created, ensuring that buses run more frequently and punctually. The cost of the additional buses has been divided equally between BMZ and the city of Windhoek.
Silja Fieblinger was seconded to this key position by the Centre for International Migration and Development (CIM), which is run jointly by GIZ and the German Federal Employment Agency. She was one of many integrated experts to support the Namibian partners through the project. The project was so successful that it has now been expanded to other parts of Namibia.
Transport, Mobility, Logistics