Considering environmental factors when selecting materials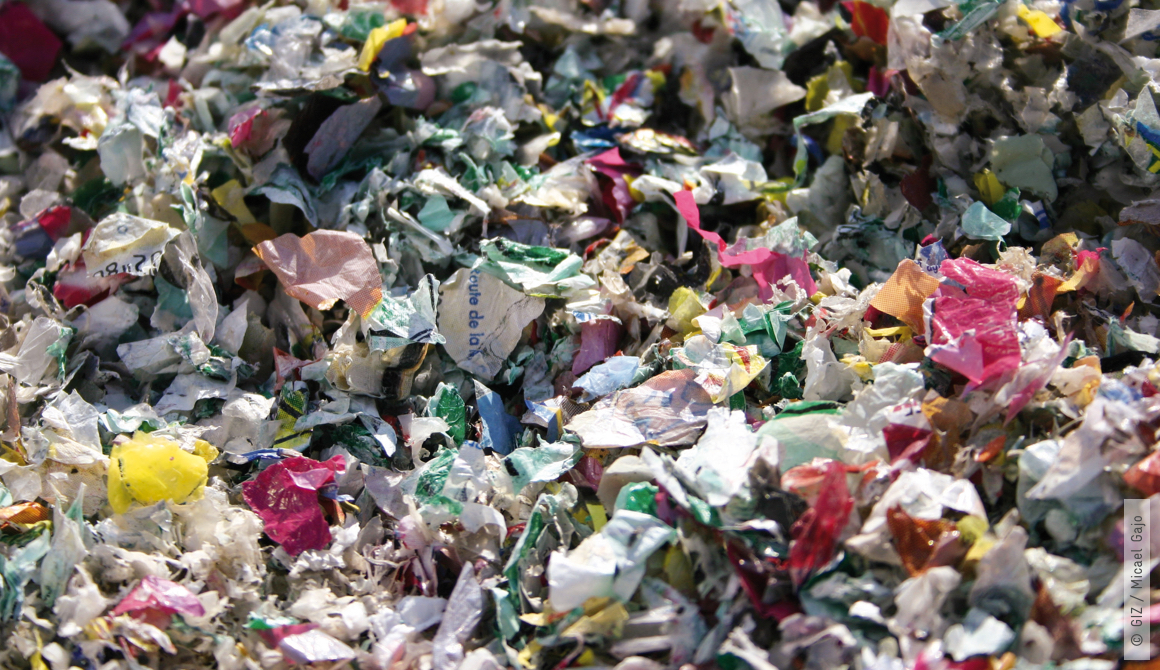 GIZ HAS SET ITSELF THE GOAL OF REDUCING PAPER CONSUMPTION AND RECYCLING SELECTED IT EQUIPMENT. OUR USE OF MATERIALS IS ALSO A KEY FACTOR IN THE PROMOTION OF SUSTAINABLE EVENT MANAGEMENT.
REDUCING PAPER CONSUMPTION
As a service company, paper is an essential resource that we use in our offices every day. The introduction of the new printer concept in 2016 and the avoidance of workplace printers wherever possible have led to significant reductions in paper consumption at our locations in Germany. In 2017, 99.4 per cent of the paper we used was Blue Angel-certified recycled paper. Ink cartridges are replaced by the provider of our low-energy printers and recycled to produce new cartridges.
On average, only around nine per cent of all paper used at GIZ's locations outside Germany in 2017 was recycled eco-paper. Because it is often difficult to purchase such paper locally, this rate cannot be increased as easily as in Germany.
| | | |
| --- | --- | --- |
| Annual paper consumption in Germany | Sheets per staff member | Total (sheets) |
| 2016 | 5,023 | 16,245,894 |
| 2017 | 3,636 | 14,654,339 |
| Annual paper consumption under the CSH | Sheets per staff member | Total (sheets) |
| 2015/2016 | 4,318 | 65,336,413 |
| 2016/2017 | 4,979 | 79,061,190 |
RECYCLING AND RETURNING INSTEAD OF SIMPLY DISCARDING
We are committed to producing as little waste as possible and to achieving a high recycling rate. Since 2013, for example, selected IT equipment has been reconditioned by a service provider and resold as used equipment. Defective devices that cannot be reconditioned are disposed of properly, in an environmentally friendly manner. In the period from 2013 to 2017, a total of 5,078 devices were collected. Around 56 per cent of these were reconditioned and subsequently resold.
In procurement too, we strive to 'buy in' as little waste as possible. We give preference to reusable packaging, and any packaging used must meet our requirements or be taken away by the supplier. We also attach great importance to repairing purchased materials and equipment wherever possible.
In our canteens, paper cups at coffee machines were replaced with ceramic mugs in 2017, and reusable lunch boxes were introduced instead of polystyrene takeaway boxes. Used highlighters and markers are also collected at all locations in Germany – especially our training centres – and then recycled.
WASTE
The majority of the waste we produce is assimilated municipal waste. In the case of residual waste, our per capita value was noticeably lower in 2015. This can be attributed to the development of a waste strategy in 2016. Since then, all waste has been recorded, including waste that was previously allocated to our canteen service providers. The increase can therefore be explained by the new and comprehensive data recording process. Waste is not an area of action in the CSH.
| Annual volume of residual waste in Germany | kg per staff member | Total (tonnes) |
| --- | --- | --- |
| 2015 | 66 | 195 |
| 2016 | 87 | 266 |
| 2017 | 85 | 359 |
FURTHER INFORMATION
Economical, but also ecological and social: Sustainable procurement at GIZ