Guatemala and Cambodia: reconciliation and non-violent conflict management
HOW CAN A COUNTRY FIND INTERNAL PEACE AFTER DECADES OF VIOLENCE? HOW CAN A SEVERELY WEAKENED STATE BUILD TRUST AND STABILITY UNDER THE RULE OF LAW? WITHOUT AN HONEST REAPPRAISAL OF HISTORY, INTENSIVE RECONCILIATION WORK AND THE PRACTICE OF NON-VIOLENT CONFLICT MANAGEMENT, THIS IS IMPOSSIBLE. WE ACCOMPANY OUR PARTNERS THROUGH THIS PROCESS AND SUPPORT THEM OVER THE LONG TERM AS THEY OVERCOME THE CAUSES OF CONFLICT, VIOLENCE AND FRAGILE STATEHOOD.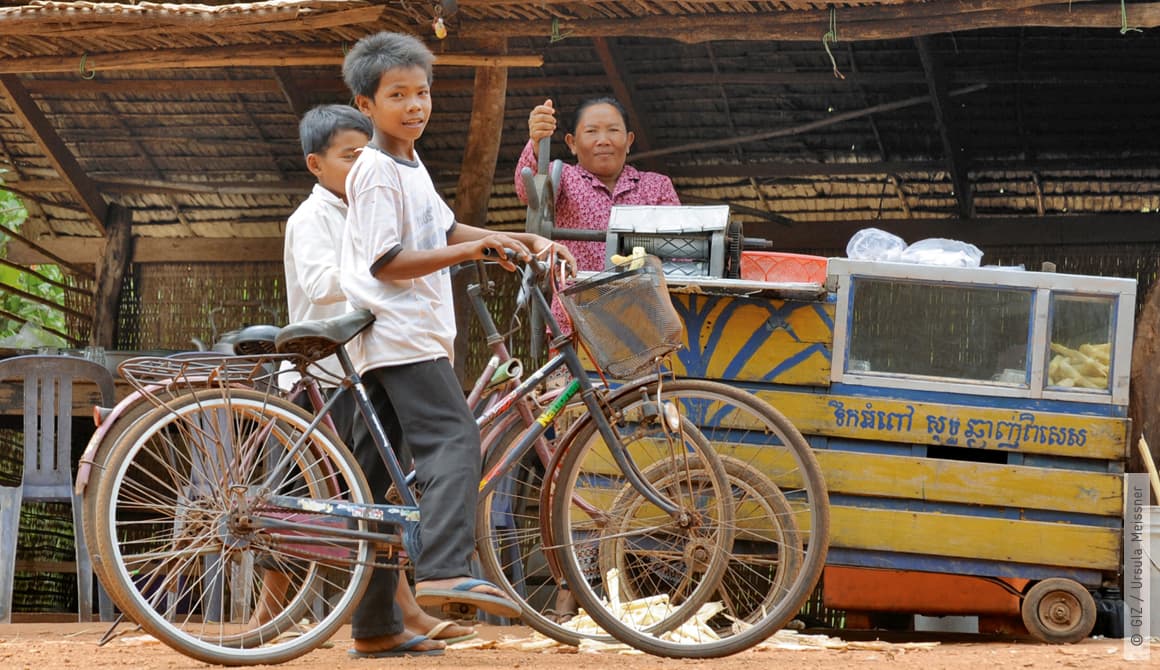 GUATEMALA: OVERCOMING A CULTURE OF EVERYDAY VIOLENCE
A Pact for Security, Justice and Peace – this is how the Government of Guatemala in concert with civil society and stakeholder organisations intends to bring about a change of mindset in society. Although the civil war ended 20 years ago, this country still has among the highest rates of violence and murder in the world. The victims are typically women, minorities and the indigenous population. Corruption is ubiquitous, undermining people's trust in the state.
MANFREDO MARROQUÍN, PRESIDENT OF THE NON-GOVERNMENTAL ORGANISATION ACCIÓN CIUDADANA (TRANSPARENCY INTERNATIONAL GUATEMALA)
'In concert with GIZ, for the first time ever we have managed to work more closely with private companies on transparency and anti-corruption. GIZ pursues similar objectives to ours, and both sides benefit from our cooperation. The most valuable thing for us is the experience in anti-corruption that our project partners bring with them from other countries.'
TABOO SUBJECT OF VIOLENCE AGAINST WOMEN NOW ON THE AGENDA
GIZ experts are supporting the pact, on behalf of BMZ. This involves running a course – now much in demand across the country – that trains police officers, public servants and participants from the private sector and civil society in de-escalation techniques and systematic approaches to preventing violence. Thanks to campaigns such as Letters from Women, through which victims have broken their silence and reported anonymously about their experience of violence in families and in the public realm, the taboo subject of violence against women has now become a political issue.
A JOURNEY TOWARDS TRANSPARENCY
To build greater trust in the state, a transparency pact was also concluded between the government and Transparency International Guatemala. This has led to the first local authorities setting up transparency portals for the population. At the end of 2017, the 'Corruption tour: a journey towards transparency' was launched as part of this process. It presents serious cases of corruption to the public – outside the headquarters of affected institutions in Guatemala City. Furthermore, private companies themselves are now displaying greater openness to transparency and the prevention of corruption.
Promotion of integral civil security and transformation of social conflicts
CAMBODIA: PROCESSING THE TRAUMA OF THE KHMER ROUGE
Cambodia is a traumatised country: around 1.7 million people, almost a quarter of the population, were murdered by the Khmer Rouge between 1975 and 1979. To this day, Cambodian society has been unable to come to terms with this period of horror and the decades-long civil war.
Backed by BMZ, experts working for the Civil Peace Service are therefore supporting civil society and state partners in fostering a common culture of remembrance and reconciliation. The Khmer Rouge Tribunal, for instance, collects information against former war criminals; memorial committees set up at places where atrocities were committed and dialogue events involving young people and survivors are designed to ensure that the past is not forgotten; and compensation schemes help to heal emotional wounds, as well as contributing to social reconstruction.
FOCUSING ON THE WHOLE FAMILY
To make peace work sustainable over the long term, local experts also receive training in systemic family therapy. The first practitioners in trauma work successfully completed their training in 2017. In this highly collectivist society, the idea is that they should direct their attention at the whole family, not just the individual.