Corporate sustainability management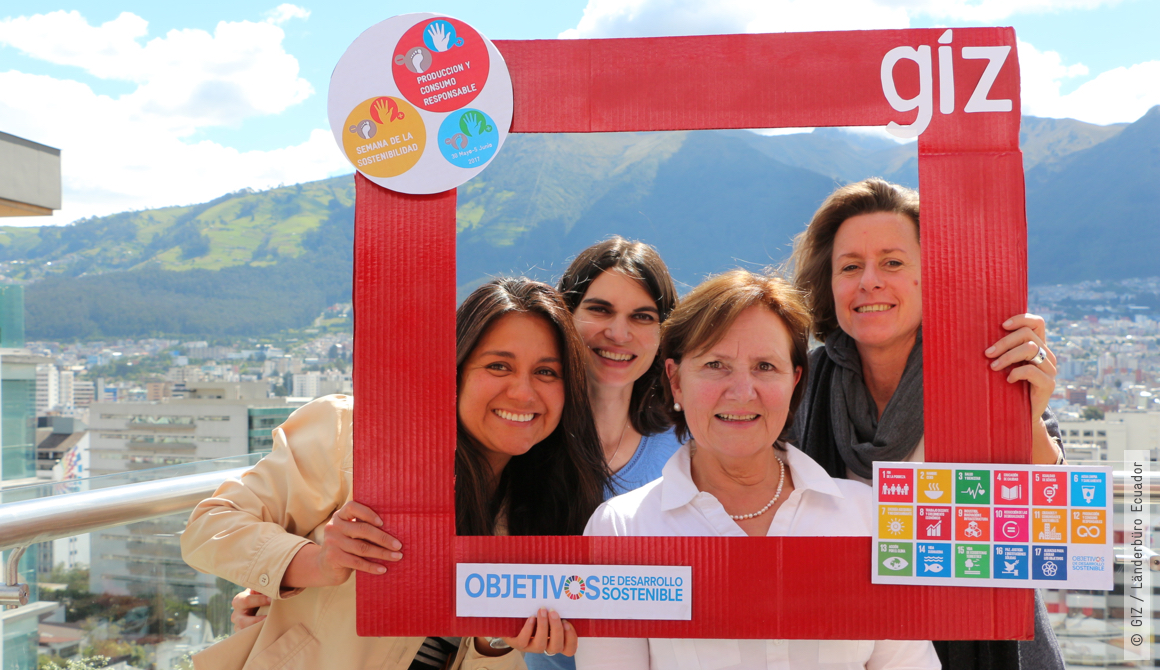 AS A SERVICE PROVIDER IN THE FIELD OF INTERNATIONAL COOPERATION FOR SUSTAINABLE DEVELOPMENT, SUSTAINABILITY IS AT THE HEART OF WHAT WE DO AND SERVES AS A GUIDING PRINCIPLE FOR OUR WORK. OUR APPROACH TO CORPORATE SUSTAINABILITY MANAGEMENT IS SHAPED BY THIS BASIC UNDERSTANDING OF CORPORATE POLICY.
Sustainable business practices are an important part of GIZ's understanding of quality and a key factor in safeguarding our competitiveness and long-term viability. The 2030 Agenda, the Paris Agreement on climate change and the German Sustainable Development Strategy provide the overarching framework for our actions in this context.
The values we promote in our projects and programmes are therefore embodied in our company wherever possible. For us, corporate sustainability management is an absolute must and not just something it is nice to have.
RESPONSIBILITY FOR THE FUTURE
Our sustainability standards and our principles for managing corporate sustainability are anchored in our guidelines on corporate sustainability, which we follow both internally as a company and when implementing commissioned projects. The guidelines on corporate sustainability also state how environmental and social standards are maintained within our projects to comply with national legislation in our cooperation countries and with the obligations arising from international agreements. In 2017, the guidelines were updated to bring them into line with the goals of the 2030 Agenda.
Sustainability is also a cross-cutting theme in our Corporate Strategy 2017 –2019. It features prominently in the 'effectiveness' area of action, with one measure dedicated to implementation of the 2030 Agenda and stakeholder satisfaction with GIZ's sustainability services. The implementation principles and objectives of the 2030 Agenda are firmly embedded in GIZ's services. In the 'value for money' area of action, sustainability is also addressed in the separate sub-item 'sustainable business practices', with a focus on social and environmental criteria in procurement.
FOUR FIELDS OF ACTION ON SUSTAINABILITY
GIZ has defined four fields of action on sustainability:
Our Sustainability Programme and, subordinate to that, our Environmental Programme, specify relevant indicators and measures, for instance on reducing the consumption of electricity, water and paper, cutting CO2 emissions, promoting sustainable event management and strengthening stakeholder and staff participation.
The Sustainability Programme is the principal guideline and management instrument for the work of the Sustainability Office. To ensure its successful implementation, the Sustainability Office engages in close dialogue with other units within the company.
FURTHER INFORMATION
Information about the topic "Corporate sustainability" on the GIZ-website:
Sustainability