Different energy consumption in and outside germany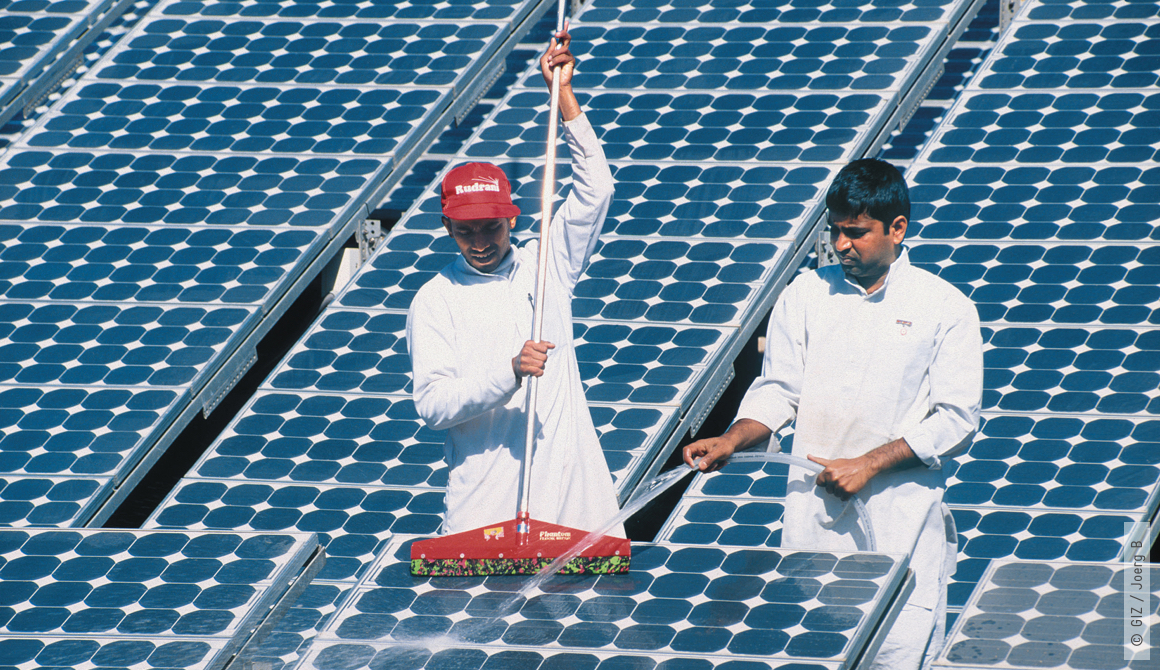 GIZ ALSO PROMOTES A RESPONSIBLE APPROACH TO ENERGY CONSUMPTION. OUR EMAS AND CSH ENVIRONMENTAL MANAGEMENT SYSTEMS ALLOW US TO RECORD AND ANALYSE OUR ENERGY CONSUMTION IN AND OUTSIDE GERMANY.
Our energy consumption in and outside Germany involves a mix of different sources. Our calculations include electricity consumption, heating energy and direct energy consumption from vehicle fuel and generators.
ALMOST 90 PER CENT OF THE ENERGY WE CONSUME IN GERMANY COMES FROM GREEN ELECTRICITY
GIZ's locations in Germany are powered almost exclusively by green electricity. Electricity from renewable sources therefore accounted for around 89 per cent of our total electricity consumption in 2017. The remaining 11 per cent related to conventional electricity for collectively used spaces (such as lifts or reception areas) in buildings in which GIZ only rented space. Where possible and cost-effective, conventional light bulbs are gradually being replaced by LED bulbs at all locations. We are also striving to make savings through ventilation systems.
Outside Germany, it is not possible to achieve the same high share of renewables in the mix: in most countries, energy from renewable sources is not yet widely available. In some countries, solar systems have been installed for power supply (in Liberia and Sierra Leone, for example) or for charging stations for company bicycles (in Bolivia, for example).
MAJOR DIFFERENCES IN HEATING ENERGY AND VEHICLE FUEL
In the case of heating energy too, consumption in and outside Germany varies greatly: in Germany, heating energy consumption per staff member was 2,813 kilowatt hours in 2017. Outside Germany, where few countries have heating systems and electricity is sometimes used for heating, consumption was just 210 kilowatt hours per staff member.
Renewable energy accounted for around 14 per cent of our heating energy and was generated by two geothermal facilities in the new buildings in Bonn and Eschborn as well as smaller solar thermal systems. Energy from fuels and generators plays a negligible role in Germany.
The biggest differences relate to direct energy consumption from vehicle fuel. This amounted to 230,314 kilowatt hours in Germany in 2017 compared with 42,482,770 kilowatt hours outside Germany. While GIZ's 'vehicle fleet' in Germany comprised just 18 vehicles at the end of 2017, there were around 4,000 vehicles outside Germany.
Germany
Abroad
2016
2017
2016
2017
Total energy consumption in kWh
18,737,664
21,579,079
73,739,472
72,381,592
Total energy consumption per staff member in kWh
5,375
5,112
4,873
4,558
Total electricity consumption in kWh
8,213,748
9,474,428
19,266,168
19,496,065
Total electricity consumption per staff member in kWh
2,357
2,245
1,273
1,228
Share of green electricity in %
97.30 %
89.4 %
Not recorded in CSH
Not recorded in CSH
Total heating energy in kWh
10,296,887
11,874,338
2,527,348
3,336,288
Total heating energy per staff member in kWh
2,955
2,813
167
210
Total energy consumption from diesel generators in kWh
9,950
9,950
5,923,869
5,407,835
Total energy consumption from generators in kWh
3
2
391
357
Share of renewable heating energy in %
16.3 %
14.1 %
Not recorded in CSH
Not recorded in CSH
FURTHER INFORMATION:FURTHER INFORMATION
What does sustainability mean for GIZ? What do we hope to achieve, and how do we want to put it into practice? An overview of GIZ's sustainability programme and an interview with Elke Siehl, GIZ's director corporate sustainability, can be found under Embedded at the highest level of management and centrally coordinated
One basic principle that GIZ respects in all its activities is the need to deal responsibly with the environment and natural resources: Environmental management at GIZ