GIZ's commitment to social change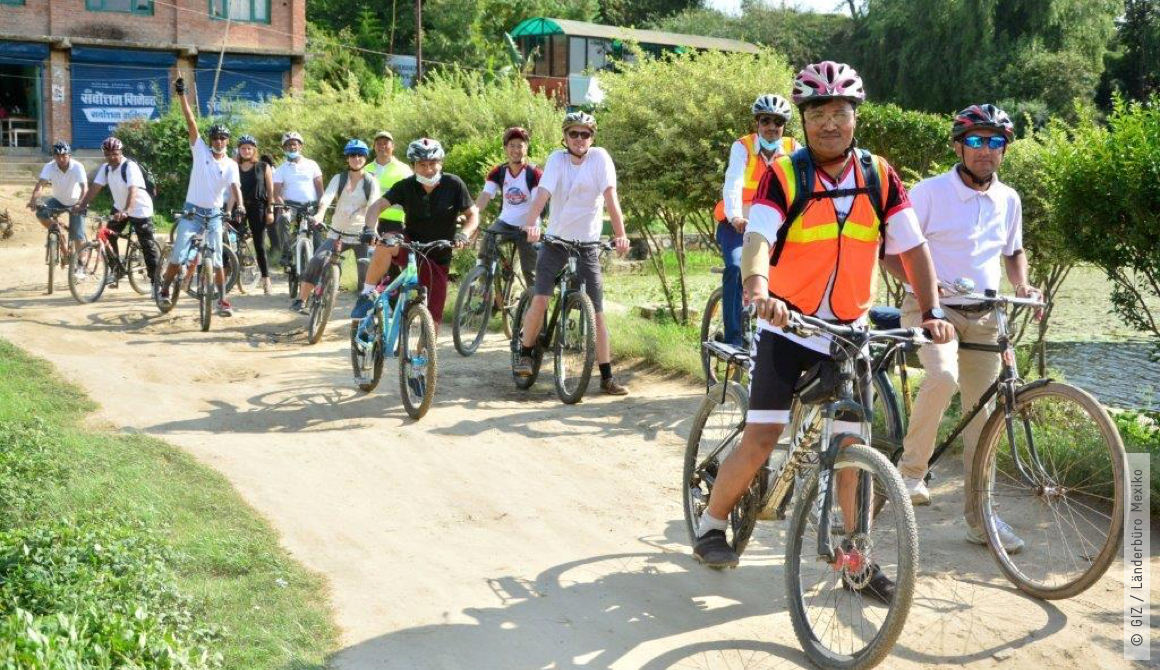 GIZ'S LOCATIONS IN GERMANY AND ITS COUNTRY OFFICES WORLDWIDE ARE ENGAGED IN A VARIETY OF ACTIVITIES TO IMPROVE SUSTAINABILITY. THE MOTTO OF GIZ'S GERMAN SUSTAINABILITY ACTION DAYS IN 2017 WAS 'RESPONSIBLE CONSUMPTION – FAIR ENOUGH!'. FROM SAFE CYCLING IN NEPAL AND A PLASTIC-FREE WEEK IN THAILAND TO SUSTAINABLE EVENT MANAGEMENT AT HOTELS IN RWANDA – A RANGE OF INITIATIVES WERE ORGANISED BY GIZ STAFF TO RAISE AWARENESS OF SUSTAINABILITY IN AND OUTSIDE GERMANY.
GIZ's staff supported the 2017 German Sustainability Action Days by organising a total of 38 initiatives at its locations in Germany and 35 events in 21 countries, providing a wide variety of information and ideas about sustainable consumption. Events were organised by many of the company's country offices around the world. Staff in the Philippines, for example, organised a sustainability week, while staff in Nicaragua worked in care homes and staff in Tanzania introduced a charity week in which each employee can devote their working time to a specific cause.
SUSTAINABLE TEXTILES
In Bonn, the Partnership for Sustainable Textiles highlighted the conditions in which our clothes are produced in developing countries. It also offered ideas on how we can make our own wardrobes more sustainable using resources such as special shopping guides.
ALBANIA: RESPONSIBLE USE OF RESOURCES
In Albania, GIZ and its cooperation partner, a university in Tirana, helped young people gain a better understanding of the topics of recycling, energy efficiency and regional produce in an entertaining way. They used experiments to test the energy and cost efficiency of different types of light bulb, and presentations and various quizzes to draw attention to the issue of plastic and recycling.
VOLUNTEER DAY IN BOSNIA AND HERZEGOVINA
In November 2017, GIZ staff in Bosnia and Herzegovina organised a day of social engagement with various institutions there. Among the institutions taking part were an establishment for children without parental care in Sarajevo and Banja Luka and an institution for children and young adults with mental disabilities. Staff spent an enjoyable day making greetings cards and gift boxes with the children, learning songs about friendship and reading books. The young adults also had the opportunity to practise skills such as writing a CV and working with the Photoshop software.
Overview of selected projects at GIZ's country offices:
Madagascar: March for climate change to raise public awareness in Antananarivo; Support for Manda, an NGO that helps children in need
Zambia: Activities to raise awareness of HIV/AIDS
Tanzania: Charity day on which each employee at GIZ in Tanzania can devote their working time to a specific cause
Costa Rica: Donation of violins to young musicians; Donations for the purchase of emergency food kits; Collection of new and used books for social organisations
Cambodia: Election monitoring
Nicaragua: Collaboration with civil defence and the fire service on safety and security issues; Social engagement of staff in care homes
Philippines: Sustainability Week (end of June 2017)
Albania: Regular humanitarian activities; Cooperation with engaged students and schools
Kyrgyzstan: Charitable engagement
Serbia: Communication of charitable initiatives
FURTHER INFORMATION
Sustainability is up to each and every one of us. How can we as individuals contribute to it in our day-to-day lives? Staff commitment to sustainability