LASTING PEACE AND STABLE LIVING CONDITIONS
OFFICIALLY, THE PEACE TREATY OF 2015 BROUGHT PEACE TO MALI, BUT IMPLEMENTATION OF THE AGREEMENT BETWEEN THE GOVERNMENT AND TUAREG REBELS HAS BEEN VERY SLOW. CONFLICT IN THE NORTH AND THE CENTRAL REGION OF MALI CONTINUES TO FLARE UP. THE STATE'S ABILITY TO SAFEGUARD ITS CITIZENS' SECURITY IS LIMITED, AND IN MANY AREAS THE PROVISION OF BASIC SOCIAL SERVICES IS STILL LACKING. PATIENCE AND COURAGE ARE REQUIRED IN ORDER TO ADVANCE THE PROCESS OF RECONCILIATION AND FACE UP TO THE TRUTH. ACTIVE SUPPORT IS ALSO NEEDED FROM ALL SIDES TO OVERCOME THE LACK OF TRUST IN THE STATE AND BETWEEN FORMER ENEMIES.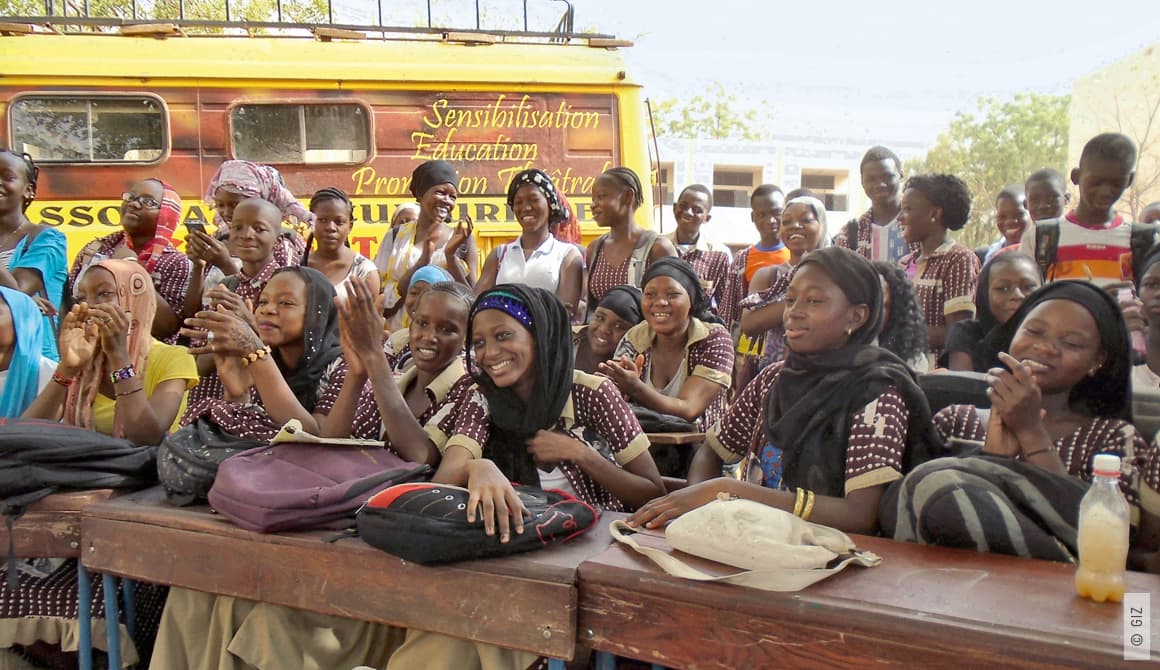 INFORMATION CAMPAIGN ON THE PEACE TREATY
In Mali, GIZ's main task on behalf of the German Federal Foreign Office is to support the peace process. This includes explaining the largely unfamiliar peace treaty to the people through an information campaign. A brochure entitled '20 FAQs on the peace treaty' is much in demand in rural areas in particular. To reach people in every locality, it was translated into 12 local languages.
Theatre performances in these languages make the peace treaty accessible even to those members of the population who are unable to read. Thousands of people have seen these performances so far. To spread the word about the peace process throughout the country, around 600 teachers, traditional leaders, local councillors and other civil society actors have received training as multipliers.
'DEALING SENSITIVELY WITH THE PAST'
Interview with Abdoulaye Makalou, Secretary-General of Mali's Truth, Justice and Reconciliation Commission
INTERVIEW
Mali is experiencing a severe crisis, and the security situation is critical. What does that mean for your work?
ABDOULAYE MAKALOU Coming to terms with the past, and thereby laying the groundwork for reconciliation, is a prerequisite for lasting peace in Mali. This was why under the peace accord resulting from the Algiers process it was agreed that a Truth, Justice and Reconciliation Commission should be set up. Its task, under the official mandate granted to it by the government, is to document and analyse human rights violations over the past 60 years and to develop proposals for compensating the victims. Its members are representatives of all ethnic, religious and cultural groups in Mali. The Commission allows the population to speak about past injustice in private and public hearings, and to date has recorded more than 8,000 witness statements.
How does GIZ support the Truth Commission?
GIZ has supported our activities from the very beginning. As well as providing materials and equipment for our regional offices, GIZ fostered our institutional development and also provided psychological training for our staff, for example on how to take statements from victims and how to deal with them sensitively. To enable victims living in remote villages to travel in and give their statements, logistical and financial support was provided for their journeys. We drew up a nationwide communication campaign with GIZ to inform the population about our mandate, in all the local languages, and in that way get more people to provide witness statements. GIZ is also advising us on developing a compensation policy.
What do you appreciate about working with GIZ?
None of the important outcomes that we have achieved to date would have been possible without the constant backup and support from GIZ. A GIZ expert always takes part in our plenary sessions and closely assists the Commission's institutional and technical work. If particular challenges or obstacles arise that hinder our operations, GIZ is a helpful partner, working with us to find good, pragmatic solutions. These are all things that I greatly appreciate.
Read interview
Close interview
SUPPORTING THE TRUTH COMMISSION
Reconciliation and stable peace are impossible without a long-term reappraisal of the acts of violence committed during the civil war. This is why GIZ experts support Mali's Truth, Justice and Reconciliation Commission. After undergoing training in interview techniques and victim support, the around 100 staff of the Commission have taken more than 8,000 witness statements so far, paving the way to solving crimes such as murder, rape and theft and to negotiating compensation.
JOINT STABILISATION PROJECTS
GIZ is implementing stabilisation projects in several regions of Mali – Mopti, Timbuktu, Kidal and Ménaka, and in Gao, the region in the north of the country previously occupied by jihadists. The purpose of the projects is to bring swift improvements to people's living conditions and make it clear that reconciliation can also have a positive impact on their lives. Projects are selected jointly in a transparent, consensus-based process as part of a citizens' dialogue, which is run under the auspices of the Ministry of National Reconciliation and GIZ. The aim is also to build confidence in the state.
Time and again in the course of this dialogue, former enemies – whether individuals or groupings – have met for the first time since the crisis of 2012 to address the problems in their respective communities collaboratively and constructively. In the Gao region, over 150,000 people are now benefiting from new grain stores, radio stations, water supply systems and sports grounds that have been built as a consequence of the dialogue events and reconstruction projects.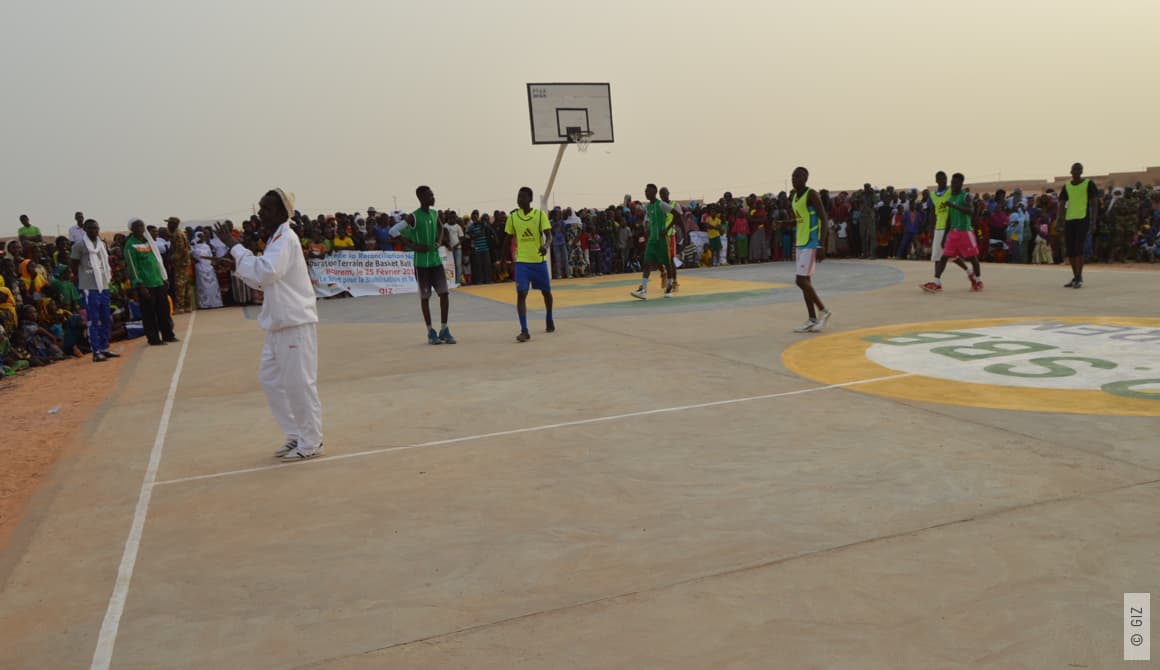 CLOSE COOPERATION
Many international actors such as the United Nations, the EU and the Economic Community of West African States (ECOWAS) are operating in Mali to advance the peace process. Close coordination is therefore vital to achieve synergies and ensure that activities are coherent.
For example, ECOWAS gives us access to and information about important bodies in the peace treaty architecture. We keep in frequent contact with the various contingents of the German armed forces deployed in Mali (EU, MINUSMA) to keep up to date with the security situation and risks in the north and centre of the country. Cooperation with small local organisations, too, enables us to work in areas where access is difficult and the security situation prevents us from having a presence on the ground.
Supporting the stabilisation and peace process