OFFERING PROTECTION QUICKLY AND CREATING LONG-TERM PROSPECTS
MORE AND MORE PEOPLE ARE HAVING TO LEAVE THEIR HOMES: WAR AND CONFLICT ARE FORCING THEM TO SEEK REFUGE EITHER WITHIN THEIR OWN COUNTRY OR BEYOND ITS BORDERS. MANY OTHERS LEAVE THEIR HOME REGIONS BECAUSE OF CLIMATE CHANGE, OR BECAUSE POVERTY AND UNEMPLOYMENT GIVE THEM NO CHOICE BUT TO LOOK FOR A BETTER FUTURE ELSEWHERE.
When people find themselves in need, swift action is vital. Having fled their homes, they must be taken care of and given shelter quickly, to save their lives. Refugees, and migrants, too, need to be protected against violence, abuse and exploitation. As well as providing assistance in acute situations, though, it is essential to develop solutions that stabilise and improve living conditions in countries of origin and transit countries over the medium and long term.
The same applies to the host communities, which are often placed under huge strain that exceeds their capacities. On the other side of the coin, migration can also present opportunities: migrants, countries of origin and host countries can all benefit from needs-based training and legal labour migration.
MAKING MIGRATION A POSITIVE EXPERIENCE
On behalf of the German Government, GIZ is actively engaged in over 100 projects and programmes in this field around the globe. We also cooperate with international commissioning parties, foundations and partners in working to make migration a positive experience, give people hope and open up genuine opportunities for them, whether in their original home or their new surroundings. The aim is to help them establish a secure existence, one in which modern, labour market-oriented vocational training plays an important part, along with employment as a means of earning a living.
DISPLACEMENT AND MIGRATION:
DELIVERING RESULTS AT ALL LEVELS
GLOBAL IMPACT
4.4 MILLION FORCIBLY DISPLACED PEOPLE AROUND THE WORLD HAVE BEEN REACHED.*
REGIONAL IMPACT
OF THESE, 2.2 MILLION WERE IN THE MIDDLE EAST AND THE MAGHREB. MORE THAN HALF OF THEM WERE WOMEN.*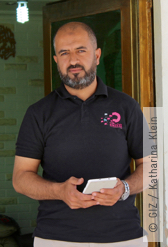 LOCAL IMPACT
'ONLY A YEAR AGO I STILL HAD TO CLOSE MY BARBERSHOP FOR SEVERAL HOURS TO PAY MY BILLS IN CASH AT VARIOUS PLACES AROUND TOWN. THANKS TO THE APP, I NOW DON'T LOSE THIS TIME. I THINK IT'S GREAT, AND TELL ALL MY CUSTOMERS ABOUT IT WHILE I'M CUTTING THEIR HAIR OR GIVING THEM A SHAVE. I'VE ALREADY OPENED AN ACCOUNT FOR 300 PEOPLE IN MY NEIGHBOURHOOD. MY OLDEST CUSTOMER IS 73 YEARS OLD.'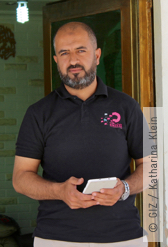 * These results were achieved thanks to the contribution of GIZ and its commissioning parties and partners. Survey period: 2010 – 2015.