CLIMATE-INDUCED MIGRATION IN FIJI AND BANGLADESH: WHEN NATURE TAKES AWAY YOUR LIVELIHOOD
THE CLIMATE HAS ALWAYS BEEN A FACTOR IN HUMAN MIGRATION. EXPERTS AGREE, THOUGH, THAT THE PRESSURE OF CLIMATE CHANGE WILL CONTINUE TO GROW IN FUTURE. PEOPLE ARE LEAVING THEIR HOMES BECAUSE FLOODS, HURRICANES AND DROUGHTS ARE INCREASINGLY DESTROYING THEIR LIVELIHOODS. IN 2016, SOME 23.5 MILLION PEOPLE* AROUND THE WORLD SOUGHT SHELTER ELSEWHERE – USUALLY WITHIN THEIR OWN COUNTRY – FOLLOWING EXTREME WEATHER EVENTS.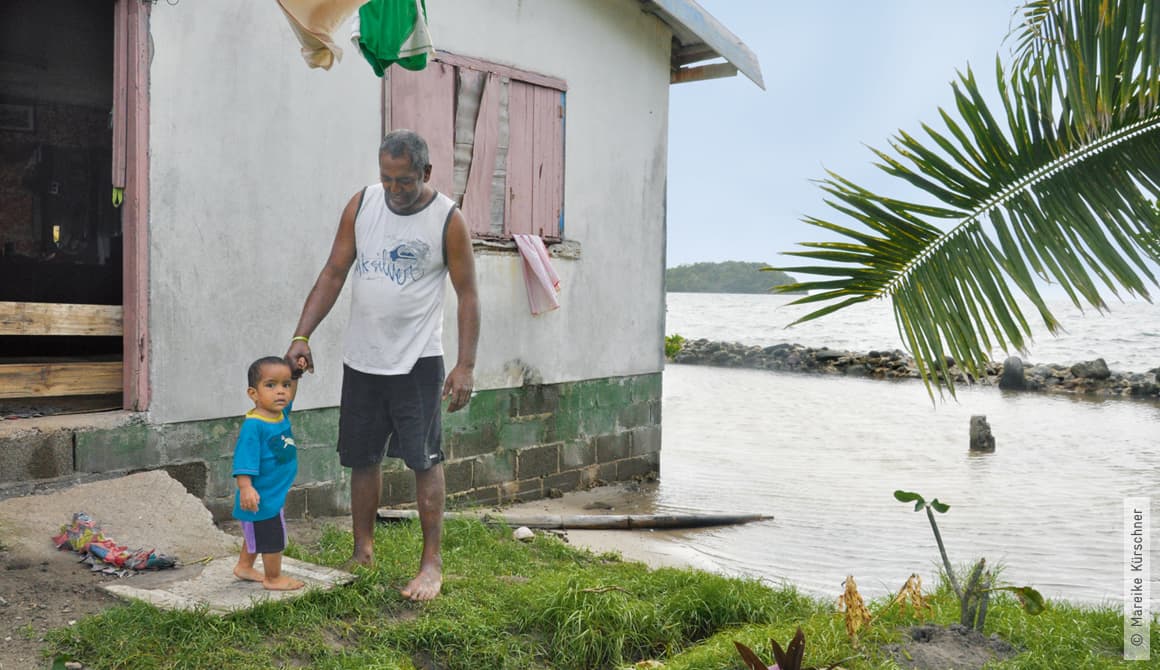 FIJI: SUPPORTING RESETTLEMENT
Low-lying coastal areas are particularly at risk. Even today, 50 countries around the globe are under threat from rising sea levels. In many cases, resettlement is the only precaution people can take. In Fiji in the South West Pacific, GIZ is working on behalf of BMZ and the EU to develop guidelines on the best way to plan and organise the resettlement of entire communities.
When it comes to choosing the new locations on higher ground, the affected residents, civil society and relevant national and local authorities are all closely involved from the very beginning.
WITHSTANDING EXTREME WEATHER EVENTS
Narikoso is a village on the island of Ono with a population of around 100. It is the first community where GIZ is providing in-depth support for resettlement. Some houses are already permanently under water. Geologists are investigating whether there are water sources and sufficient pasture and arable land at the new sites. The new houses and schools being built will be better able to withstand extreme weather events, and the basis for reliable supplies of food and means of earning extra income will be provided by growing more heat-tolerant varieties of fruit and vegetables and employing alternative irrigation techniques.
The first families are moving in 2018: still within sight of their old village, but higher up, and therefore safe. The lessons learned by the village in this process will be extremely valuable for the future of the entire region. In Fiji alone, about 60 communities are faced with the prospect of climate-induced relocation.
Coping with climate change in the Pacific island region
read more
read less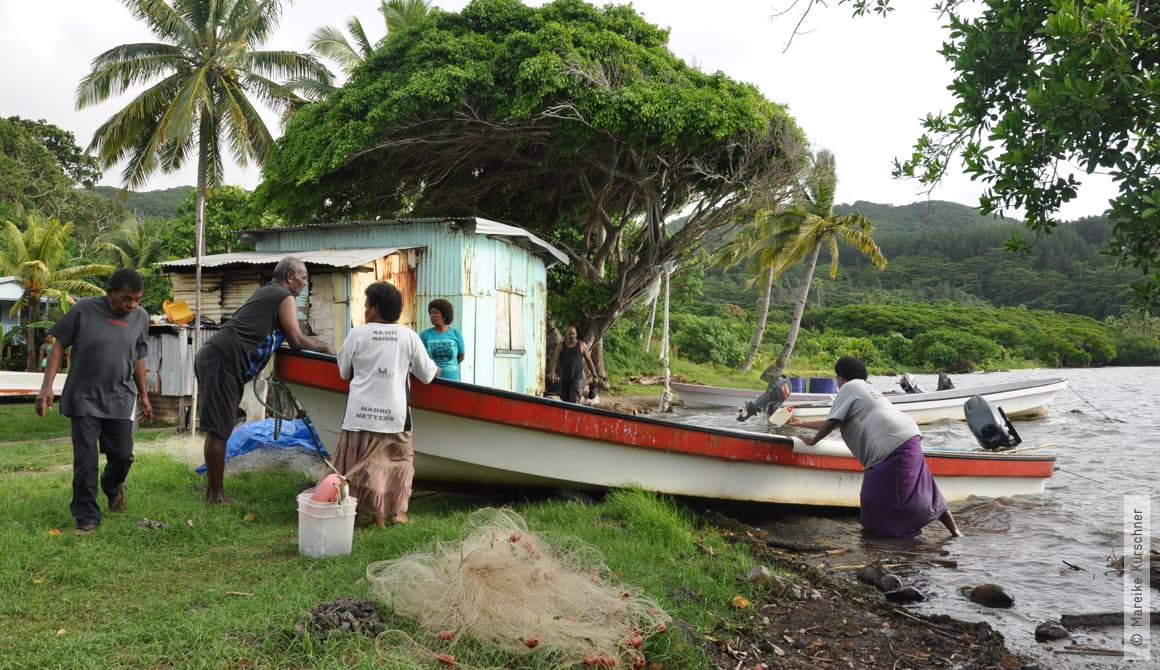 BANGLADESH: STRENGTHENING SOCIAL COHESION
An estimated six million people in Bangladesh have also been displaced in their own country as a consequence of floods, increasing salination of the soil and falling groundwater levels. They now live in the major cities, but most of them have not truly found a new home.
They sleep on the streets, along railway lines or on waste dumps and compete with the locals for work, accommodation and educational opportunities. In Khulna and Rajshahi, the third and fourth-largest metropolitan regions in the country, these internal migrants account for 70 per cent of slum-dwellers.
PREVENTING CONFLICTS AND IMPROVING LIVING CONDITIONS
How can conflicts be prevented here, and how can living conditions for everyone be tangibly improved? With these questions in mind, GIZ is supporting Bangladesh as part of the BMZ special initiative Tackling the Root Causes of Displacement, Reintegrating Refugees. In Khulna and Rajshahi, training is provided for the municipal administration, neighbourhood organisations and urban committees to help them launch joint activities and strengthen social cohesion
Construction schemes for urgently needed infrastructure, for example, such as wells or drainage ditches in the slums, provide temporary work and pay for newcomers and long-standing residents alike. Vocational education and training programmes are also being developed in cooperation with local businesses. They are crucial for the local labour market and will enhance people's future prospects.
Urban management of internal migration due to climate change
read more
read less
'THE INITIATIVE CAME AT THE RIGHT TIME.'
INTERVIEW WITH MONIRUZZAMAN MONI, MAYOR OF KHULNA IN BANGLADESH
INTERVIEW
Khulna is one of the cities in Bangladesh affected by internal migration due to climate change. What impact is this having?
MONIRUZZAMAN MONI Our infrastructure is being pushed to its limits by the large numbers of extra people. Roads, sanitary facilities and sewers have to be repaired, or new ones built. And we need jobs for everyone: for the people from Khulna and the new arrivals.
How is GIZ now helping you cope with these challenges?
The main concern is improving living conditions for the people in the poor neighbourhoods where most of the climate migrants seek refuge. GIZ is working with various partner organisations, such as Caritas and the Urban Children Development Programme, an NGO. These organisations have put forward lots of proposals and have provided considerable support.
What specific achievements have there been since the project was launched?
Just to give one small but powerful example: there are now 11 dedicated bathhouses for women in the slums. There used to be hardly any access to sanitation facilities, for the female population in particular. Over 40 hygienic public toilets have been built, too. These are true improvements to the way people live.
Are there any other outcomes that you are particularly pleased with?
Yes. About 800 people have attended training courses to give themselves a better chance on the labour market. Well over half of them were women. And almost three quarters of those taking part have now found a job or set up their own small business.
What are the plans for the future?
We are looking forward to continuing to work together to achieve a great deal more for Khulna, because the cooperation between the city of Khulna, the Ministry of Social Welfare and GIZ has helped us a lot. The initiative came at the right time and had a positive impact on the lives of disadvantaged members of our community. We will now have to look in even more detail at what happens next, what people's needs are and how they can be met.
Read interview
Close interview
* Internal Displacement Monitoring Center (2017): Global Report on Internal Displacement