We embrace diversity
GIZ IS A COMPANY THAT BENEFITS FROM THE DIVERSITY OF ITS WORKFORCE. ALL GIZ STAFF ARE PROTECTED FROM DISCRIMINATION. WE ENSURE THAT WOMEN AND MEN AT ALL LEVELS AND IN ALL AREAS OF THE COMPANY HAVE EQUAL OPPORTUNITIES IN THEIR PROFESSIONAL DEVELOPMENT. WE ALSO CREATE AN ENABLING ENVIRONMENT FOR ACHIEVING A GOOD WORK-LIFE BALANCE. OUR EMPLOYEES ARE PAID ACCORDING TO A FAIR REMUNERATION SYSTEM FOR STAFF IN GERMANY AND IN THE FIELD AND FOR OUR NATIONAL PERSONNEL AND TRAINEES.
ANTI-DISCRIMINATION
Protection from discrimination on the grounds of factors such as ethnicity, gender, religion, disability, age or sexual identity and orientation is embedded in our Code of Conduct, which applies equally to all employees worldwide.
Anyone affected by discrimination within the company can report this to the integrity advisors, members of the relevant staff representation or the complaints committee. Specific contacts exist for certain groups, including the gender equality officer, representatives for young people and trainees, representatives for people with disabilities and representatives for LGBTI staff members. Because the issues discussed are often highly confidential, all discussions remain anonymous. There are therefore no statistics on these enquiries.
EQUALITY
Equality at GIZ means removing disadvantages and placing on an equal footing the professional development of women and men at all levels and in all areas of the company. It also means creating an enabling environment for both genders to reconcile work and family commitments, based on the requirements of the Federal Act on Gender Equality. The Human Resources Department keeps the Management Board and Supervisory Board up-to-date on developments in the field of equality.
Three equal opportunity commissioners at GIZ's main offices in Germany ensure that our declared objectives and commitment to equality are reflected in our HR policy. They are also jointly responsible – in conjunction with the Human Resources Department – for achievement of our equality objectives. They participate in relevant negotiations between the Staff Council and GIZ in order to actively contribute to equality issues. In addition, they support measures aimed at facilitating a good work-life balance.
read more
read less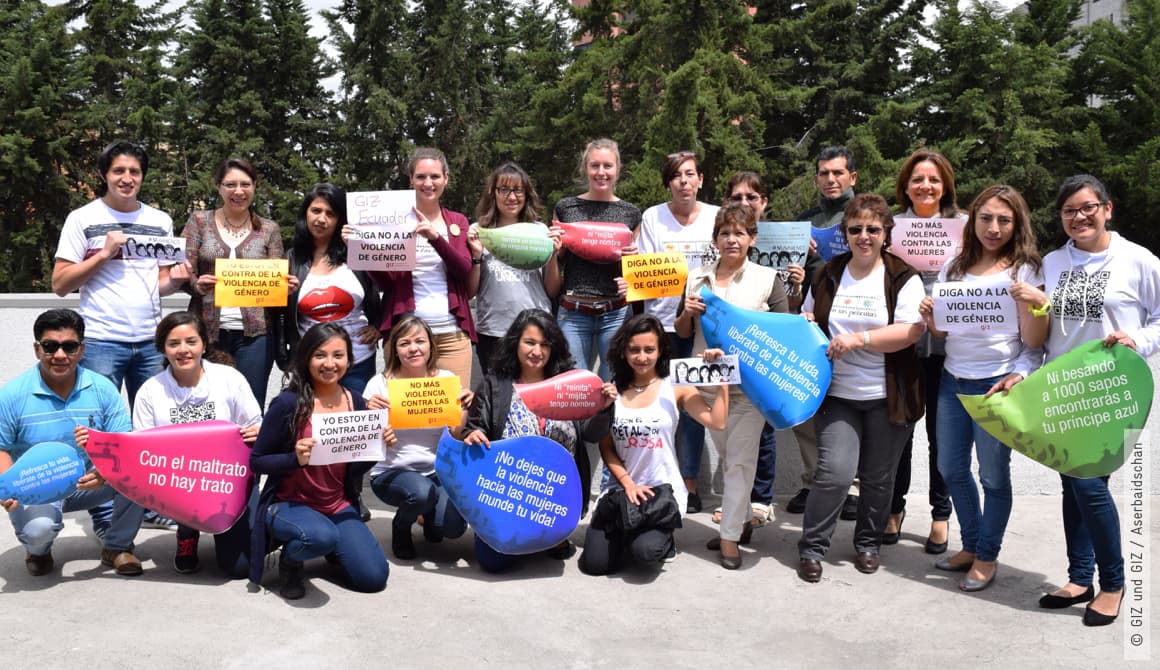 GENDER EQUALITY
To ensure successful implementation in every area, several sets of guidelines establish a binding framework for gender equality: the GIZ Gender Strategy, the employer/staff council agreement on the equal status of men and women, the Gender Equality Plan and the policy on sexual harassment in the workplace. In our projects, the Safeguards+Gender Management System enables external risks and obstacles – but also specific potential to promote gender equality – to be identified at an early stage, and to be taken into account in the planning of projects from the outset.
Gender Week is an annual company-wide event during which our employees can gain inspiration from new ideas and examples of good practice and have the chance to discuss new developments and challenges. In 2017, employees in 36 countries made use of this opportunity and organised a total of 99 actions.
The Women and Leadership event, for instance, gave female colleagues a whole host of information but also the chance to explore their potential personal career paths at GIZ with a coaching expert. The #Code4Equality event drew attention to co-determination and the participation of women and girls through digital technologies. An expert discussion was also held on how GIZ and other actors can play a part in speaking openly about discrimination on the basis of sexual orientation or gender identity and taking specific steps to reduce such discrimination. The events encourage people to join in and follow the example of others. Details can be found on the GIZ Gender Website.
A Gender Competition is also held at GIZ every two years, promoting innovation and helping participants to learn from each other. All entries are described on the GIZ Gender Website. The prizes for the best activities are presented personally by the Management Board at a celebratory event. This is a clear indication of our appreciation of people's commitment to realising equal opportunities and rights and combating gender-related disadvantages and discrimination. The next Gender Competition will be held in 2018.
read more
read less
PEOPLE WITH DISABILITIES
In June 2016, GIZ prepared a statement to improve the inclusion of people with disabilities at GIZ. Concrete measures were adopted to this end and implemented in the year under review. They include addressing people with disabilities in a better and more targeted manner during the recruitment process, and reserving training places for this target group. The statement will be reviewed in 2018.
To create an appropriate working environment, we provide furniture and equipment in accordance with the requirements of our staff members. Implementation of the inclusion policy is overseen by a company inclusion officer and elected representatives for people with disabilities.
These individuals also provide advice and support in assessing the accessibility of new and existing properties. The disabled persons' representatives are involved in HR processes and staff representation structures, with a view to ensuring adequate representation of this group's interests. We make it clear that we welcome applications from people with disabilities. In our internal communications, we are increasingly taking into account the various needs of our employees. Information for people with different needs is provided on the intranet. The intranet pages of the main disabled persons' representative are a particularly good source of information on inclusion. For other topics, such as caring for family members or questions and answers on foreign assignments for LGBTI staff, the Human Resources Department has compiled some useful information.
YOUNG PROFESSIONALS
GIZ uses a variety of methods to introduce young professionals to the company and the world of development and international cooperation at an early stage in its trainee, volunteer and internship programmes. These programmes are subject to fair and regulated conditions.
The employment conditions for trainees, for example, are based on a separate collective bargaining agreement. A specially created unit within the Human Resources Department is responsible for the quality assurance and management of programmes for young professionals and provides support for this group. Since 2016, GIZ has also offered a one-year introductory course for refugees, in preparation for in-company training.
read more
read less
REMUNERATION SYSTEM
The current remuneration system, negotiated by GIZ and the trade union ver.di, entered into force on 1 January 2015. The Collective Agreement on Remuneration covers staff members in Germany whose employment contracts were concluded in Germany. It also covers all seconded staff with an employment contract concluded in Germany who were resident in an EU member state when the contract was concluded.
REMUNERATION OF STAFF IN GERMANY AND SECONDED EXPERTS
The basic remuneration of GIZ staff with a German employment contract is determined on the basis of a salary band system consisting of eight salary bands. All functions with a similar value are assigned to one band.
Changes in basic remuneration are possible on the basis of an employee's annual performance rating. This rating is an integral part of the annual staff assessment and development talks between line managers and staff members. A good performance can result in an increase in basic remuneration. No other factors are taken into account either when joining the company or in the annual assessment.
REMUNERATION OF NATIONAL PERSONNEL
Under the National Personnel Policy, a uniform system of remuneration for GIZ staff with a GIZ contract must be set up in each country of assignment based on the national labour law of that country.
The remuneration system for national personnel is based on six defined salary bands with binding upper and lower salary limits. They ensure that salaries are paid at going market rates in the relevant country. Each function is assigned to a salary band. Salary levels are reviewed regularly by the respective country office and adjusted where appropriate, taking into account comparisons with other organisations and companies.
The country director ensures the establishment of a country-wide, standardised procedure, agreed with the GIZ business sectors, for performance-related remuneration. The level of individual performance-related remuneration depends on the assessment of overall performance in the annual staff assessment and development talk.
read more
read less
DIVERSITY AT GIZ
Detailed information on diversity at GIZ can be found in the Integrated Company Report under People, Figures, Structures and in the Corporate Governance Report 2017 (german only).
Management Board including staff members, excluding official bodies)
Gender
Men: 36.4 %
Women: 63.6 %
Age
Under 30: 4.5 %
30-50: 50.0 %
Over 50: 45.5 %

Seconded experts
Gender
Men: 57.4 %
Women: 42.6 %
Age
Under 30: 10.5 %
30-50: 58.3 %
Over 50: 31.2 %

Staff members in Germany
Gender
Men: 34.0 %
Women: 66.0 %
Age
Under 30: 12.4 %
30-50: 57.1 %
Over 50: 30.5 %

National personnel
Gender
Men: 58.1 %
Women: 41.9 %
Age
Under 30: 13.1 %
30-50: 71.3 %
Over 50: 15.6 %

read more
read less
FURTHER INFORMATION
Our succesful business development is made by humans: Our personnel
Gender equality itself is a goal but it also builds a key for sustainable development. This principles shape our value orientation and our work: Equal opportunities for women and men Gender