Value for money is a prerequisite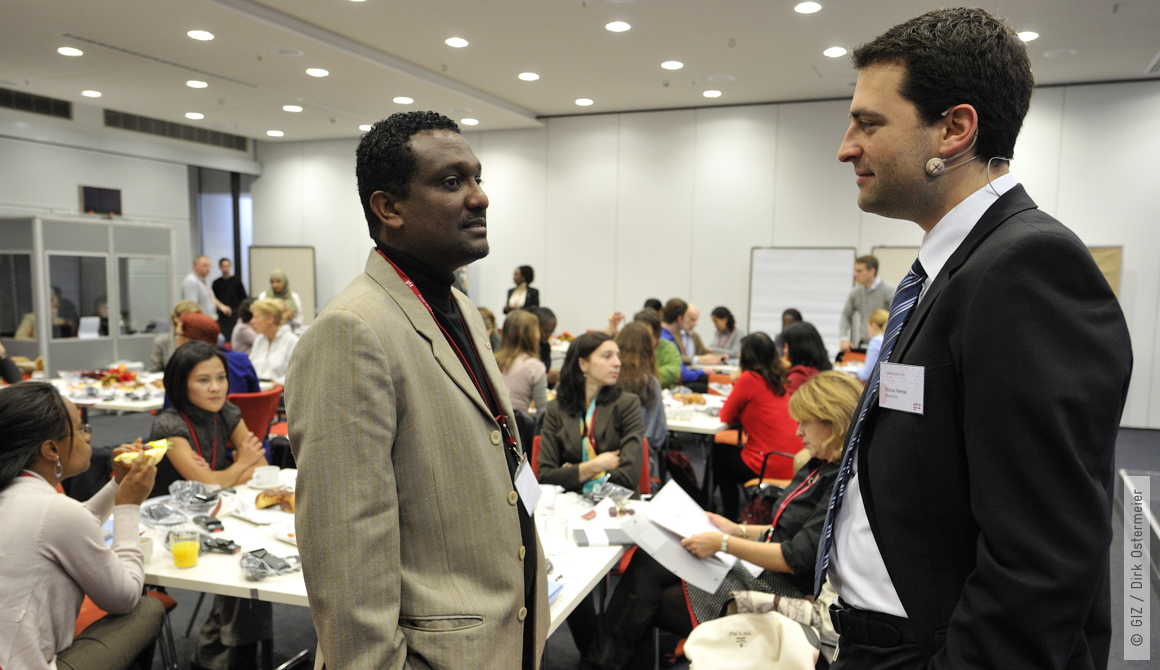 VALUE FOR MONEY, QUALITY, EFFICIENCY AND INNOVATION ARE AT THE HEART OF GIZ'S ACTIVITIES AS A MODERN COMPANY. WE ALWAYS STRIVE TO ACHIEVE THE OPTIMAL SUSTAINABLE COST-BENEFIT RATIO IN EVERYTHING WE DO.
VALUE FOR MONEY IN GIZ'S CORPORATE STRATEGY
To enable a future worth living for as many people as possible in the long term, we must be cost-effective. This is one of the four pillars of our Corporate Strategy 2017–2019. We ensure value for money by using resources efficiently and responsibly and by keeping track of developments through key performance indicators and associated top-level measures. For the coming years, we have defined a variety of top-level measures to safeguard the cost-effectiveness and compliance of our work. This will enable us to secure the efficiency and long-term viability of GIZ, the trust of our shareholder, clients and partners, and the best possible use of funds. These top-level measures are:
increasing the efficiency of company-wide processes;
mainstreaming and institutionalising compliance and further developing risk management;
strengthening sustainable business practices and sustainability performance.
We must satisfy the requirements of a differentiated and complex portfolio of services. To do this, we are focusing on increasing the standardisation, professionalisation and digitalisation of our processes. This will enable us to make existing processes not only more cost-effective, but also more efficient.
WHY IS VALUE FOR MONEY SO IMPORTANT?
The principle of cost-effectiveness demands that resources are not wasted. To operationalise this principle for specific actions, different options for achieving those actions must be drawn up and evaluated accordingly. When applying the cost-effectiveness principle in this way, it is important to achieve the optimal sustainable cost-benefit ratio.
COST-EFFECTIVENESS: A GUARANTEE FOR GIZ'S ECONOMIC CAPABILITY
By ensuring cost-effectiveness at all levels, we
enable more international cooperation for each euro spent and thus create more value for money;
free up more resources for investments in future issues;
increase our competitiveness, thus safeguarding demand for our services in future.
Because GIZ is a public-benefit federal enterprise, we have a special duty to use the resources entrusted to us responsibly.
Going forward, we intend to place more emphasis than ever on value for money in project planning, implementation and evaluation. For example, we are increasing our focus on assessing cost-effectiveness in the offer phase and on rigorously evaluating cost-effectiveness in our projects.
FURTHER INFORMATION
Value for money is one of the four pillars of GIZ's Corporate Strategy 2017–2019: Our corporate strategy
Digital change is altering not only the way we interact with our partners in projects, but also our internal processes and the way we work. Moreover, it is creating scope for innovation and enabling fundamental changes – including with regard to cost-effectiveness and efficiency: Digital solutions support cost-effectiveness and efficiency
GIZ`s annual report of the year 2017: Annual statement of accounts 2017
The Sustainability Programme as the principal guideline and management instrument for the work of the Sustainability Office: Sustainability programme 2016-2020