Managing key environmental issues systematically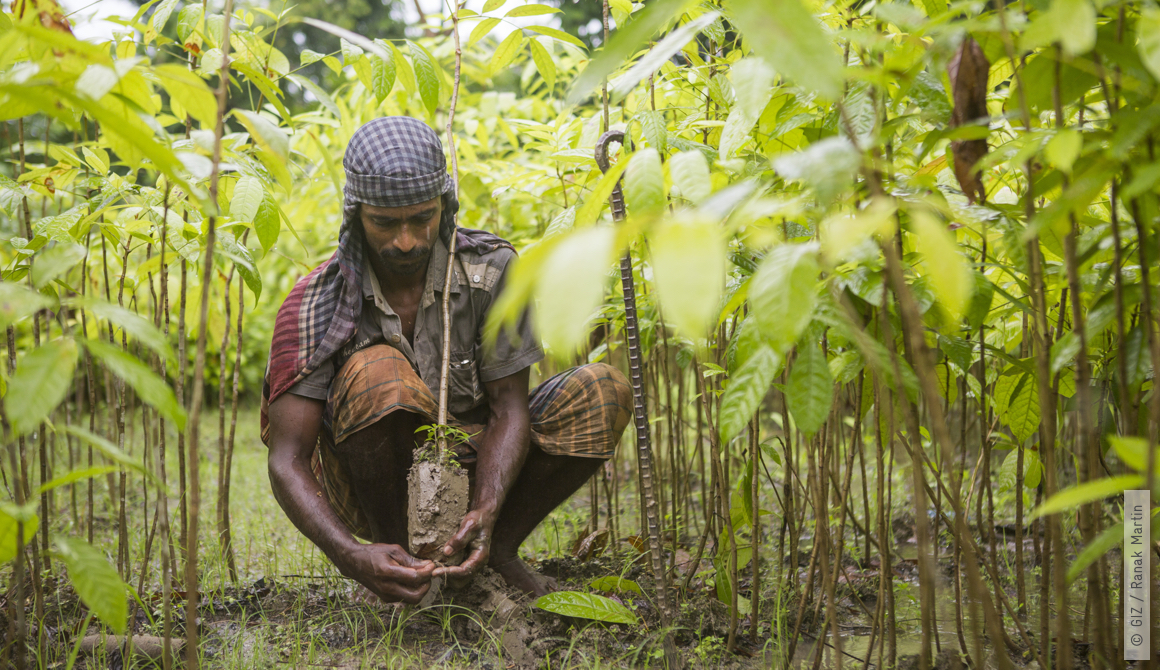 SUSTAINABILITY IS A MAJOR PRIORITY FOR GIZ: OUR ENVIRONMENTAL MANAGEMENT IS ANCHORED AT THE HIGHEST MANAGEMENT LEVEL. WE HAVE SET STRATEGIC OBJECTIVES FOR CORPORATE ENVIRONMENTAL MANAGEMENT THAT ARE EMBEDDED IN OUR ENVIRONMENTAL MISSION STATEMENT AND OUR ENVIRONMENTAL PROGRAMME 2016–2020. WE STRIVE TO USE ALL RESOURCES AS SPARINGLY AND RESPONSIBLY AS POSSIBLE AND TO PROTECT OUR ENVIRONMENT. OUR ENVIRONMENTAL MANAGEMENT SYSTEMS HELP US ACHIEVE THIS. THEY ENABLE US TO ANALYSE SCOPE FOR ACTION AND IDENTIFY POTENTIAL FOR IMPROVEMENT IN A STRUCTURED MANNER – AT OUR LOCATIONS IN AND OUTSIDE GERMANY.
GIZ'S ENVIRONMENTAL MISSION STATEMENT
Sustainable development requires responsible use of the environment and natural resources. This is the only way to ensure that future generations have opportunities for development. GIZ has drawn up its own environmental mission statement, which sets out the following responsibilities:
Systematically prevent or reduce the company's environmental impacts
Make sparing use of scarce resources such as energy and water and increase the use of eco-efficient technologies and materials
Implement our strategy to become a carbon-neutral company
Plan and carry out all projects and programmes with minimum environmental impact
Engage in participatory environmental communication with our staff and raise their awareness of environmental issues
Further develop our environmental mission statement in open dialogue with colleagues inside and outside the company
Tell our partner companies, service providers and suppliers that we see our environmental mission statement as a binding commitment.
GIZ is also committed to continuously improving its environmental performance and complying with all applicable environmental regulations at offices participating in EMAS.
ENVIRONMENTAL PROGRAMME 2016–2020 and Corporate Strategy 2017–2019
Based on Germany's National Sustainable Development Strategy and our own environmental mission statement, we have set key objectives for corporate environmental management in our Environmental Programme 2016‒2020. The Environmental Programme allows internal and external stakeholders to view our priorities and commitments at a glance.
Our Corporate Strategy 2017–2019 also covers environmental issues of strategic importance to GIZ. These include setting reduction targets for GHG emissions and resource consumption, and prioritising sustainable procurement.
DIFFERENT ENVIRONMENTAL MANAGEMENT SYSTEMS IN AND OUTSIDE GERMANY
Because of the different conditions in and outside Germany, we use different environmental management systems. In Germany, we use the Eco-Management and Audit Scheme (EMAS). Environmental management in other countries is organised decentrally and is incumbent upon the respective country director and officer responsible for the project or programme. In such cases, GIZ's Corporate Sustainability Handprint® (CSH) is used rather than EMAS.
The CSH provides our colleagues with a uniform framework for corporate sustainability and thus environmental management. Using the CSH tool, key environmental data can be collected in partner countries, performance self-evaluated and goals defined. The instrument is designed to provide the flexibility required to act in different country contexts. Although there is still scope for improvement in terms of the informative value of environmental data, the CSH nonetheless enables us to carry out an initial assessment of our reduction goals. These reduction goals are embedded in our Corporate Strategy 2017–2019. We want to achieve the same level of data quality in and outside Germany by 2020.
FURTHER INFORMATION
What does sustainability mean for GIZ? What do we hope to achieve, and how do we want to put it into practice? An overview of GIZ´s sustainability programme and an interview with Elke Siehl, GIZ's director corporate sustainability, can be found under Embedded at the highest level of management and centrally coordinated.
The Corporate Sustainability Handprint® (CSH) is a management tool created by GIZ that our offices outside Germany have been using since 2016 to systematically measure how they contribute to corporate sustainability. Find out more under Leaving a positive handprint