A roadmap to the digital future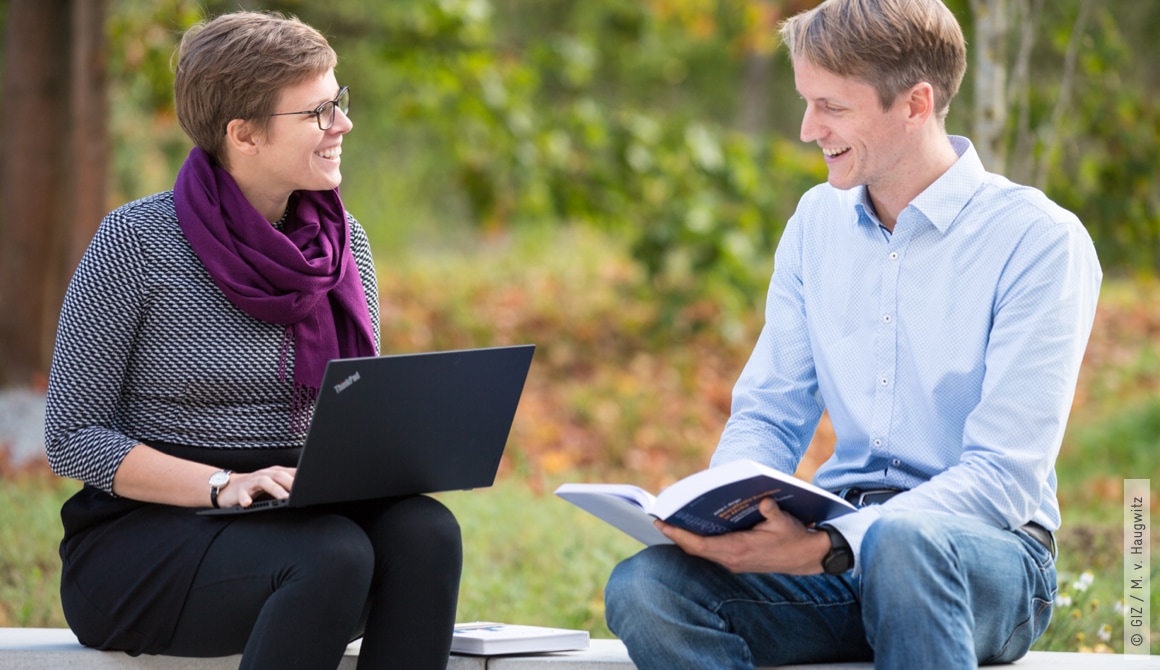 Digital change is not only leading to more and more digital projects at GIZ. It is also making project work itself more and more digital in nature. The Target Image for Digital Change provides guidance in this transformation process. With its eight dimensions, it represents the strategic framework for action for transformation at GIZ.
A roadmap process for the Target Image for Digital Change
To reach targets set in eight areas – digital services, digital literacy, digital leadership, digital cooperation, digital base, digital workplace, digital organisation and digital processes – we launched a roadmap process at GIZ at the start of 2018. More than 500 users throughout the company put forward their ideas about how specifically GIZ has to change internally. These answers were consolidated using guidelines, such as existing target images of the company's departments and corporate units. Interdisciplinary teams came up with beneficial measures for each dimension on this basis.
We identified quick wins from activities already under way at the company, as well as new and expanded measures, and defined these as annual objectives and departmental objectives. The resulting roadmap sets out the operational guidelines for digital transformation at GIZ and launches the pertinent changes. We prioritised the roadmap in August to make sure that it can best support the company's positioning and ultimately integrated it into our annual objectives for 2019. The roadmap is also being incorporated into the Corporate Strategy 2020-2022. We document and review the achievement of objectives annually.
The roadmap process was streamlined in terms of the time and resources used and might itself be an example of efficient, interdisciplinary cooperation for the future GIZ, drawing on digital tools and working across hierarchical boundaries.
read more
read less
GIZ Innovation Fund
Founded in 2017, the company-wide Innovation Fund ideas competition entered the second round in 2018. With Data4Development as its theme, the competition saw GIZ colleagues and partners submit more than 100 ideas on how digital data can enhance GIZ's service delivery and increase the impact of our projects.
Six selected teams began a seven-month accelerator programme in October 2018, which took their ideas to the next level as minimum viable products (MVPs). The results were presented at the start of 2019 and two winning products were selected for roll-out: The Voice project collects language data in underrepresented languages and makes them openly available for the development of AI-based voice recognition solutions. e-mmunize – an app to simplify and improve immunisation processes in underserved regions – also won over the jury.
Digital transformation in projects
Digital transformation is changing GIZ's work in projects. Firstly, it is reflected in an increased number of projects embracing digital solutions. GIZ deploys digital technologies at project level, fosters digital innovation in the partner system, develops digital structures and increases political participation in 290 ongoing projects (as of 1 June 2019). And secondly, project work itself is becoming more and more digital in nature. The range of possible uses of digital applications is wide, and the efficiency gains from quicker and more streamlined procedures great. We are improving project management, cooperation between project partners and evaluation with the help of digital tools and platforms.
GIZ signed a basic agreement with the Impact Hub Network at the start of 2018, an example of forward-looking cooperation with external partners. Active around the globe, this network provides small businesses, freelancers and creative workers with space, advice and a forum for networking, developing and designing ideas and innovations. Design thinking, agile management and coaching are some of the back-up services that the Impact Hub Network offers its 16,000 members in more than 60 countries. This cooperation arrangement is allowing GIZ to further expand digital services delivery and magnify the impact of its projects. Since 2016, GIZ and the Impact Hub have been working together around the world on a series of projects. With the help of the Impact Hub, GIZ has for instance created a digital transformation centre in Kigali and launched the Innovation Fund and a digital initiative (#eSkills4Girls).
read more
read less
Of course, internal processes are not escaping digitalisation, either. The establishment of end-to-end digitalised business processes regularly serves as the basis for digitalisation. Processes have to be thought through from one end to another so that procedures can be designed in a way that is quicker and more user-oriented, efficient and cost-efficient. At the end of August, the Management Board thus decided to introduce a process management system and to develop a process roadmap.
More on this topic
The 2017 Integrated Company Report offers detailed information about the digitalisation process within our company at: Digital solutions for internal processes.
Digitalisation and our digital projects offer opportunities for development as they facilitate access to education, income and political participation.
We protect data: Protecting digital data is a top priority.