We protect biodiversity and build sustainably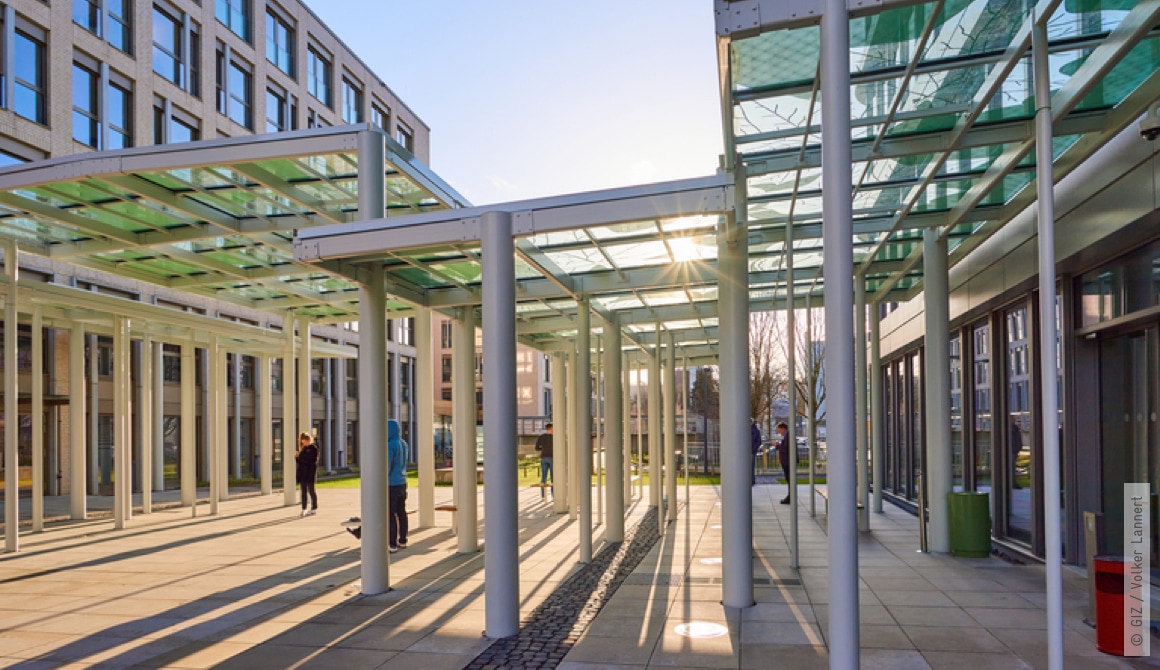 When we build or renovate a building, we apply the highest sustainability standards and follow the criteria of the German Sustainable Building Council (DGNB). When renting, we carefully weigh up environmental, social and economic factors. We promote biodiversity at all locations.
Sustainable building is an important aspect of our environmental management. The property divisions and location managers for the Eco-Management and Audit Scheme (EMAS) work closely with the environmental management officer to achieve the objectives set.
ROLE MODEL FOR OTHER COMPANIES AND ORGANISATIONS
We rely on sustainable design for both renovation work and new construction projects. In recent years, we have planned, completed and certified all new buildings according to the gold standard of the German Sustainable Building Council (DGNB).
In February 2017, GIZ laid the foundation stone for a new office building on the GIZ campus in Bonn. The investment is expected to total EUR 165 million. The new Campus Forum offers around 850 workplaces on 28,000 square meters. The building was completed at the end of 2019. Together with the Meander Building, a joint campus that will offer space for around 1,500 employees is created.
The GIZ Kottenforst Campus in Bonn-Röttgen, where the Academy for International Cooperation (AIZ) is located, opened as planned in January 2018. In addition to the existing buildings, GIZ has invested EUR 30 million in a new building with its own geothermal energy, a combined heat and power plant, an absorption refrigeration system and four rapid charging stations for electric vehicles. The electric power is supplied by the combined heat and power plant. The location was EMAS-validated in 2018. In 2019, it was also certified according to the DGNB's gold standard criteria.
The exacting DGNB certification allows GIZ to emphasise its role as a model for other companies and organisations and encourage them to follow its example. Besides economic and environmental criteria, the DGNB standard also takes into account socio-cultural and functional factors, such as accessibility. DGNB also examines the location's land utilisation and biodiversity.
GIZ has been part of the cross-sectoral Biodiversity in Good Company initiative since it was founded in 2011. Companies from numerous industries have joined the initiative to work together to protect biodiversity and use it sustainably worldwide. In this way, GIZ supports the international Convention on Biological Diversity.
GIZ is also a member of the following associations:
Umweltforum Rhein-Main e.V.
BioFrankfurt – Das Netzwerk für Biodiversität e.V.
WWF Germany
International Union for the Conservation of Nature (IUCN)
International Nature Conservation Agreement Advisory Board
German Environmental Management Association (B.A.U.M.)
The GIZ Environmental Programme aims to develop a concept for the biodiversity-friendly design of all EMAS-validated locations. To emphasise the importance of protecting biodiversity, GIZ also shares information on the topic with its service providers.
GIZ includes sustainability criteria in its tenders to ensure that bought-in products such as office supplies, printed matter, electricity and cleaning products are environmentally friendly. When purchasing wood products in particular, staff in the Procurement and Contracting Division ensure compliance with international biodiversity standards. The company restaurants use traditional varieties of vegetables and fruits from local growers. The proportion of vegetarian dishes is around 50 per cent and therefore relatively high in a Germany-wide comparison.
The four buildings on the Kottenforst Campus border on the Kottenforst forest, which is part of the Naturpark Rheinland. Much of it is a protected area (fauna and flora habitat). Particular attention is therefore paid to biodiversity at this location.
GIZ's properties in Germany are mainly located in inner-city areas with little scope for promoting biodiversity. Nonetheless, the buildings are a calling card for the company. The aim is to grass the roofs and include local insect-friendly and biodiverse plant species in the exterior design. GIZ also wants as little as possible of the areas to be sealed.
More on this topic
You can pay a visit to GIZ's Kottenforst Campus here.
Further information on the Biodiversity in Good Company initiative.