Our strength lies in diversity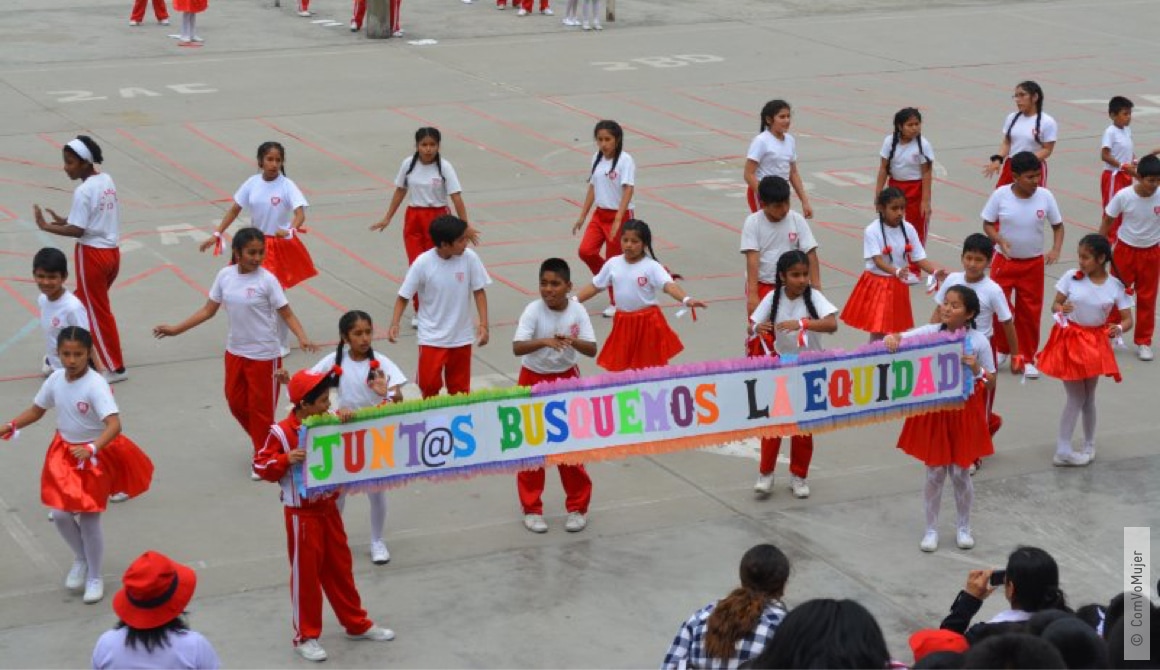 For us, the diversity of our workforce and their cultural diversity are both an important asset and a source of strength. All employees are therefore protected against discrimination. We ensure that women and men have equal opportunities for professional development at all levels and in all areas of the company. We also strive to improve their work-life balance. Gender equality
'Gender reloaded: Vision needs Attitude – Attitude meets Action' was the theme of the GIZ Gender Strategy that was updated in 2018. With this strategy, the Management Board adopted a set of company-wide requirements that apply to all parts of GIZ and all sections of the workforce. The strategy enshrines GIZ's commitment to gender equality. Its focus is on realising equality of opportunity and rights for all individuals, regardless of their gender, sexual orientation or gender identity. The promotion of gender equality inside GIZ and in the framework of its commissions is a key strategic thrust of its corporate policy.
The digital Gender Network Community that encompasses almost 600 staff members in Germany and in partner countries strengthens gender competence and is an expression of the company-wide commitment to gender equality. The same applies to the gender competition, Gender Week and the gender network meeting, which was attended by more than 140 gender officers from 80 countries in the year under review. The prizes for the best activities and projects are presented by the Chair of the Management Board at a celebratory event. This is a clear indication of our appreciation of people's commitment to realising equal opportunities and rights and combating gender-related disadvantages and discrimination.
By implementing this strategy, GIZ is making a contribution to achieving international, European and German gender equality goals in a way that is also visible to our commissioning parties, clients and partners. Our commitment is appreciated and recognised. Caren Grown, a senior director at the World Bank, travelled over especially from Washington to pay tribute to the winning teams during the presentation of GIZ's 2018 gender prize.
read more
read less
GIZ also underscored the importance it attaches to gender equality by signing the 2015 UN Women's Empowerment Principles (WEP). The WEPs are seven basic principles designed to strengthen women in businesses, including equal opportunities in the workplace. Using a self-assessment (the Women's Empowerment Principles Gap Analysis Tool), GIZ analysed for the first time in 2018 where it stands in terms of implementing these principles within the company. The outcome of the self-assessment also went to show that GIZ has already achieved a great deal and is making good progress.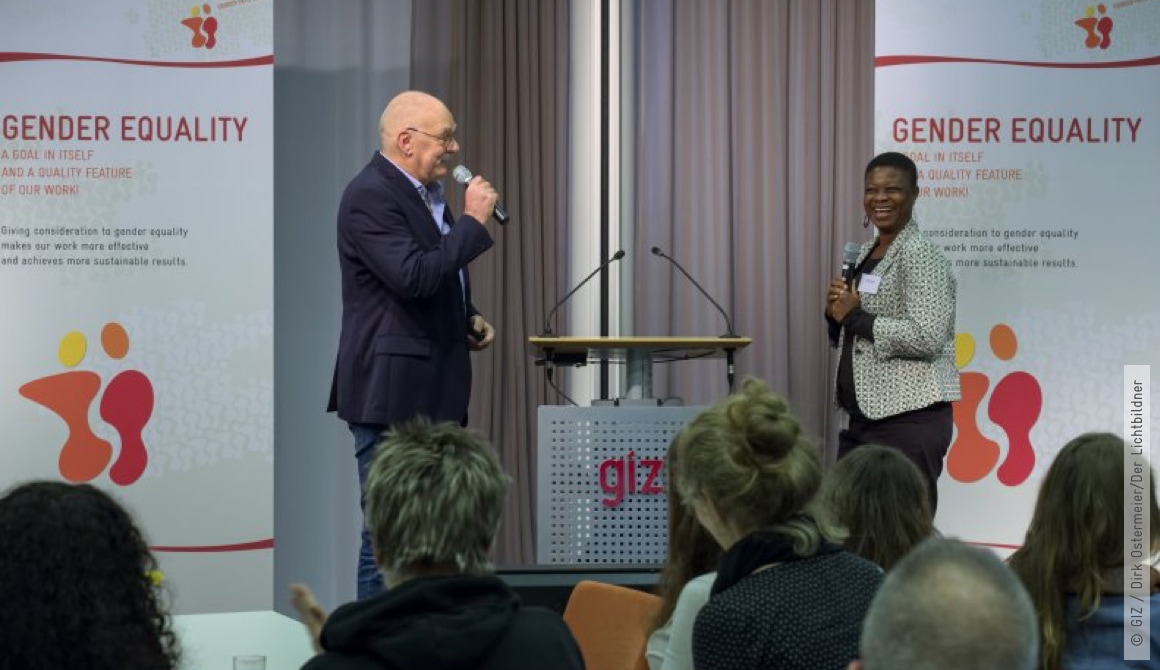 Gender equality inside the company
Gender equality inside the company aims to stop discrimination and ensure that men and women have equal opportunities for professional development at all levels and in all areas of the company. It improves conditions for reconciling family and work commitments for all genders. Our efforts in this respect are based on a GIZ employer/staff council agreement that is essentially aligned with the German Federal Equal Opportunities Act (Bundesgleichstellungsgesetz). The HR Department regularly informs the Management Board and the Supervisory Board about developments in all areas of gender equality within the company.
The three local equal opportunities commissioners at the Eschborn, Bonn and Berlin offices ensure that our HR policy reflects our declared goals and our commitment to gender equality at their location. They examine whether the equal opportunities goals agreed in the Equal Opportunities Plan have been achieved and take part in pertinent negotiations between the staff council and GIZ.
In 2018, the equal opportunities commissioners held several information events on the German Transparency in Wage Structures Act (Gesetz zur Förderung der Entgeldtransparenz zwischen Frauen und Männern) and advised the HR Department on putting this act into practice. Another focus was on part-time positions for managers and higher quotas for women in managerial positions in the field structure.
The equal opportunities commissioners are the direct contacts, or provide referrals to selected external consultants, for all topics related to the use of gender-sensitive language in job advertisements, written communication or language coaching. In 2018, the corporate equal opportunity commissioner set up an internal online information platform on Preventing and Dealing with Sexual Harassment, which provides training and educational material on preventing and dealing with sexual harassment at the workplace. It also offers a platform for exchanges between colleagues. The corporate equal opportunities commissioner is the contact on this theme for national personnel too, and held corresponding advisory sessions and workshops in the field structure in 2018.
read more
read less
Gender equality in GIZ's programme work
The promotion of gender equality is a quality feature of our work and of key importance for GIZ's services and products. In our projects, the Safeguards+Gender Management System enables external risks and potentially adverse impacts of our actions to be identified at an early stage, and to be taken into account in the planning of projects from the outset as well as pinpointing potentials for promoting gender equality.
Persons with disabilities
In June 2016, GIZ drew up a declaration on inclusion, which aimed to improve the inclusion of persons with disabilities within GIZ, and laid out specific measures. Evaluation of the declaration in the year under review showed that most of the measures had been successfully implemented. There was, for instance, a rise in the number of persons with disabilities who were recruited. To make GIZ an even more attractive employer for people with disabilities, GIZ began preparations in 2019 for the conclusion of an inclusion agreement. In order to create an appropriate working environment, we provide furniture and equipment that meet individual needs. The company's inclusion officer and elected representatives of persons with disabilities ensure that the inclusion policy is put into practice.
GIZ also draws on their advice and support to examine whether new and existing properties offer barrier-free access. To ensure that the interests of persons with disabilities are represented, we involve their representatives in HR processes and in the staff representation bodies. We encourage applications from people with disabilities.
Protection against discrimination
Protection against discrimination on the grounds of ethnic origin, gender, religion, disability, age and sexual identity or orientation is enshrined in GIZ's Code of Conduct. This applies to all employees around the globe.
Anyone affected by discrimination within the company can turn to the integrity advisors, members of the staff representation and the AGG complaints committee. There are special contact persons for specific groups; these include the equal opportunities commissioners in all cases of gender-based discrimination. The corporate equal opportunities commissioner is the contact person for all employees, including national personnel, in cases of sexual harassment at the workplace.
Communications within the company also take into account the different needs of our staff members. Information tailored to various needs is available on the intranet. Special mention should be made of the intranet page of the corporate disabled persons' representative on the subject of inclusion. The HR Department has put together information on other topics such as caring for relatives, or questions and answers for LGBTI staff on foreign assignments.
read more
read less
More on this topic:
While gender equality is a goal in itself, it is also one of the keys to sustainable development. These principles determine GIZ's value orientation and everyday work.
Detailed information on gender equality and the results of the gender competition can be found here: GIZ Gender Website
The Code of Conduct is based on our common corporate values as set out in our Corporate Principles: Code of Conduct