We maintain and strengthen employability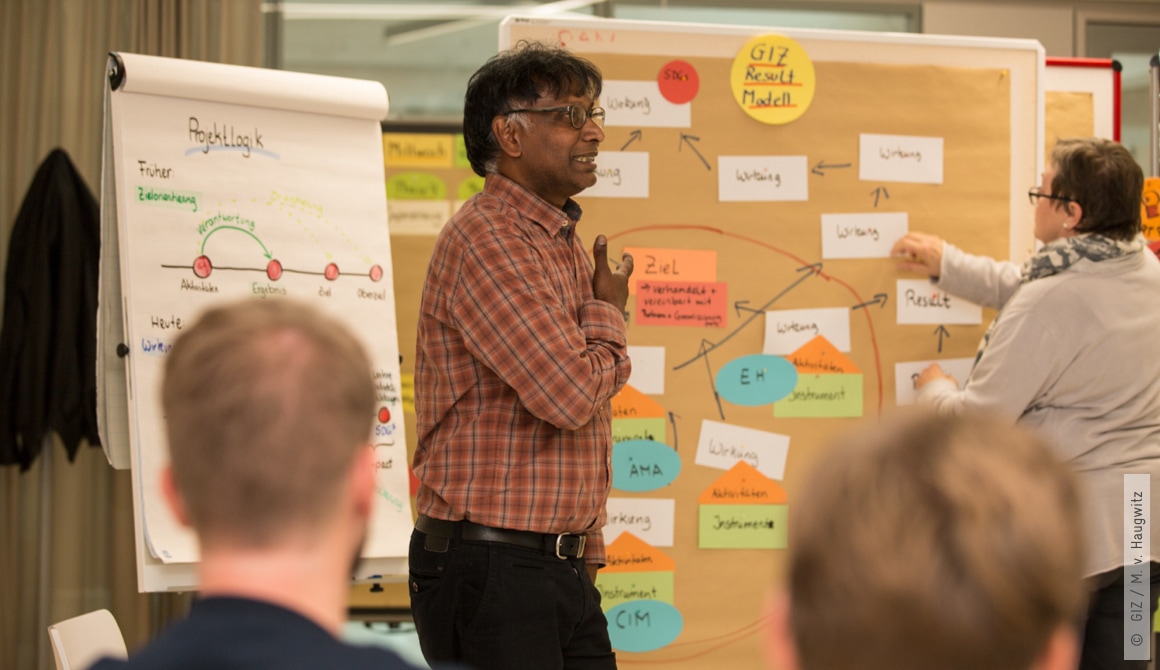 Satisfied staff are motivated staff. This is just one reason why we want colleagues to feel welcome in our company and why we are dedicated to maintaining and enhancing their employability. We provide support to enable them to plan and develop their careers, to develop their skills and to continue learning.
HUMAN RESOURCES DEVELOPMENT
In the annual staff assessment and development talk, all employees receive feedback on their performance. In addition, they discuss their skills profiles and their medium to long-term career plans with their line managers. Based on this and with reference to the company's strategic objectives, the two sides agree on skills development measures. GIZ documents and archives the staff assessment and development talk in a specified format.
In 2018, GIZ undertook further steps at the strategic HR level to leverage the considerable and diverse potentials of our national staff more intensively in positions of greater responsibility. GIZ adopted the Mission Statement for National Personnel, which sets out the strategic framework for future roles, responsibilities and development opportunities. The implementation project to realise the mission statement for national personnel also commenced in 2018. It aims to create the conditions that will allow more national personnel to move into positions of greater responsibility.
Supporting young professionals
In various training and internship programmes, GIZ brings young professionals into closer contact with the company's work in the field of development and international cooperation. These programmes operate under fair terms and clear regulations. The terms of employment for apprentices, for instance, are governed by a separate collective agreement. A dedicated unit in the HR Department is responsible for steering and the quality assurance of the young professionals programmes. It ensures that the young professionals are closely supervised. Since 2016, GIZ has offered refugees a one-year introductory training scheme in preparation for vocational training.
ACADEMY FOR INTERNATIONAL COOPERATION
The Academy for International Cooperation (AIZ) is GIZ's own in-house academy. It manages learning processes and capacity development in international cooperation, and it makes a key contribution to human resources development at GIZ. It offers staff a wide range of training and professional development opportunities. The Academy's programme with its various offerings and courses is open to all GIZ staff.
Some of these services are also open to partner experts, specialists and interested members of the public, for example consultants, appraisers, NGOs and other institutions.
Section Number of participant days in the Academy programme in 2018 Number of participant days in onboarding activities in 2018
Participant days in the Academy programme and onboarding 2018
| Group | Participant days in AIZ's 2018 programme, by employee group | Participant days in the 2018 onboarding process, by employee group |
| --- | --- | --- |
| Germany | 6,128 | 2,343 |
| Abroad | 18,740 | 7,019 |
| External/other | 2,267 | 13 |
| Total | 27,135 | 9,375 |
Once a year, the Academy examines, updates and further refines its programme. The strategic guidelines for this are:
The company's strategic projects and annual objectives
An annual needs analysis on HR development
Statistical and economic evaluations of AIZ training courses
Feedback from staff members responsible for specific aspects of trends and new demands
Current trends in the area of corporate learning and digitalisation.
read more
read less
More on this topic
We operate a professional security-risk and crisis management system, because the safety of our employees is of paramount importance. How we protect our employees.
We have introduced a company health system because we want our employees to be healthy and able to achieve a good work-life balance.
GIZ is a fair, family-friendly and a popular employer among young professionals. It has received numerous awards: GIZ – an award-winning employer