Reducing harmful environmental and climate impacts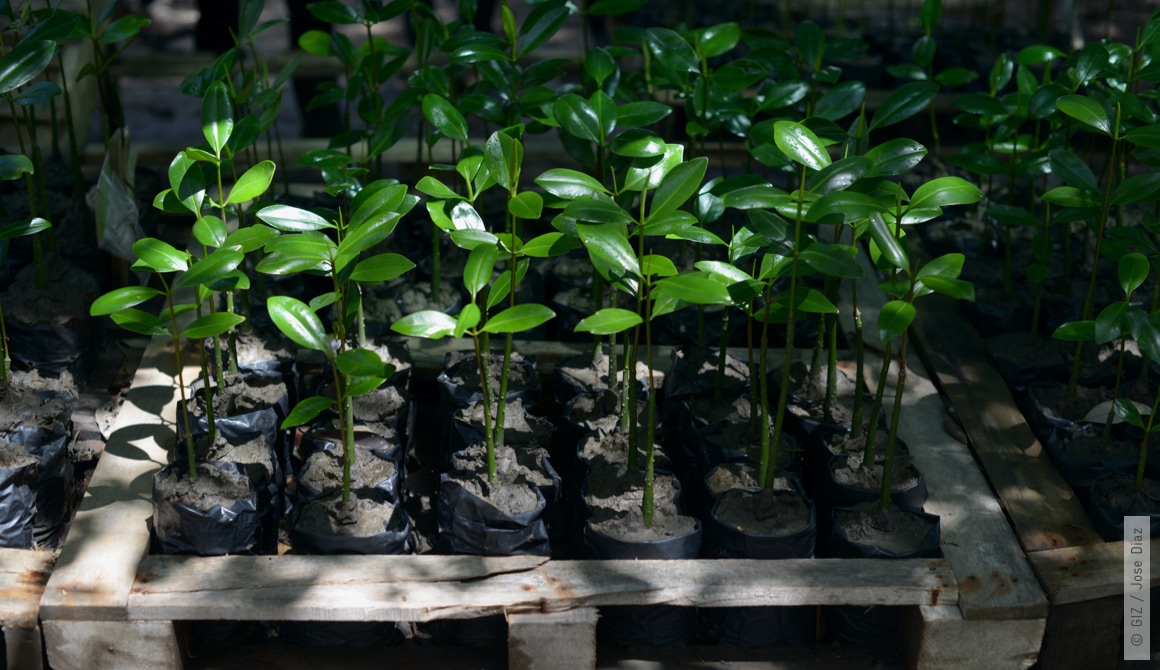 We have laid out strategic objectives for corporate environmental and climate management in our environmental mission statement and our environmental programme 2016-2020. We use resources economically and careful, demonstrating our respect for nature and the environment. We use our environmental management systems to explore our scope for action and open up potential for improvement, both inside and outside Germany. All parts of the company are fully involved in this.
CLIMATE MANAGEMENT: CLIMATE NEUTRALITY AS A KEY OBJECTIVE
GIZ has made climate neutrality a key corporate objective. The company is on its way to becoming a climate-neutral company and systematically records its greenhouse gas (GHG) emissions. In Germany, it relies on the EU Eco-Management and Audit Scheme (EMAS), while in other countries it uses the Corporate Sustainability Handprint® (CSH).
GIZ works on the principle of avoiding GHG emissions wherever it can, reducing them as far as possible, and offsetting emissions where neither is feasible. In our Environmental Programme 2016-2020, we have set ourselves the target of reducing per capita GHG emissions by 2.5 per cent per annum for employees in Germany (taking 2016 as a base year) and by 2 per cent for field staff (taking 2014/15 as a base year). To achieve this, GIZ is implementing numerous climate action measures, for example in the areas of energy efficiency and sustainable mobility.
GIZ'S ENVIRONMENTAL MISSION STATEMENT
Sustainable development requires responsible use of the environment and natural resources. This is the only way to ensure that future generations have opportunities for development. GIZ has drawn up its own Environmental Mission Statement, seeing itself as responsible for:
systematically avoiding or reducing the company's environmental impact
making economical use of scarce resources such as energy and water, and making greater use of eco-efficient technologies and materials
implementing our strategy to become a CO2-neutral company
planning and implementing all projects and programmes in an environmentally sound manner
involving staff in environmental communication and raising their awareness of environmental issues
further developing our environmental principles in open dialogue with colleagues inside and outside the company
informing our partner companies, service providers and suppliers about the mandatory nature of our Environmental Mission Statement.
GIZ also undertakes to steadily improve its environmental performance at locations covered by the European environmental management system EMAS.
INTERIM MONITORING OF THE ENVIRONMENTAL PROGRAMME 2016-2020
We have laid out our key corporate environmental management objectives in our Environmental Programme 2016-2020 on the basis of Germany's National Sustainable Development Strategy and our Environmental Mission Statement. The Environmental Programme shows internal and external stakeholders at a glance the priorities GIZ has set and the commitments it has undertaken.
GIZ drew up the main objectives of the Environmental Programme 2016-2020 on the basis of its Environmental Mission Statement. In 2018, we conducted an interim review of the Environmental Programme 2016-2020, measuring the extent to which objectives had already been achieved and adapting the measures up to 2020 accordingly. Results from GIZ's Stakeholder Dialogue on Sustainability 2018 have also been incorporated into the programme.
ENVIRONMENTAL MANAGEMENT SYSTEM IN GERMANY – EMAS
We use different approaches for the environmental management to take account of the specific conditions prevailing in Germany and in other countries. In Germany, we rely on the Eco-Management and Audit Scheme (EMAS), which is an extension of the ISO 14001 environmental management standard. EMAS is the world's most exacting certification for corporate environmental management. Our registered offices in Bonn and Eschborn and our representation in Berlin were first certified in 2013. In the following years, we expanded the certification to embrace other locations and buildings. The Chair of the GIZ Management Board is the EMAS environmental management representative. As the person responsible for environmental management, the environmental management officer is based in the Sustainability Office and coordinates the implementation of measures laid out in the Environmental Programme in close consultation with other units.
ENVIRONMENTAL MANAGEMENT ABROAD: THE CSH
Environmental and climate management outside Germany is decentralised and the responsibility of the country directors. The system used here is not EMAS but the Corporate Sustainability Handprint (CSH), developed by GIZ.
The CSH provides staff with a uniform framework for corporate sustainability and therefore also for environmental management. The CSH is a tool for collecting essential environmental data abroad, self-assessing performance and stipulating targets. The tool is designed to give us the flexibility we need to respond appropriately to each national context.
We have collected climate and environmental data every year since the 2018 reporting period. The quality of data outside Germany is not yet comparable with the data for Germany. GIZ is striving to further improve both availability and quality. We aim to achieve a uniform standard of data quality inside and outside Germany by 2020.