How we work together with our stakeholders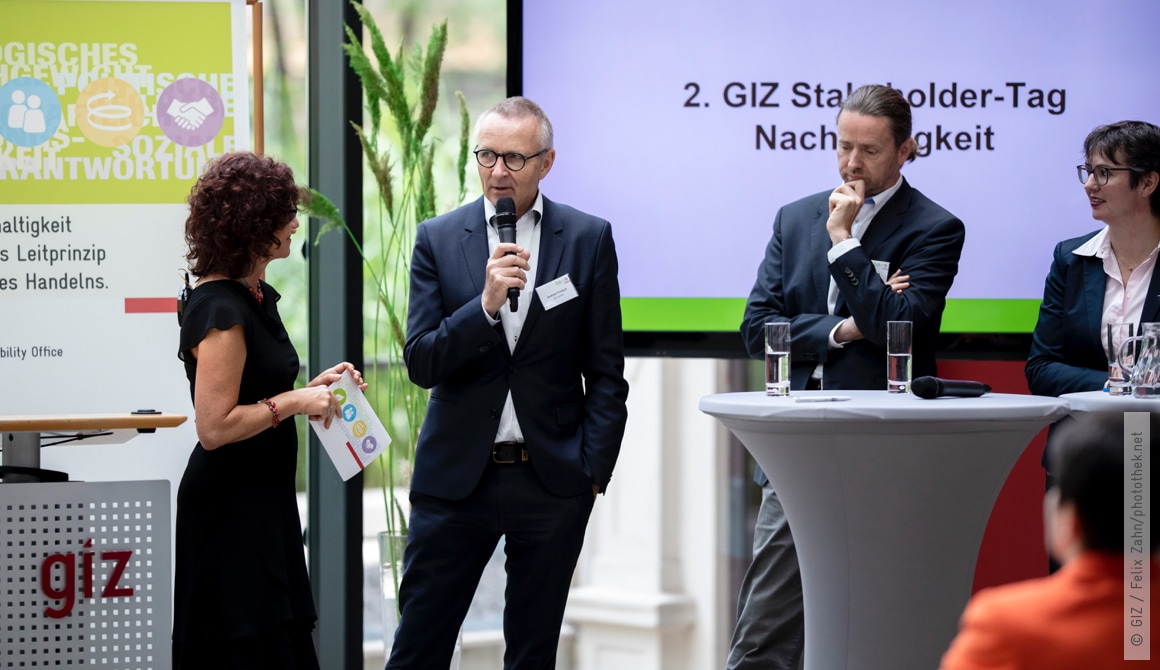 The relations between GIZ and its stakeholders are diverse. Their opinions are very important to us, and their participation in relevant processes forms an integral part of our sustainability management.
As a sustainable company, we take the participation of and exchanges with our interest groups very seriously. Many stakeholders influence our objectives, our way of working and the success of our work. We use various dialogue formats to incorporate the interests of our external stakeholders. Major stakeholder groups include:
Clients, commissioning parties and partners
Partners in cooperation, alliances and networks at national and international level
Service providers and suppliers
The general public.
Our Shareholder, control bodies and advisory committees also play a key role. And our staff are important internal actors within our company.
GIZ uses AccountAbility's Stakeholder Engagement Standard 2015 (AA1000SES) to help identify core interest groups in the area of sustainability management. This is an internationally recognised stakeholder-management standard for various organisational forms. The following attributes help us identify interest groups:
Dependency: groups or individuals who are directly or indirectly dependent on the organisation's activities, products or services and associated performance, or on whom the organisation is dependent in order to operate
Responsibility: groups or individuals to whom the organisation has, or in the future may have, legal, commercial, operational or ethical/moral responsibilities
Tension: groups or individuals who need immediate attention from the organisation with regard to financial, wider economic, social or environmental issues
Influence: groups or individuals who can have an impact on the organisation's or a stakeholder's strategic or operational decision-making
Diverse perspectives: groups or individuals whose different views can lead to a new understanding of the situation and the identification of opportunities for action that may not otherwise occur
Stakeholder map for GIZ's sustainability management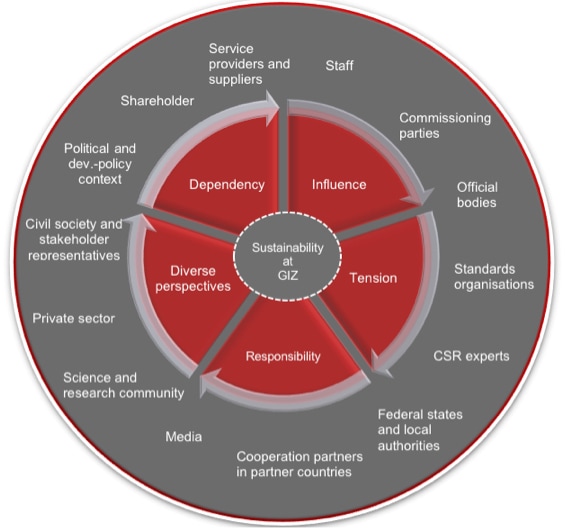 Stakeholder dialogue
In the Stakeholder Dialogue on Sustainability we consolidate and expand cooperation with our stakeholders. We hosted this dialogue for the first time in 2016 in order to obtain systematic and structured feedback from stakeholders on GIZ's contributions to sustainability. Held for the second time in 2018, the Stakeholder Dialogue on Sustainability has now firmly established itself as a key component of sustainability management at GIZ.
The Stakeholder Dialogue on Sustainability provides for participatory, open and transparent discussions with a view to obtaining feedback on GIZ's sustainability management and strengthening stakeholder participation.
We have included the most important findings in the report on the results of the Stakeholder Dialogue 2018.
More on this topic
Exchanges of views with our stakeholders are important inputs for the further development of our services: Stakeholder Dialogue
You will find the results of the dialogue in the Results Report on the Stakeholder Dialogue on Sustainability 2018.
Important findings are included in GIZ's Materiality Matrix 2018.
We have also produced a video on the stakeholder dialogue: Stakeholder Day Sustainability 2018 (German only).