Staying healthy and achieving a good work-life balance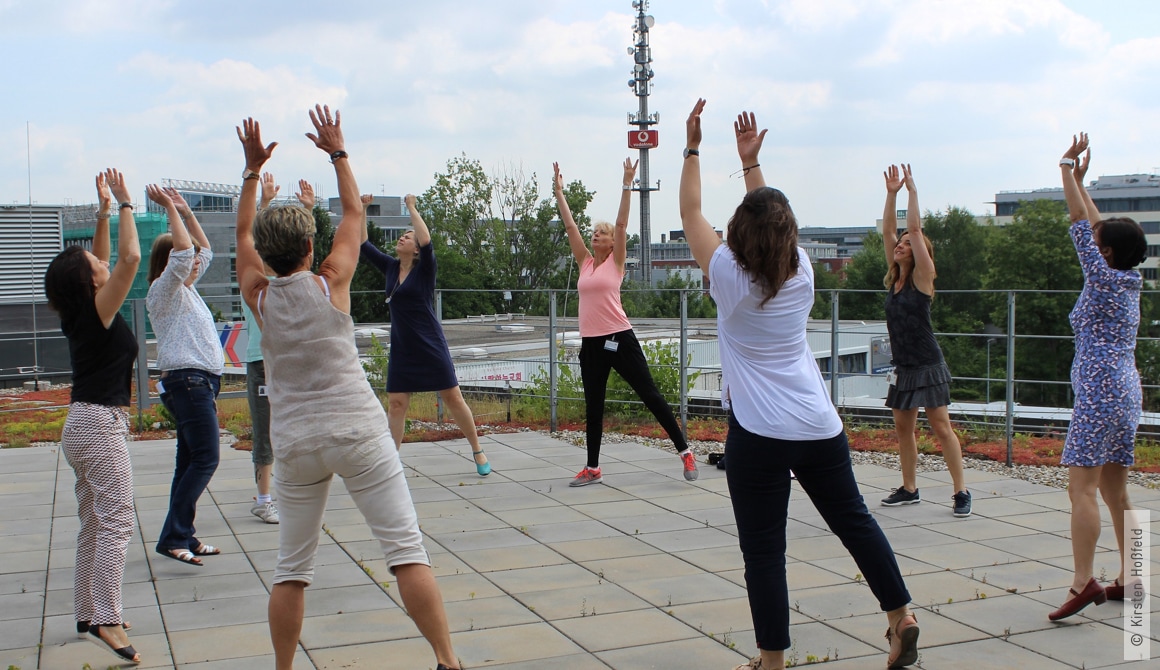 As an employer, GIZ has great interest in maintaining a healthy workforce. To help us, we have put in place a corporate health management system that takes a holistic approach. GIZ offers a wide range of services enabling its employees worldwide to maintain and promote their health. Since satisfaction within the company contributes to health, GIZ also attaches great importance to promoting a good work-life balance among its workforce. The Corporate Health Management team offers health courses and ergonomics counselling, and publishes web-based training on health issues.
CORPORATE HEALTH MANAGEMENT
Corporate health management (CHM) is firmly anchored in GIZ's policy on maintaining performance capacity and aims to achieve a healthy corporate culture that is upheld by all staff members. By implementing CHM, GIZ wants to create healthy and sustainable work structures and working conditions. The seven pillars of CHM enable GIZ to discharge its corporate social responsibility and duty of care towards its workforce at all levels. The pillars cover the following areas:
Health and prevention
Emergencies and accidents
Safety and security
Work-life balance
Ergonomics
Sport and exercise
Best practices.
CHM operates in line with the principle of shared responsibility. Employees themselves are responsible for maintaining their performance capacity, while the company provides an enabling framework. Managers act as role models by representing company values and objectives, assuming the duty of care for the staff members under their remit and taking responsibility for their own actions.
GIZ has developed an extensive range of services for managers and staff members, such as the seminar and guidelines on healthy leadership, the guide and online training course 'self-coaching in managing work-related stress' and the 'GIZ Moves! Active break culture' initiative. Since early 2017, staff members have been able to agree to act as an exercise multiplier as one of their agreed goals in the staff assessment and development talk. To train new and existing exercise multipliers, in 2018 GIZ organised workshops in Bonn, Berlin and Eschborn on the themes of 'get moving for five-minute intervals' and 'how exercise works as a stress buster'.
The Corporate Health Management team also offers a broad range of additional health services at the company's central locations in Germany. These include sports and exercise, ergonomics counselling, seminars and examinations, and help with achieving a good work-life balance (e.g. as part of the policy on reconciling work and family or through remote working). The services on offer vary from one location to another. Staff also now have greater opportunities to obtain work materials (including keyboards and special bags) that make it possible to work ergonomically inside and outside the office.
HEALTH TEAM
The interdisciplinary Health Team coordinates the various departments involved in occupational safety and health promotion. It includes staff members from different departments that meet up regularly. In 2018, GIZ offered a number of activities and presentations on the subject of health. The motto of the Health Day in Eschborn, for example, was Sleep and Recuperation, while in Bonn, the company staged workshops on healthy sleep and the sleep barometer.
The 'GIZ MOVES! Active break culture' initiative strengthens participation, composure and health literacy for staff members by getting them to act as exercise multipliers themselves. CHM uses the active break culture to motivate the workforce to get more physical exercise by taking breaks together. In order to identify needs and developments, health and safety have been incorporated into the staff and development worker survey . Over and above this, CHM evaluates its own indicators at irregular intervals.
read more
read less
SPECIALIST SUPPORT FROM MEDICAL SERVICES AND COPE
Medical Services, occupational safety officers and the psychosocial counselling unit (COPE) provide input to complement the services of Corporate Health Management. Medical Services (MED) advises everyone in the company who is involved in health protection on all issues related to health and staying healthy. It supports the company in implementing occupational health laws and regulations, with the aim of creating a healthy working environment for all employees and advising them on conduct that is beneficial to health. COPE is open to all staff members who are looking for counselling due to specific events, life or work circumstances, for instance related to trauma, addiction and an excessive workload. COPE thus completes the holistic approach taken by GIZ.
RECONCILING WORK AND FAMILY LIFE
For many years, GIZ has been helping staff reconcile their working and private lives by providing a number of services. To support parents with young children, the company provides child care for almost 120 children at its own day centres at the two main offices in Bonn and Eschborn, and offers allowances for child care and schooling in partner countries. Staff members with relatives who need care will have access to counselling and referral services from 2019.
By introducing new working time regulations in 2019, GIZ will open up special options for temporarily reducing working hours for family reasons. Employees inside and outside Germany will also be given greater control over their working hours because of the greater scope offered for arranging daily working hours and for remote working. This will also make it much easier to reconcile professional demands with family duties and personal interests.
Since May 2018, a collective bargaining arrangement on flexible forms of assignment has made it possible to alternate between working in a project in a partner country and spending extended phases working in Germany. That is an interesting and attractive option for employees whose family or partner cannot or does not want to join them in a foreign country for a prolonged period of time. Work is currently underway on a new collective bargaining regulation governing the conditions for foreign assignments at locations suffering a fragile security situation. Such assignments have become more frequent in recent years and present a particular challenge to families. The new services for families in especially difficult working and living environments predominantly serve to strengthen the resilience of accompanying family members, and give families a basis on which to plan in the event of evacuation in extreme cases, which brings with it an additional financial burden.
GIZ's policy that is oriented towards different phases of (family) life has been externally monitored and assessed for 25 years, and certified by a work and family audit certificate awarded by berufundfamilie GmbH.
GLOBAL ACCESS TO SERVICES OFFERED
GIZ insures its local workforce in the field against health risks. This is usually done via local or regional, statutory or private health insurance schemes. All employees can consult the intranet sites of Medical Services and Corporate Health Management for information about health and occupational safety. Staff members have worldwide access to comprehensive online services such as occupational safety, ergonomics and exercise. In 2018, the pilot project 'CHM in the field structure' was launched with a view to gradually establishing structured and holistic work on corporate health management in our partner countries. The project is scheduled to run from March to December 2020.
More on this topic:
GIZ supports staff in maintaining their performance capacity by means of comprehensive health management.
We operate a professional security risk and crisis management system, because the safety of our employees is of paramount importance. How we protect our employees.
We maintain and strengthen employability: health being one of the most important prerequisites. However, regular feedback, skills development and continuing training are other key factors that ensure our employees enjoy their work.
GIZ is a fair, family-friendly and a popular employer among young professionals. It has received numerous awards: GIZ – an award-winning employer