Commitment – environment heroes and meandering gardeners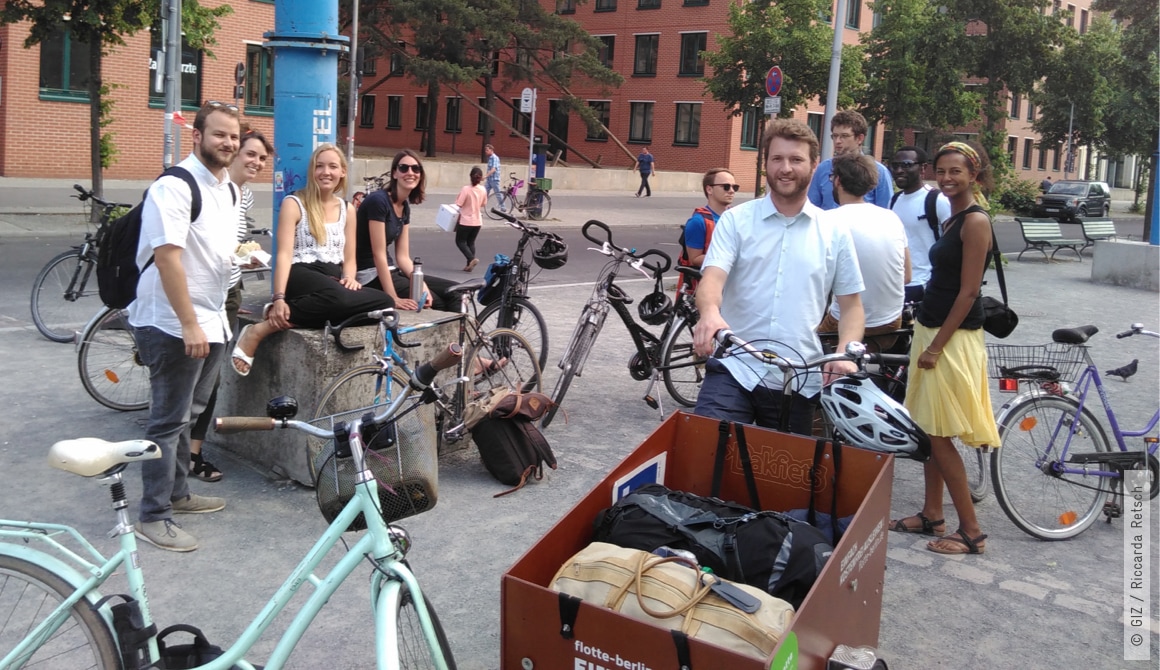 GIZ's offices in Germany and country offices in the partner countries are taking various kinds of action to promote sustainability. Since 2014, GIZ and its staff have also taken part in German Sustainability Action Days, with activities as diverse as clothes exchanges, planting green roofs and reducing waste. They are also involved in various initiatives to save bees, in the Sustainability Breakfast initiative and urban gardening.
Once a year, the German Council for Sustainable Development stages the German Sustainability Action Days as part of European Sustainable Development Week. GIZ has been taking part in this event for years and has organised a host of activities in Germany and abroad. The frame of reference is provided by the United Nations 2030 Agenda and its 17 Sustainable Development Goals (SDGs). All participants are therefore called upon to indicate clearly the contribution their entry will make to one or more of the SDGs. GIZ made a number of different contributions in 2018, as shown by the following examples.
Conserving biodiversity
Bonn and Eschborn, the beekeeping groups reported on their ongoing commitment to conserving and tending to beehives. Committed employees extracted the honey and filled it into jars so it could be sold. The revenue was passed on to charitable projects.
Clothes exchange
Also in Bonn and Eschborn, colleagues can swap good-quality skirts, blouses, trousers, t-shirts and jackets, making sure these items of clothing are reused. Pinboards are set up to provide improvised changing rooms, and many items of clothing change hands at no cost.
Sustainable cycling
Cyclists were able to have their bikes checked and coded. Afterwards, the bikes were as good as new again and GIZ colleagues were ready to hit the road using an environment-friendly, roadworthy, healthy and sustainable means of transport.
GIZ locations and country offices in the field also took part with a variety of actions, including the following:
Jordan: Community training for planting effective green roofs
Uganda: Presentation of transgender documentation in Uganda
Brazil: Raising awareness of how to avoid waste
Nepal: Touring exhibition on how GIZ projects contribute to the Sustainable Development Goals (SDGs)
Liberia: Co-organisation of a safe-street festival
Yemen: Gender event.
Outside of the Sustainability Action Days, many staff members are also involved in initiatives such as the Sustainability Breakfast in Bonn, the environmental initiatives in Eschborn and the environmental heroes in Berlin. These are just some of the options that all offices in Germany offer their staff to get involved in the field of sustainability.
Sustainability Breakfast
At the Sustainability Breakfast, GIZ employees share views on sustainability, both inside GIZ and on a personal level. The topics they discuss concern sustainable investment, mobility and the staff goal of being drivers of sustainability. These meetings have given rise to many small and larger actions such as saving food at events, upcycling vinyl banners, or a drive to donate foreign currency.
'Ökottis' Environmental Initiative in Bonn-Röttgen
The 'Ökottis' Environmental Initiative at the Kottenforst Campus, where the Academy for International Cooperation is located, is concerned with sustainable event management. It also looks into the procurement process for products and aims to create greater biodiversity on the compound surrounding the Kottenforst Campus. Some 16 members, who founded the initiative in July 2018, get together once a month to achieve these goals.
Environmental Initiative in Eschborn
The Environmental Initiative in Eschborn has been carrying out a plethora of activities related to sustainability since it was founded in 2009. Sub-groups organise a wide range of actions, from looking after the rent-a-bike pool, encouraging people to buy regional produce and various communication measures such as a newsletter. Environment heroes Berlin
The environment heroes were established in 2013 and have since organised a variety of actions related to sustainability. Besides circulating information and tips on how to make everyday work at the office more sustainable, they are also involved in the German Sustainability Action Days, where they offer information booths on sustainable investment and flight emissions, a quiz on the carbon footprint of disposable and reusable cups, and a campaign to collect old vinyl banners at GIZ for staff at the Berlin office. Colleagues in Berlin also have the environment heroes to thank for having their first and very own bicycle coordinator to assist them since early 2018.
Meandering gardeners in Bonn
At urban gardening sessions using raised beds and street-side planting strips, staff learn how to garden sustainably and for biodiversity, with simple means. The communal garden was created in 2016 on the south side of the Meander Building.
Beekeeping initiative
Interested staff receive training and help to take care of GIZ's bees. Eight bee colonies enliven the natural environment in Eschborn, Bonn and on the Kottenforst Campus.
An internal communication platform was recently set up so that the initiatives can 'share the buzz' across all GIZ locations.