Reducing our consumption of resources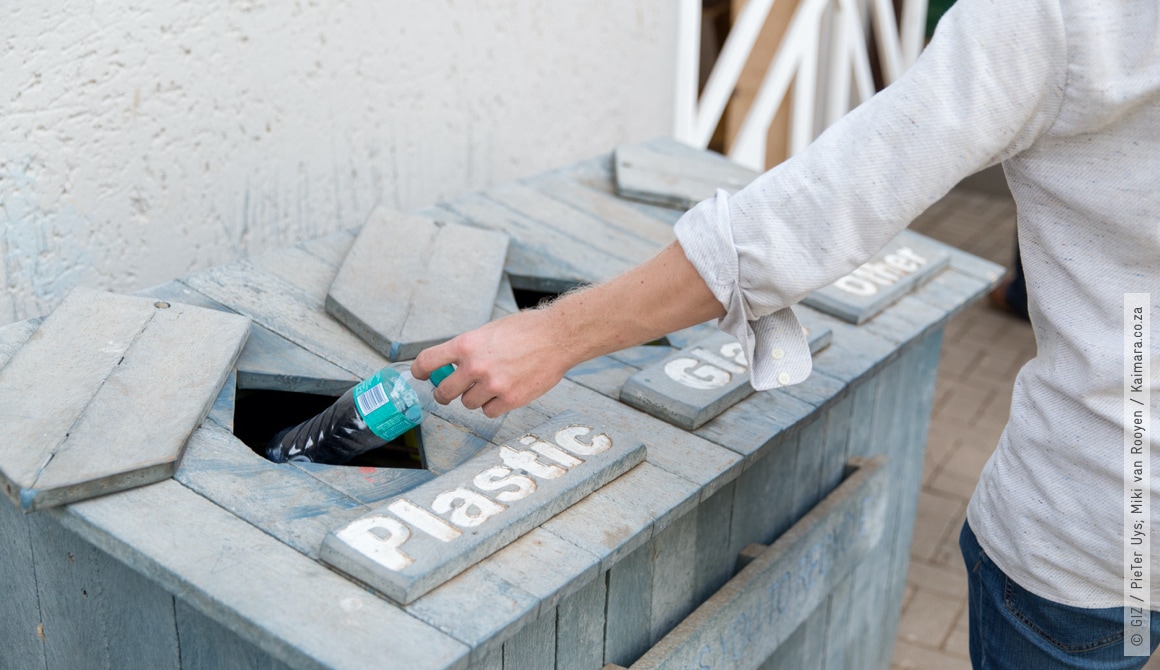 GIZ is reducing its paper consumption and having its discarded IT devices recycled. But the options available are not identical inside and outside Germany.
REDUCING PAPER CONSUMPTION
Paper is an essential resource that we use every day in the office. However, we have significantly reduced paper consumption in our German offices since 2016 and are constantly working to reduce it further. In 2018, 98.3 per cent of the paper we used was recycled paper with the Blue Angel seal of approval. We have installed low-energy printers. Our service provider uses our empty colour cartridges to manufacture new cartridges. Outside Germany, the use of recycled and environmental paper in 2018 was, on average, up around 12 per cent on 2017. It is not as easy to use recycled paper outside Germany, because such paper is often not available locally.
Paper consumption
Germany
Abroad
2016
2017
2018
2016
2017
2018
Paper consumption (sheets)
12,993,250
13,375,246
13,102,634
65,336,413
79,061,190
63,392,759
Paper consumption per staff member (sheets)
4,279
3,345
2,971
4,318
4,979
3,776
Percentage of recycled paper used
100 %
99 %
98 %
13.7 %
8.9 %
11.5 %
RECYCLING AND REUSE RATHER THAN SIMPLE DISPOSAL
We aim to generate as little waste as possible and to achieve a high level of reuse. A state-recognised and TÜV-certified service provider has been reprocessing IT equipment since 2013 and marketing it as used equipment. Defective devices are disposed of in an environmentally friendly and professional manner. In our procurements we also endeavour to buy in as little waste material as possible. We prefer reusable packaging. The packaging must meet our requirements or be taken back by the supplier. We attach great importance to the repairability of purchased goods. There are collection bins for recycling highlighters and markers at all our locations in Germany, especially at our educational centres.
WASTE
We mainly produce household-like municipal waste. We developed a waste concept in 2016. Since then, we have included in our own records all waste that, for example, was previously attributed to our canteen service providers. Our waste management is also affected by the 2017 amendment to the Commercial Waste Ordinance. In 2018, we generated 134 kg of residual waste per employee in Germany. Waste is not covered by the CSH.
Waste
Germany
2016
2017
2018
Total residual waste in t
449
456
621
Total residual waste per staff member in kg
135
109
134
More on this topic
We apply the strict EMAS environmental management system requirements at six German locations. You can read more about this in our 2019 EMAS Environmental Statement (German only).
A basic principle that GIZ respects in all its activities is the need to deal responsibly with the environment and natural resources. You can read more in the 2018 Climate and Environmental Report.