SUSTAINABLY OUTSTANDING!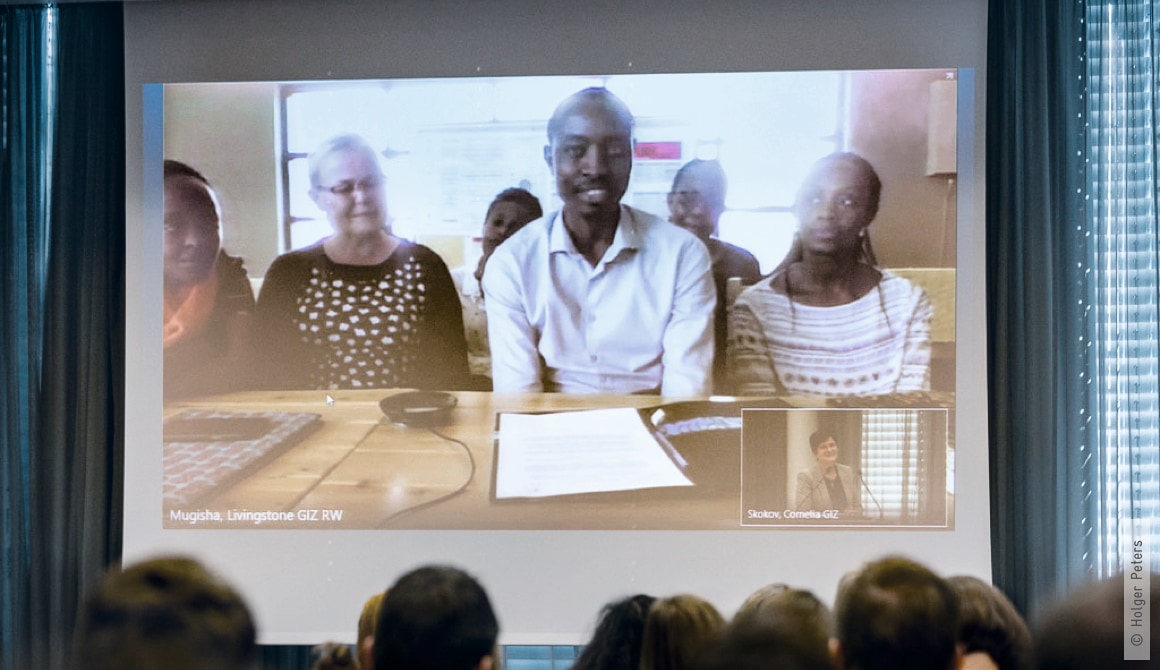 Sustainability Champions – that is the name GIZ gave to the sustainability contest that it launched for its staff in 2018. Thirty teams from across the globe applied, and five winners were chosen. The contest was so successful that it will now be repeated every two years.
In 2018, GIZ paid tribute to staff members' corporate sustainability initiatives through its Sustainability Champions contest. The strong level of participation highlighted the creative potential among our workforce. A company-wide vote on the entries enabled colleagues to exchange opinions and develop all sorts of suggestions as to how sustainability can be part of our daily routine. The award ceremony was streamed live to all of our locations, so the level of engagement was plain for all to see throughout the company. The winning teams are shown below.
CATEGORY: ECONOMIC CAPABILITY – TEAM THAILAND
'First we show what the problem is – for example on a joint beach clean. Then we find solutions.' This was the principle adopted by the team from Thailand in tackling three themes: plastic waste, recycling and procurement. Paper use at the GIZ country office in Thailand was reduced by 30 per cent between 2015 and 2017, for instance, and it now produces its own cleaning agents, more cheaply and with less environmental impact.
CATEGORY: POLITICAL PARTICIPATION – TEAM BOSNIA AND HERZEGOVINA
At a volunteers' day for disadvantaged children and young adults, GIZ staff made greetings cards and gift boxes with the children. The team helped young adults with various useful tips, including on writing CVs.
CATEGORY: SOCIAL RESPONSIBILITY – TEAM BRAZIL
CARONEAR is the name of a carpool app that our Brazilian staff can use to find and book a ride. It was developed by a Brazilian start-up on behalf of GIZ's country office in Brazil. The app reduces the problems staff have with parking and encourages greater social interaction. Not only that, it can also easily be used in other countries.
CATEGORY: ECOLOGICAL BALANCE – TEAM BOLIVIA
The GIZ country office in Bolivia installed a solar charging station for e-bikes. Surplus power from the two photovoltaic modules is put to use by the office. Within a year, the charging station and e-bikes reduced the office's CO2 emissions by 955 kilogrammes. This is equivalent to a one-way flight from Frankfurt to Cairo.
SPECIAL PRIZE: SUSTAINABLE PROCUREMENT – TEAM RWANDA
Rwanda won its award with a campaign to raise awareness of sustainable procurement. One motivation behind the initiative was that the GIZ country office did not perform well in an internal assessment in the 'ecological balance' category. The team now buys its own office materials and furniture that are preferably 'made in Rwanda'.
LIVINGSTONE MUGISHA, CORPORATE SUSTAINABILITY HANDPRINT® (CSH) OFFICER AT GIZ'S COUNTRY OFFICE IN RWANDA
'Before purchasing anything, we make sure that our office supplies are environmentally friendly and made here in Rwanda. Combining sustainable procurement with our Made in Rwanda programme requires constant effort. Receiving an award in this competition boosted our morale and our motivation to continue advancing the subject of sustainability.'