OUR PERSONNEL
IN 2016, IT WAS ONCE AGAIN OUR PERSONNEL WHO GUARANTEED THE SUCCESSFUL DEVELOPMENT OF OUR BUSINESS. OUR STAFF PUT THEIR EXPERTISE AT THE SERVICE OF OUR CLIENTS, COMMISSIONING PARTIES AND PARTNERS IN SOME 120 COUNTRIES, DEVELOPING INNOVATIVE SOLUTIONS FOR SOCIETAL CHANGE AND TRANSLATING THESE SOLUTIONS INTO PRACTICE.
As at 31 December 2016, GIZ employed a total of 18,260 staff, as compared to 17,319 in 2015 – an increase of 941. The expanding workforce reflects our business development and demonstrates GIZ's attractiveness both as an employer and as a service provider in the field of international cooperation for sustainable development.
In addition to our long-term and short-term experts and our national personnel in partner countries, who account for the greater part of our total workforce, another 1,490 people were working for GIZ as development workers, integrated experts and returning experts around the world. It is particularly encouraging to note the rise in the percentage of women employed both in the company as a whole and in managerial positions. We also intend to further increase the percentage of our national personnel taking up managerial posts.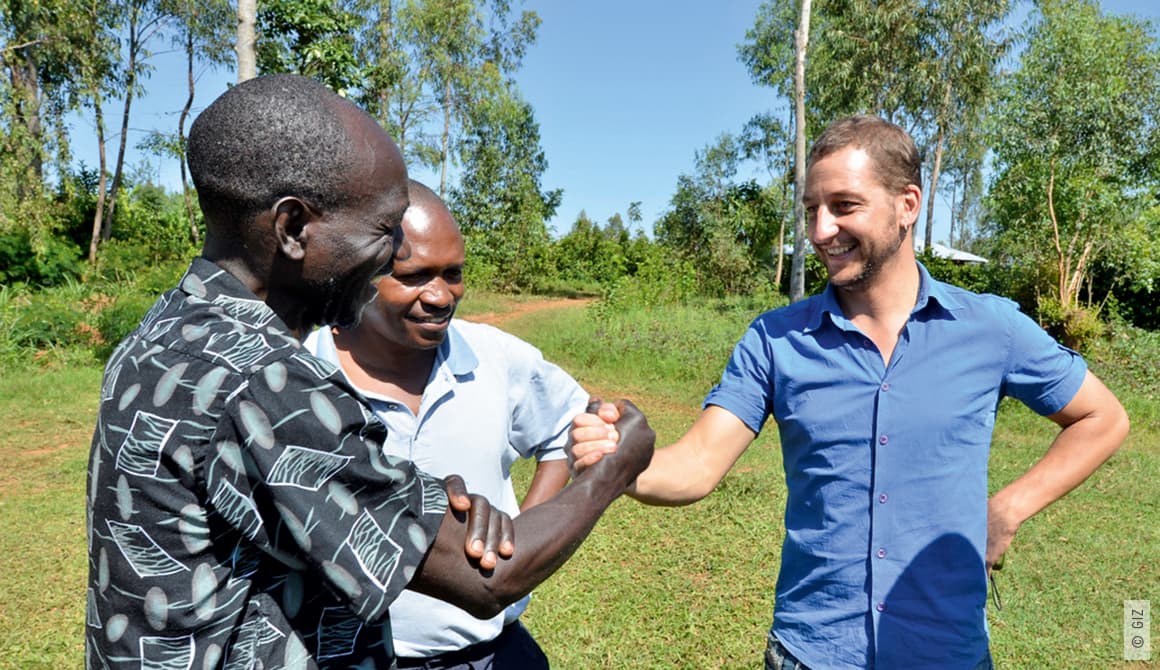 INTERNATIONAL EDUCATION WORK –
CAPACITY DEVELOPMENT FOR PARTNERS AND GIZ EMPLOYEES
The Academy for International Cooperation, also known by its German acronym AIZ, upgrades specialists and managers working in international cooperation to enable them to actively shape change processes and make knowledge globally available. The learning and training services for practitioners offered by the Academy cover a wide spectrum – from language courses and security training prior to a field assignment, leadership development courses and training on a wide array of specialist subjects, such as food security, through to conflict and project management.
The face-to-face and online teaching methods used by the Academy are open to GIZ employees inside and outside Germany, and can also be made available to external clients. The Academy supports GIZ projects around the world in devising and implementing strategic capacity development measures and learning processes with partners – to ensure that the capacities in partner countries are available in the long term and that project results are sustainable.
Annual Statement of Accounts 2015