MANAGING SUSTAINABILITY TOGETHER WITHIN THE COMPANY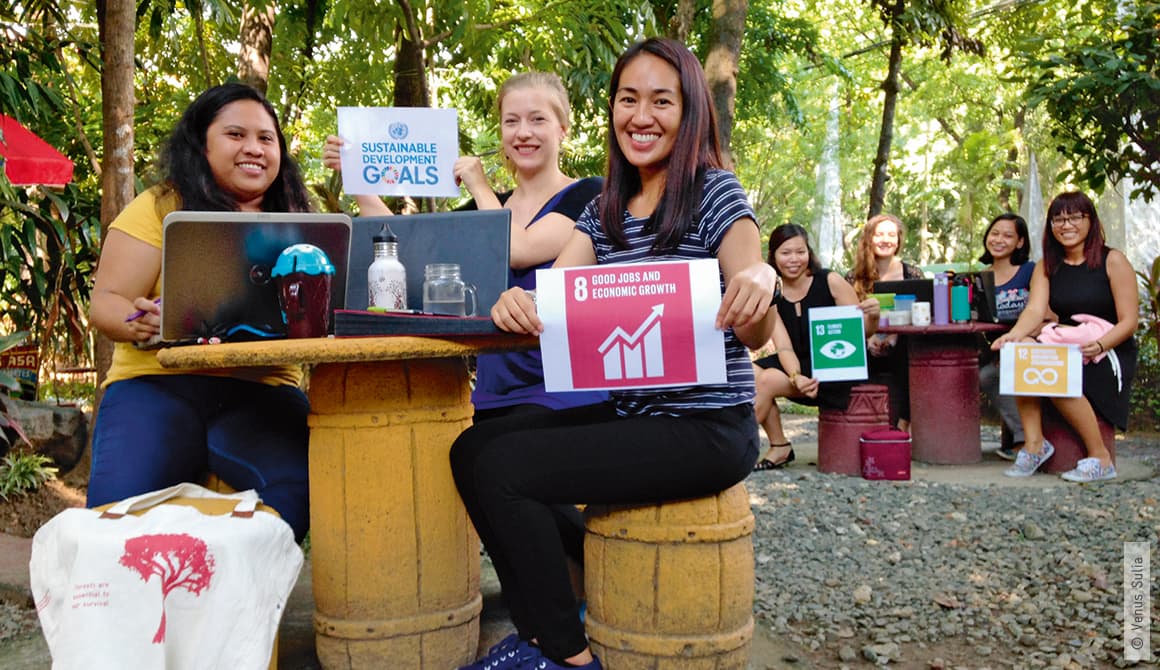 PUSHING AHEAD WITH SUSTAINABLE DEVELOPMENT AS LAID OUT IN THE 2030 AGENDA IS NOT JUST THE RESPONSIBILITY OF THE INTERNATIONAL COMMUNITY OR OF INDIVIDUAL COUNTRIES. TO ENSURE THAT NATIONAL AND INTERNATIONAL OBJECTIVES ARE ATTAINED, COMPANIES LIKE GIZ ARE ALSO CALLED ON TO PLAY THEIR PART THROUGH SUSTAINABLE CORPORATE PROCESSES AND RESPONSIBLE ACTION.
REDUCING AND OFFSETTING EMISSIONS
In 2004, GIZ adopted its own climate change mitigation strategy, which aimed to reduce energy consumption and the use of private vehicles, replace fossil fuels with renewables, and offset the remaining greenhouse gas emissions. The success of this strategy has increased with every passing year:
Since 2014, GIZ has bought in only green electricity in Germany.
Between 2011 and 2015, emissions were reduced by 20 per cent.
In 2016, partly through one of its own cooperation projects in Thailand, GIZ offset its remaining greenhouse gas emissions in line with the CDM Gold Standard.
ENVIRONMENT PROGRAMME 2016 – 2020: MORE AMBITIOUS OBJECTIVES
In the face of climate change and dwindling resources, all business processes must be environmentally sound. GIZ's new Environment Programme 2016 – 2020 therefore embraces not only new, more ambitious emission reduction targets, but also such issues as
ecologically sound building,
greening outdoor spaces with indigenous plants,
re-using older items of IT equipment, and
green mobility.
A key element throughout is the enthusiastic response of staff, who have set up their own environment teams in a number of different areas, from improving the company's infrastructure for cyclists, to keeping bees on the company premises. This participation, which staff have been keen to support, is now incorporated as an objective in its own right in the new Environment Programme, which also specifies relevant measures.
REGULARLY UPDATED – SUSTAINABLE PROCUREMENT
Sustainable procurement can improve staff benefits and GIZ's environmental performance. The Report on Sustainable Procurement, which is regularly updated, brings together all mandatory requirements. Cleaning materials, for instance, must comply with the requirements of the EU ecolabel, while office materials and furnishings must be free of any hazardous materials. The report also provides examples of the criteria required in framework agreements with suppliers, covering, for instance, the procurement of printers.
DATABASE: SUSTAINABLE FOOTPRINT AND HANDPRINT
Since 2016, GIZ has been using the Corporate Sustainability Handprint® at more than 70 offices around the world. While the ecological footprint measures such things as water consumption and CO2 emissions, the handprint documents active contributions towards sustainability. GIZ offices inside and outside Germany compile their figures and so provide the data needed to calculate GIZ's resource use and establish worldwide reduction targets published in the company's Climate and Environmental Statement (German only).
AUDITED AND CERTIFIED: GIZ'S CORPORATE ENVIRONMENTAL PROTECTION
GIZ introduced the Eco-Management and Audit Scheme (EMAS) back in 2013 as part of its corporate environmental protection framework. As well as annual audits performed by independent consultants, the company's environmental management is subjected to a more far-reaching, detailed check once every three years.
In 2016, at the end of the first three-year cycle, GIZ received confirmation that its environmental work is successful. Since 2016, GIZ's new building in Bonn, the international education and encounter centre in Feldafing and another building in Eschborn have been certified as worthy of the EMAS seal of approval.
Working together to conserve biodiversity
Sustainable Procurement Report 2016 (German only)