FOR A FUTURE IN RURAL AREAS IN BURKINA FASO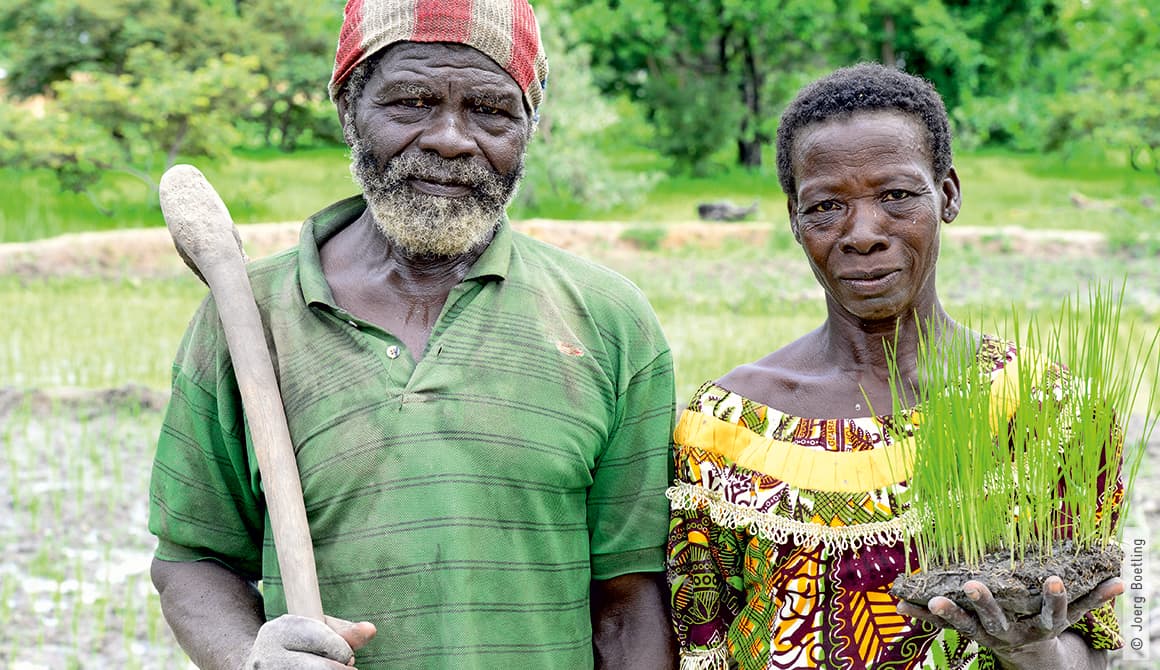 When existing farming knowledge is no longer sufficient to stave off hunger and malnutrition, when there is a shortage of work and income and therefore a lack of prospects for people in rural areas – new ideas are needed. This is particularly true in smallholder agriculture in Africa and Asia. One promising programme is the Green Innovation Centres for the Agriculture and Food Sector.
GREATER AND MORE SUSTAINABLE PRODUCTION FOR SMALLHOLDERS
It sets out to enable millions of smallholders and cooperatives to sustainably increase their production along various value chains. It also aims to help create new jobs in the processing enterprises and trade. The programme is part of the BMZ One World – No Hunger initiative and is being implemented by GIZ in 13 African countries and in India. One way the innovation centres provide the requisite know-how is through practical training and intensive extension work.
BURKINA FASO – AGRICULTURAL TRAINING COURSES
In Burkina Faso, for instance, the centre cooperates with the country's largest state agricultural school, which trains some 1,000 people every year in the cultivation and processing of rice, sesame and vegetables. On the school's own demonstration plots they learn how to increase yields by employing agricultural technology, improved varieties and cultivation methods. They discover, for instance, the role processing plays and how careful drying prevents mould.
PARTNERS FROM THE RESEARCH AND BUSINESS COMMUNITIES AND CIVIL SOCIETY
Like all innovation centres, the one in Burkina Faso is well networked and cooperates with numerous partners in the research sector, industry associations, businesses and civil society. Through a cooperation arrangement between the Burkina Faso company NAFASO and the German company PETKUS Technologie, approximately 15,000 rice producers have gained access to purified seed. This allows them to save money and grow significantly more rice in their fields.
Together with the German Dreyer Foundation, 150 hectares of unused floodplains have also been converted into rice fields. This means additional cropland for 766 smallholder families, as well as larger yields and higher income – a promising prospect.
Green innovation centres for the agriculture and food sector