SECURITY HAS MANY FACETS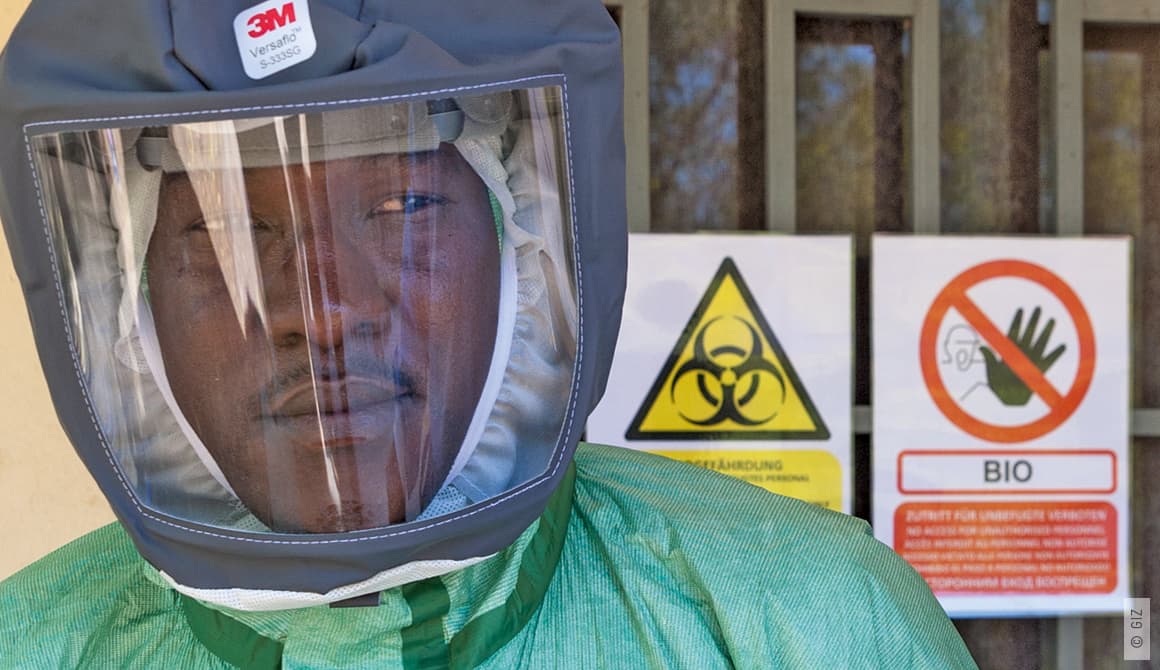 NATIONAL SECURITY AND STABILITY DEPEND NOT ONLY ON WHETHER PEOPLE LIVE IN PEACE AND ADDRESS CONFLICTS USING NON-VIOLENT MEANS. SECURITY AND STABILITY IS ALSO THREATENED IF A COUNTRY IS UNABLE TO PRESERVE AND EQUITABLY DISTRIBUTE ITS NATURAL RESOURCES, OR IF IT CANNOT PROTECT THE POPULATION AGAINST ORGANISED CRIME, CORRUPTION, EPIDEMICS AND BIOLOGICAL HAZARDS.
FIGHTING PIRACY IN WEST AFRICA – COORDINATED, CROSS-BORDER MEASURES
Piracy, human trafficking, the drugs trade, illegal fishing – maritime security in West Africa's Gulf of Guinea is not in the best of shape. To effectively tackle the violence and crime that prevail off their coasts, states bordering on the Gulf of Guinea need to take coordinated counter-measures and establish cross-border information-sharing systems.
PROTECTION AGAINST BIOLOGICAL HAZARDS – RAISING AWARENESS, ENSURING PREPAREDNESS
Bacteria and viruses as weapons? Given the worsening security situation and the continued terrorist threat, the world must be prepared to face this risk. Firstly, this will involve creating an awareness of the threat of bioterrorist attacks. Secondly, national authorities and institutions must be better prepared to diagnose dangerous pathogens swiftly and correctly, while protecting their laboratories against unauthorised access and developing international networks.
DETECTING AND CONTROLLING EPIDEMICS SWIFTLY
How can we prevent infectious diseases spreading like wildfire? One response is the Epidemic Preparedness Team set up by BMZ in 2015. The team (known by its German acronym SEEG) helps partner countries become better prepared to cope with outbreaks of infectious diseases, and to respond appropriately before the outbreak becomes an epidemic.
FIGHTING CORRUPTION IN GEORGIA – TRANSPARENCY IS THE ANTIDOTE
There is an antidote to corruption that is effective worldwide: transparency. That is why Georgia is putting its faith in European standards to tackle the problem of bribery. Since 2010, GIZ has been working on BMZ's behalf to help Georgia reform its public procurement system.
WATER AS A CONFLICT RISK – CONSERVING RESOURCES AND ENSURING EQUITABLE WATER MANAGEMENT
There is no life without water. Where water is scarce, conflicts are more frequent. How a country protects its water resources is thus a crucial factor in the level of security and stability it enjoys. However, all water users must accept responsibility in order to protect precious water resources. And that is precisely the approach adopted by the International Water Stewardship Programme.
ALLIANCE FOR INTEGRITY
To achieve greater transparency and integrity in international value chains, BMZ launched the Alliance for Integrity in conjunction with the German private sector. With its business-to-business training programme, the Alliance for Integrity is strengthening the capacities of small and medium-sized enterprises (SMEs) to prevent corruption.
African Water Stewardship Initiative