WAYS TO CUT EMISSIONS
AROUND THE WORLD, WORK IS UNDER WAY TO MITIGATE CO2 EMISSIONS. THE IDEAS THAT ARE EMERGING AFFECT AND OFTEN IMPROVE MANY ASPECTS OF LIFE AND OF COURSE THE ENVIRONMENT. EXAMPLES INCLUDE RAINFOREST PROTECTION, GREEN ENERGY SOURCES, ELECTRIC MOBILITY AND GREEN HOUSING CONSTRUCTION.
RENEWABLE ENERGY IN GREECE
Greece intends to increase the percentage of green energy in its energy mix and in so doing to help meet European energy and climate targets. By 2020, 40 per cent of the country's electricity is to be generated from renewables. The investment this will entail in solar power and wind turbines could also create around 28,000 new jobs.
GIZ has been involved in paving the way for this development, primarily through advisory services that helped Greece draft an act of parliament to promote the use of renewable energy. The new law was passed in August 2016. On behalf of the German Federal Ministry for Economic Affairs and Energy and the EU, GIZ is now supporting the Greek Government in realising the goals it has set itself regarding the expansion of renewable energy use.
GIZ experts are advising their Greek partners on ways of improving the current framework and existing procedures. These include licensing procedures and integrating renewables into the country's power grid. Greece can draw on lessons learned in other EU member states, for instance with the introduction of public tendering and the integration of renewable energy in the electricity market. These measures are making the Greek promotion system fit for the future and laying a stable foundation for new investment in green energy.
read more
read less
LOW-CARBON HOMES IN MEXICO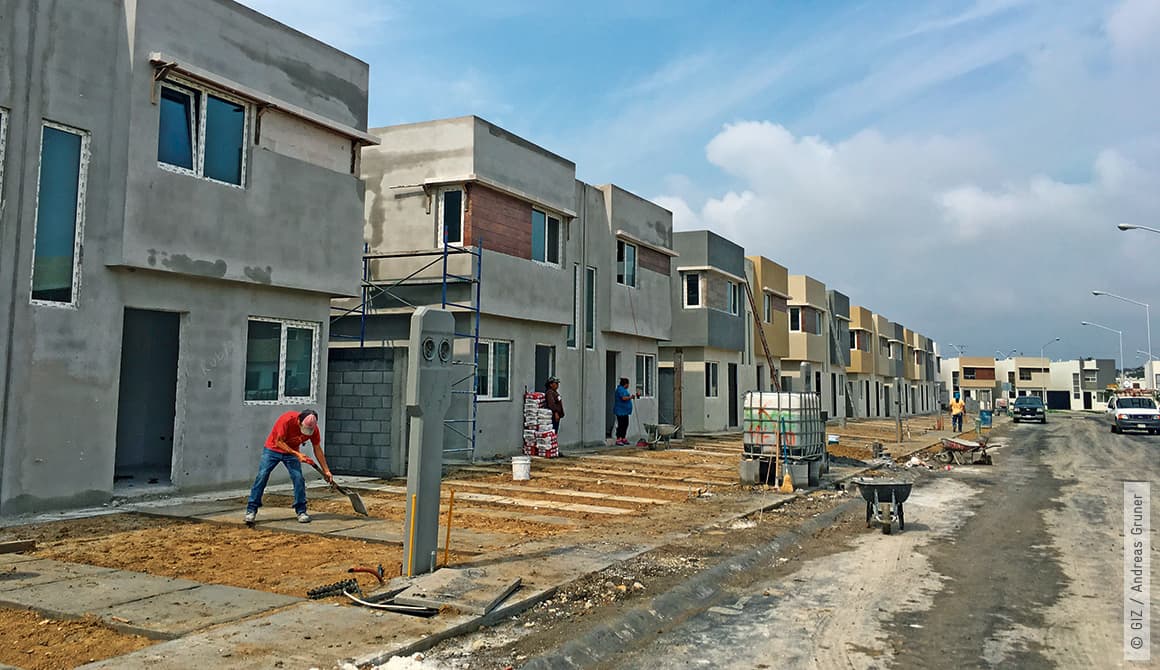 To reduce its emissions, Mexico is focusing on energy-efficient strategies in the booming social housing construction sector. The residential building sector currently accounts for almost one third of Mexico's greenhouse gas emissions and almost one fifth of the country's total energy consumption. Mexico is now taking action to change this state of affairs, with improved thermal insulation, efficient windows, solar hot water collectors and the use of energy-saving domestic appliances.
These voluntary nationwide measures to reduce greenhouse gas emissions, which are included among Mexico's Nationally Appropriate Mitigation Actions (NAMAs), are the first attempt anywhere in the world to target residential buildings. They are financed by Germany's Federal Ministry for the Environment, Nature Conservation, Building and Nuclear Safety and the UK Department for Business, Energy and Industrial Strategy through the NAMA Facility. This programme promotes the implementation of NAMAs around the world.
While GIZ focuses on developing energy-saving and climate-appropriate concepts for social housing with Mexico's National Housing Commission and private investors, KfW is developing financial incentives in cooperation with the Mexican state development bank (Sociedad Hipotecaria Federal – SHF). Together, the partners are organising nationwide information campaigns to boost demand for low-carbon flats and houses. They also train private-sector housing developers in the use of new energy-efficient technologies.
The approach is proving highly successful. Since the programme was launched in 2013, some 54,000 households across the country have requested information about climate-friendly homes and sustainable construction. Financing has made it possible to build more than 41,000 energy-efficient housing units. Together they will prevent emissions of almost 930,000 tonnes of carbon dioxide over a 40-year period.
read more
read less
RETHINKING MOBILITY IN CHINA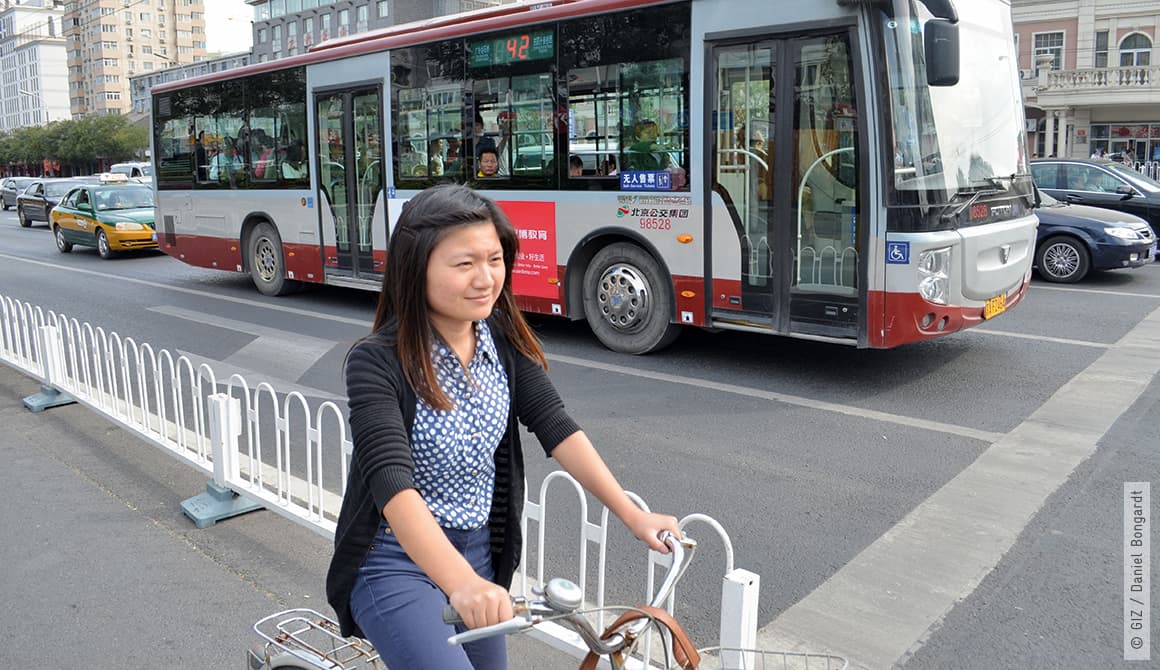 Mobility is key to social and economic development. It gives people access to markets, education and health. In China, 120 million private vehicles are already on the roads. Another 35,000 are registered every day – and there is no end to the boom in sight.
To ensure that this rising mobility does not automatically lead to more CO2 emissions and hazardous smog, and to prevent total gridlock, China needs new transport and mobility concepts.
Alternative fuels, electric mobility and new services, including car sharing, are to help China meet its climate targets and modernise key industries. On behalf of the German Federal Ministry of Transport and Digital Infrastructure, GIZ is organising a Sino-German dialogue that will create opportunities to introduce environmental standards, new technologies and approaches in the transport sector.
The measure builds on Germany's internationally acclaimed mobility and fuel strategy, which outlines the development options for a range of modes of transport through to 2050. The Chinese Government is now drawing on parts of this strategy and testing them in pilot schemes in the cities of Beijing and Tianjin, and in Hebei Province. Underpinning these activities are various short studies conducted by GIZ experts, for example on urban mobility concepts, regional transport and alternative fuels for heavy goods vehicles.
read more
read less
BANGLADESH: USING SUSTAINABLE MATERIALS TO BUILD CARS
Car production methods and the materials used in their construction impact on the climate. Alongside efforts to promote alternative fuels, boost electric mobility and introduce innovative transport strategies, work is therefore also under way around the world to develop alternative materials.
For the first time, the BMW Group has launched a new car series that incorporates sustainable natural materials.
The fibres of the kenaf plant (Hibiscus cannabinus) are used in the interior of the BMW i3 electric car. This sustainable material is lighter than plastic and has no sharp edges when it breaks. In order to ensure the sustainable cultivation of kenaf, the BMW Group and its supplier DRÄXLMAIER have partnered with GIZ International Services in Bangladesh.
The joint project is designed to enable farmers to produce high-quality kenaf in line with internationally accepted sustainability standards, and thus secure a steady income. To this end, GIZ has trained about 1,000 small farmers in the correct handling of seeds, as well as in drying and storing fibres. Training also embraces safety at work and the need to ensure that all stages in the production process are fully traceable. The cooperation partner is the international environmental organisation Rainforest Alliance
read more
read less
PALM OIL: GETTING PRODUCTS TO OUR SUPERMARKETS WITHOUT DESTROYING RAINFORESTS
In the food industry too, efforts are focusing on responsibly and sustainably farmed raw materials in an effort to cap CO2 emissions. Palm oil is a good example. This commodity is found in almost half of the products in our supermarkets – including instant soup, ice cream, candles and lipstick. To meet this huge demand, vast areas of rainforest are cleared by slash-and-burn, releasing massive amounts of carbon dioxide.
The Forum for Sustainable Palm Oil is therefore working to promote sustainable palm oil production and aims to ensure that only fully certified palm oil is used.
Certification means that the palm oil complies with sustainable production standards. One such standard is that no valuable forests were destroyed to make way for palm oil plantations. The Forum brings together 44 producers and trading companies, professional associations and non-governmental organisations. The German Federal Ministry of Food and Agriculture is also on board, and GIZ manages the Forum's Secretariat on behalf of the Ministry.
One point stands right at the top of the agenda: international certification must become more transparent and help ensure that palm oil originating from slash-and-burn methods no longer enters supply chains. Forum members are leading by example. Since the end of 2014, they have used 100 per cent certified palm oil for all their products. The percentage of certified palm oil used on the German market has risen considerably as a result.
read more
read less
Renewable energies and energy efficiency
NAMA Support Project for New Housing
Energising transport and mobility in China