DIALOGUE WITH STAKEHOLDERS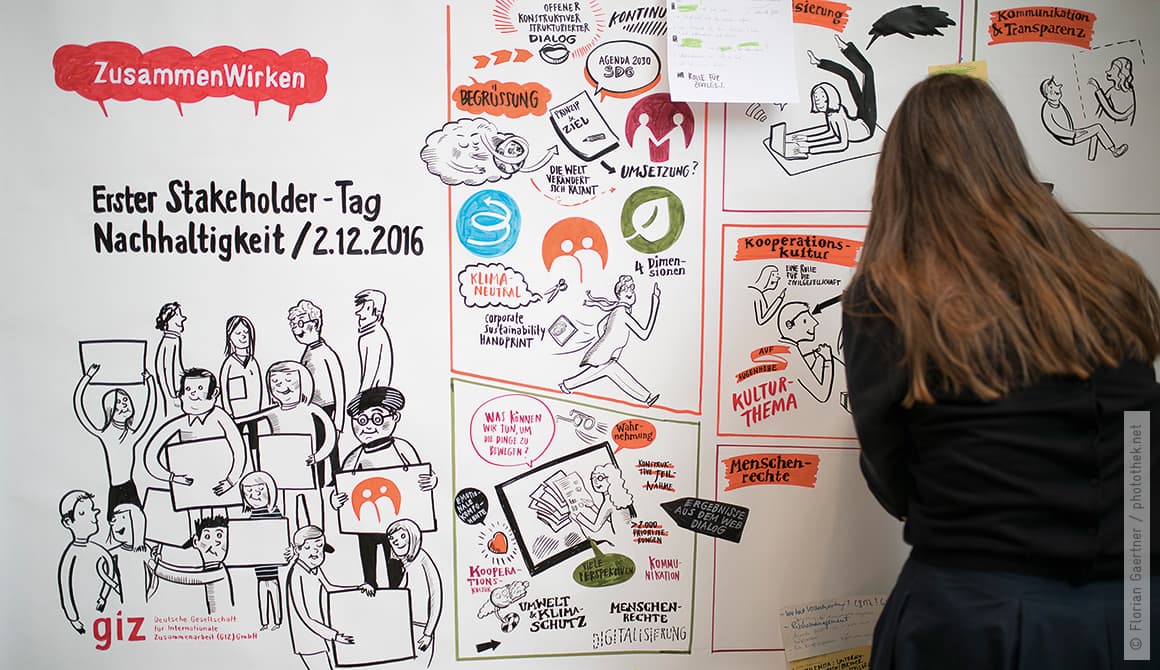 STAKEHOLDER DIALOGUE
What sustainability topics are relevant for GIZ's stakeholders? What is their perception of GIZ? To find out, GIZ engages in stakeholder dialogue. This process involves stakeholder groups from governments, private businesses, civil society organisations and the scientific and academic community as well as GIZ staff in Germany and abroad.
The dialogue entails an online survey and a Stakeholders' Day, which are held in a two-year cycle. The survey addresses issues which from the company's perspective are key sustainability topics. Internal and external stakeholders are asked to rank these in terms of their importance. The process also allows stakeholders to raise other issues and make suggestions for improvement.
Building on the online survey, the Stakeholders' Day provides an opportunity for one-on-one dialogue. Participants discuss issues which they consider to be particularly important or controversial
The thematic areas identified in the course of the stakeholder dialogue have a major impact on the company's activities. The prioritisation of key fields of action is reflected in GIZ's Materiality Matrix, which provides important indicators for further developing the company's sustainability programme and reporting.
GIZ MATERIALITY MATRIX
In dialogue with stakeholders, GIZ decides which sustainability topics take precedence – these are thematic areas which have a major impact on company activities, and which are therefore strategically prioritised. The prioritisation of key fields of action is reflected in the GIZ Materiality Matrix.
The results of stakeholder dialogue therefore feed directly into the Materiality Matrix. Finalisation of the matrix is closely coordinated with GIZ's Sustainability Board, which determines the long-term strategic direction and further development of corporate sustainability.