REDUCING HARDSHIP, BUILDING COMMUNITIES, CREATING EMPLOYMENT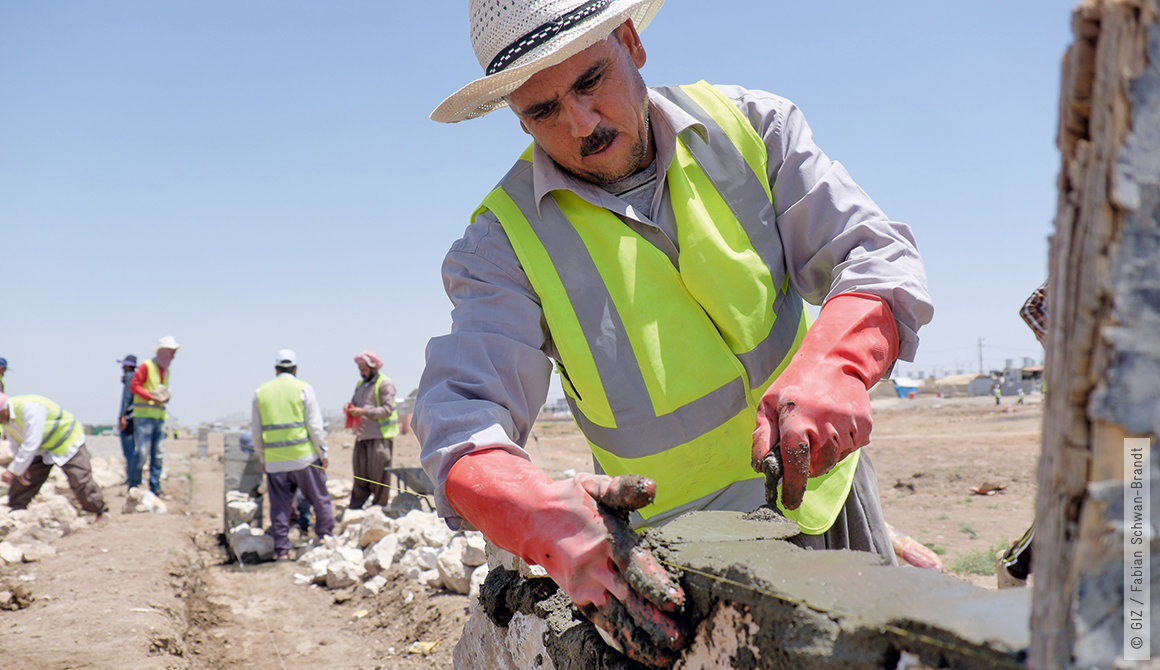 IN NORTHERN IRAQ, TURKEY AND JORDAN – WHEREVER SYRIAN REFUGEES HAVE FOUND REFUGE IN NEIGHBOURING COUNTRIES, THEY ARE WORKING TOGETHER WITH LOCAL RESIDENTS TO REPAIR DILAPIDATED ROADS, COLLECT AND SORT WASTE, BUILD DRAINAGE DITCHES AND REFURBISH HOMES. AND THEY ARE GETTING PAID FOR IT – CASH FOR WORK.
PARTNERSHIP FOR PROSPECTS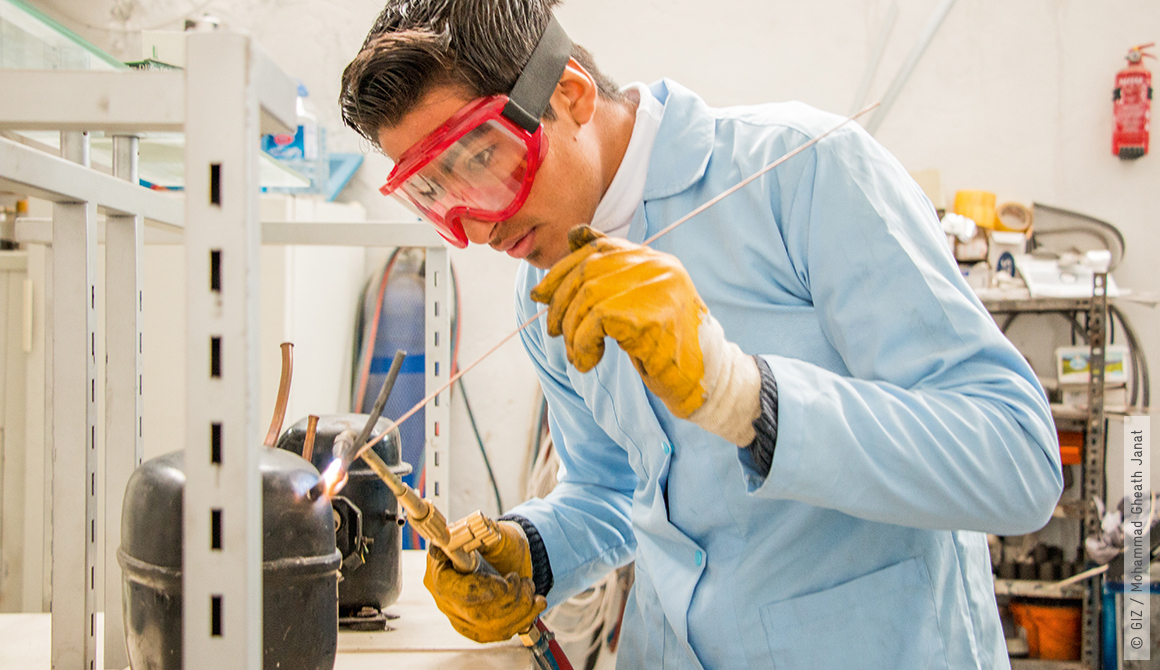 These cash-for-work measures offer not only refugees, but also poorer members of the local population an opportunity to earn temporary income and meet their most urgent needs. Rapid assistance for refugees and the host communities is one aspect of the Partnership for Prospects initiative, which GIZ is implementing in the crisis region together with numerous partners and NGOs.
As well as generating temporary additional income, the aim is also to create longer-term future prospects by providing training. The main beneficiaries of cash-for-training measures are women and young men. They are able to develop their skills and thus gain medium to long-term prospects for an income of their own. Again, this is based on the principle that refugees and locals learn together – and receive cash for doing so.
The Partnership for Prospects programme is part of BMZ's special initiative 'Tackling the root causes of displacement, reintegrating refugees'. It supplements Germany's long-term engagement through international cooperation by adding a rapid assistance component. Having fled from the horrors of civil war in their home country, some five million Syrian refugees have found refuge in neighbouring countries. Now they must endure years of uncertainty regarding their future.
By the end of 2016, GIZ and KfW projects implemented as part of the Partnership for Prospects programme had created more than 61,000 temporary jobs, over 40,000 of them in GIZ projects alone. And one further benefit was chalked up. The visible improvements to infrastructure and in people's everyday lives have strengthened peaceful coexistence and social cohesion between refugees and the local population, and in many cases given the refugees new self-confidence.
JORDAN – PROFITING FROM WASTE
The Za'atari refugee camp in Jordan is just one example of how effective rapid assistance can be. The camp is currently home to 80,000 Syrian refugees – and is largely free from solid waste problems. This is also the result of a cash-for-work programme that GIZ has been implementing together with the British non-governmental organisation Oxfam since June 2015 as part of the Partnership for Prospects.
Camp residents collect the waste, sort it and sell the recyclables to Jordanian companies. These jobs have enabled 9,000 people to earn additional income for a limited period. Outside Za'atari, collection and recycling measures are taking place in 20 municipalities, which are benefiting from recycling centres and a new recycling management system for solid waste.
read more
read less
NORTHERN IRAQ –TRAINING IN SOUGHT-AFTER OCCUPATIONS
Under the Partnership for Prospects programme, by the end of 2016 more than 30,000 people in the three provinces of the autonomous Kurdish region in northern Iraq had earned income through cash-for-work. As in Jordan, GIZ also offered effective cash-for-training measures.
At the Jiner training centre in Dohuk province, young women and men are able to choose between 15 different training courses. They learn how to handle welding machines, or how to repair air conditioning systems, mobile phones, and sanitary and electrical installations, or they attend computer courses. They receive training in occupations for which there is particularly strong demand on the labour market. By the end of 2018, it is estimated that 6,000 people will have taken part in these vocational training measures.
read more
read less
TURKEY – SHORT-TERM ASSISTANCE WITH LONG-TERM PROSPECTS
In Turkey too, the Partnership for Prospects programme is combining short-term assistance with measures to create long-term prospects. In some municipalities – where most of the Syrian refugees live – the population has increased by half, creating fierce competition on the labour market.
To prevent conflicts, refugees and local residents are being offered training in carpentry, traditional artisanal skills, accountancy or automotive trades, or the chance to go into food production. Advice and financial support are also available for people embarking on self-employment. Some 5,750 Syrian refugees and poorer sections of the Turkish community have already benefited from this
read more
read less
Cash for work: rehabilitation of municipal infrastructure
Cash for work: vocational training for the trades and crafts