No other country in the world has a higher per capita proportion of Syrian refugees than Lebanon. The country has been going through a serious economic crisis since 2019, and this has been exacerbated by the coronavirus pandemic. Children are suffering the most under the situation. This is where the Sustainable Facility Management in Public Schools in Lebanon project is taking action. On behalf of BMZ, GIZ is supporting schools in improving opportunities for everyone: for Syrian refugee children and Lebanese children in the host communities – boys and girls.
When the project began in 2019, it focused more on technical aspects such as recycling or using renewable energy for school buildings. At the start of the pandemic, GIZ was able to respond quickly and flexibly to adapt and expand these activities. Once the schools re-open, cooperatives in the region will supply the students with snack boxes of healthy food. Work on constructing outdoor classrooms, which was already in the pipeline, has forged ahead. This will enable the children to continue their schooling in groups once the lockdown has been lifted.
Navigating the crisis with e-learning
The project is also working with the NGO Lebanese Alternative Learning (LAL) on digitalising teaching content and making it available on a platform called Tabshoura, which is Arabic for chalk. School students who don't have a stable internet connection or electricity supply are given mini-computers with storage media. In-service training for teachers is improving digital teaching and school management, which in turn has given some 96,000 children at 400 schools throughout the country access to education. They can continue to study and prepare for exams – during and after the pandemic. The goal is educational opportunities for all – as well as a fairer future.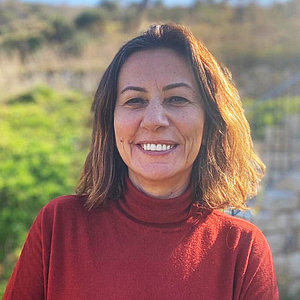 Pupils can use a Tabshoura box to access learning materials even if they do not have an internet connection.
(© Lebanese Alternative Learning)

Redesigned schoolyards are attractive places for children to play and learn.
(© GIZ)
Our projects in the 2020 Integrated Company Report
Do you want an overview of all the projects in the 2020 Integrated Company Report? Select a project below:
Do you want to learn more about GIZ's work? You'll find information about around 1,600 ongoing projects here.