Employability: a systematic approach to career development
Staff development: systematic career planning
Staff development is one of GIZ's top priorities. During their annual staff assessment and development talk, all employees receive feedback on their performance. They also discuss their skills profile and medium-term to long-term career plans with their line manager. On this basis, and with due regard for the company's strategic objectives, both sides then agree on a series of skills development steps. GIZ documents the results of the talks in a standardised form, developed inside the company and regulated by a GIZ employer/staff council agreement. This summary is then archived. To ensure an even more strategic approach to staff development and the planning of future assignments for individual staff members, GIZ has mainstreamed a new Tailored Expertise focus project in its Corporate Strategy 2020–2022. Flexible, forward-looking HR management ensures that the appropriate expertise is available for key positions.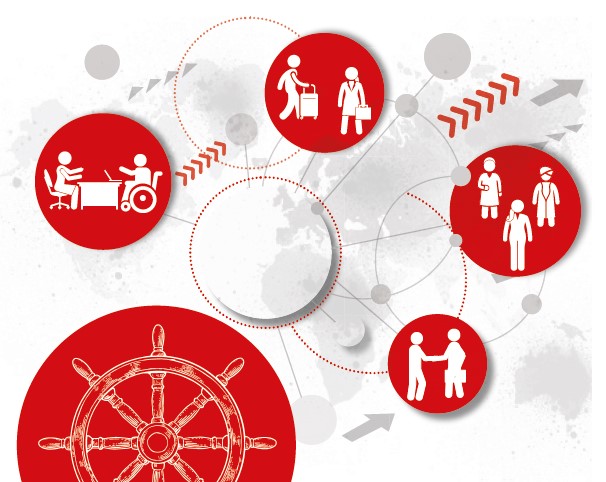 National staff
National staff with local contracts make up almost 70 per cent of the company's total workforce and play a crucial role at GIZ. In 2019, GIZ began implementing its Mission Statement for National Personnel. It provides the strategic framework for harnessing the tremendous and wide-ranging potential of our national staff by appointing them more often to positions of responsibility. This has already resulted in a modification of GIZ's talent management system. Progress continues with harmonising the already largely standardised system of salary bands; comparable requirements are set out in this system. To guarantee the assessment of national managers and junior national managers under the STEP procedure (the German acronym for systematic talent development process), which is equivalent to the assessment of managers with a German employment contract, process participants are trained to identify and counter cultural bias, while the team of psychologists involved in recruitment has become more diverse.
The company's global HR management standards were also updated. GIZ onboarding has been introduced across the company and is now mandatory for national staff in managerial positions at salary band levels 5 and 6. During the introductory phase, new staff members, development workers and integrated experts are introduced to the company and prepared for their future duties through a series of events and talks.
HR Hubs have been introduced to act as a bridge between Head Office in Germany and the individual country offices in order to further develop the company's global HR management standards. The first HR Hubs in Kenya and Turkey began work at the start of 2020. HR experts in the country offices can now network better thanks to a new platform. In 2020, six online regional network meetings were held for country office specialists and the HR Department at Head Office. These have spawned supraregional working groups that are addressing HR issues.

Young professionals
GIZ offers a wide range of traineeships and internships as part of a systematic approach to providing opportunities for young professionals. These measures are designed to introduce young people to the company and to a career in the development and international cooperation sector. All programmes offer fair and carefully regulated conditions. The terms of employment for trainees are based on a separate collective bargaining agreement. A dedicated unit has been set up in the HR Department to manage the company's various young professionals programmes, with a particular focus on quality, and to ensure that participants are given all the support they need. GIZ has broadened the opportunities available to young professionals in response to increased demand for staff with financial management and IT skills, for example by initiating a commercial staff development programme and a trainee programme for financial management outside Germany. In 2016, the company launched a scheme offering refugees a one-year introductory course in preparation for an in-house traineeship. Of the 38 participants, 34 have so far been offered an in-house traineeship or have gone on to undertake a dual degree course at GIZ, or have been placed in a traineeship with another development cooperation institution.
GIZ has been providing entry-level training for young refugees since 2016. The aim is to make it easier for them to enter the German labour market.
(© GIZ)

GIZ has been providing entry-level training for young refugees since 2016. The aim is to make it easier for them to enter the German labour market.
(© GIZ)
Academy for International Cooperation
The Academy for International Cooperation (AIZ) is GIZ's in-house training centre. It plays a key role in the company's HR development strategy by designing optimum learning processes and enhancing the skills of GIZ staff. AIZ offers a wide range of training and professional development courses for GIZ staff in Germany and abroad. The programme is open to all members of GIZ's workforce. Some courses are also available to the employees of GIZ's partners and more widely to those working in the sector, for example consultants or staff at non-governmental organisations and other institutions.
Number of participant days in the AIZ course programme and onboarding in 2020
AIZ 2020 COURSE PROGRAMME
AIZ ONBOARDING 2020
Group
participants by
staff group
participant days by
staff group
participants by
staff group
participant days by
staff group
Germany
3,917
5,583
1,085
1,518
Outside Germany
6,152
13,075
960
1,457
External/Other
278
1,110
0
0
Total
10,347
19,768
2,045
2,975
AIZ also organises the six-month onboarding programme for new staff. In 2020, a total of 2,045 people took part.
In addition to this, on behalf of the German Federal Ministry for Economic Cooperation and Development (BMZ) AIZ prepares employees of all German international cooperation institutions that second staff to countries outside Germany for their overseas assignments. Every year, more than 2,300 members of staff from seconding organisations make use of these preparatory courses as part of the Key Qualifications for International Cooperation programme.
Information on the following Sustainable Development Goals (SDGs) can be found on this page: