Holistic approaches to health and work-life balance
GIZ Health Services
GIZ Health Services have been in particular demand during the COVID-19 pandemic. Mobile working has fostered the emergence of a digital GIZ world. The problems that the pandemic has brought with it have been broadly similar around the globe. Many staff members have health and security concerns. They are suffering stress, a lack of exercise, and additional challenges in reconciling professional and family commitments.
The company's Health Services team has been instrumental in maintaining staff health, motivation and performance under these circumstances. The Health Services team has stood by all staff, including the Management Board, managerial staff and the Staff Council, throughout the pandemic, offering health care and advice.
Health Services is an independent division within the HR Department. The division consists of Medical Services (MED), the psychosocial counselling unit (COPE) and Corporate Health Management (CHM).
Together they support the company and help staff maintain and enhance their physical, mental and social wellbeing as defined by the World Health Organization (WHO).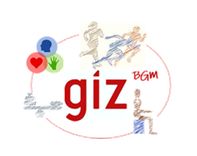 Corporate Health Management aims to establish a healthy corporate culture that takes account of individual needs. This makes it a key element of GIZ's policy on maintaining operational capacity. In this way, GIZ creates sustainable working structures and conditions that protect the long-term health of employees.
The seven pillars of the Corporate Health Management system enable GIZ to fulfil all its social responsibilities and its duty of care towards the workforce. They specifically address issues in the following areas:
health and prevention
emergencies and accidents
safety
work-life balance
ergonomics
sport and exercise
best practices.

At GIZ, health management is based on the principle of shared responsibility. Employees are responsible for maintaining their individual capacity to work. The company facilitates this by creating appropriate working conditions. Managers are expected to set a good example by representing the company's values and goals, exercising a duty of care towards their teams, and demonstrating personal responsibility.
Health Team
The interdisciplinary Health Team coordinates the activities of the various bodies responsible for ensuring safety at work and promoting good health. The team is made up of staff from different departments who exchange information on a regular basis. In 2020, it offered numerous activities and talks on health. The focus of the Health Day in Eschborn was mental health. Throughout the year, a wide range of activities were held at our offices in Bonn and Berlin, from skin cancer screening and digital stress level measurement, to sleep analyses and online health advice.
When the coronavirus pandemic began, the Health Team was already an established factor at Head Office. Health and wellbeing teams had also been set up in four countries as part of the pilot project CHM in the Field Structure. The teams identified situations that caused stress and problems, and found that these were broadly similar around the globe. To respond to challenges of this sort, they developed approaches to promote health, resilience and team spirit, and put these into practice swiftly, effectively and purposefully. CHM has issued a coronavirus newsletter during the pandemic that contains relevant information about support services relating to mobile working, dual burdens, ergonomics and exercise, stress management, work-life balance and CHM in the field structure.
Independently of the pandemic, GIZ continues to support staff and managers with the seminar and guidelines on healthy leadership and the guide and online training course 'self-coaching in managing work-related stress'.
The 'GIZ Moves! Active break culture' initiative is another service that CHM uses to encourage staff to take more physical exercise. Employees can agree to act as an exercise multiplier as one of their agreed goals in their staff assessment and development talk. Because of the COVID-19 pandemic and the resulting contact restrictions, staff can only enjoy breaks with colleagues online at the moment. Since March 2020, the 'active break culture' has been offered online, making it available to staff at all locations. GIZ's exercise officer and external trainers, who provided in-person classes before the pandemic, worked together to produce short videos. These are supplemented by livestream 'active breaks' and back workouts. The new activities have increased interest in the 'active break' further, with field staff in particular now able to join in.
In 2020, GIZ also offered online power napping workshops in German and English.
New in-house platform to help reconcile health needs, professional commitments and private lives
To ensure optimum information sharing in spite of the pandemic, CHM and colleagues working in HR, communication and health presented a new in-house dialogue platform in 2020. In this community, everything revolves around health (including GIZ MOVES! Digital, online health services, ergonomics) and achieving a work-life balance (including child care issues and caring for family members). In the community, staff can find regular new content provided by the Health Team.
Advice and counselling from GIZ Medical Services and COPE
Medical Services and our psychological counselling unit (COPE) round off GIZ's Corporate Health Management system. Medical Services offers advice on every aspect of health and health care to all those involved in employee health roles. Additional virtual preventive care formats have been developed in the face of the coronavirus pandemic. Medical Services helps the company to implement laws and regulations on occupational medicine with the aim of creating a healthy working environment for all staff and strengthening approaches to good health.
Support from COPE is available to all employees who may be looking for advice on issues such as trauma, addiction or work-related stress as a result of particular events or circumstances at work or in their personal life. COPE develops preventive mental health services and helps implement these. This service is a key part of the holistic approach to employee health adopted by GIZ.
Employee health services available worldwide
GIZ also protects its employees outside Germany against sickness-related risks. This usually involves enrolling staff in local or regional state or private-sector insurance schemes.
All employees can find out about the activities of Health Services and about occupational health and safety on the intranet. They have access to extensive online resources covering topics such as safety and security instruction, ergonomics and exercise.
The pilot project launched in 2018 and entitled Corporate Health Management in the Field Structure is establishing structured and holistic activities at all locations worldwide. The COVID-19 pandemic has demonstrated the importance of this global networking. The pilot project ran until June 2021. The initial objective was to establish permanent Corporate Health Management services in the pilot countries India, Mexico, Sudan and Uganda. Individuals have been appointed as Corporate Health Management focal points in each of these countries and are involved in intensive discussions at scheduled monthly intervals. Health and Wellbeing Teams have now been set up in all the pilot countries and share information and ideas with the Health Team in Germany. The current situation has been outlined in each pilot country, and the findings have been compiled in country profiles with general indicators and data on particular health issues and environmental factors. The reviews also specifically examined what Corporate Health Management measures had already been implemented in the pilot countries. In addition, various surveys were conducted to identify local needs. Building on this, the first country-specific Corporate Health Management services are being implemented, covering issues such as lack of exercise, diet, ergonomics, stress management and air pollution.
Reconciling work and personal commitments
For many years, as well as establishing healthy working structures and conditions, GIZ has offered numerous services to help its staff reconcile their work and personal commitments.
To support parents with young children, for example, GIZ provides a total of almost 120 in-house daycare places at its two main sites in Bonn and Eschborn. Parent-child offices are also available in these locations and in Berlin. Staff assigned to one of the GIZ country offices can apply for an allowance towards their childcare costs or school fees. Returning staff can apply for an allowance towards childcare costs for a period of up to one year if no places are available at GIZ's own daycare facilities in Bonn or Eschborn.
Trained care advisors are on hand to support employees who care for dependent relatives or family members. GIZ is a signatory to the German Care Charter and is thus part of the relevant network. What can you do, for example, if a family member falls ill in Germany and needs care while you are on assignment in a partner country? Detailed information can be found on the intranet. GIZ's 'home and elder care' partner offers advice and agency services for staff based in Germany and abroad. The company also organises further in-house information events and webinars for employees with caring responsibilities.
GIZ's regulations on working hours also include provisions that allow employees to reduce their hours temporarily for family reasons. Staff in Germany and abroad enjoy considerable flexibility when it comes to deciding which hours they wish to work during the day. All staff are entitled to work remotely on at least two days a week. This arrangement makes it easier to reconcile the demands of work with family commitments. In exceptional circumstances, this can be increased to up to five days a week. During the coronavirus pandemic, this has allowed GIZ to switch rapidly to largely virtual operations, maintaining processes and workflows and even conducting remote appraisals for projects abroad.
Collective bargaining arrangements make assignments more flexible, allowing staff to work on a project in the partner country but also regularly spend extended periods of the assignment working in Germany. This option is particularly interesting to employees whose family or partner cannot or does not wish to accompany them during a lengthy international assignment. Under a further collective bargaining provision based on a graded and transparent system, different conditions now apply to international assignments in locations where the security situation is classed as fragile. Assignments of this kind are becoming more common and are particularly challenging, especially for families. Particular benefits have been introduced for accompanying families to build greater resilience and help them deal with demanding working and living environments. The benefits offer greater planning certainty, especially for families, and include support in extreme cases where an early return or relocation to a different country of assignment – with all the associated costs – becomes unavoidable.
The general conditions for foreign assignments with accompanying family members are improved on a continuous basis. In 2019, for instance, a new relocation service was set up to help families with the arrangements for moving out to and, at a later date, returning from their country of assignment, as well as with organisational matters in their country of assignment. The company has also put in place a contact structure for accompanying partners at Head Office and in some pilot countries in order to advise partners on employment opportunities in particular, and to provide guidance. This reflects the fact that many accompanying partners have demanding careers which they wish to continue abroad.
For the last 25 years, GIZ's policies covering families and employees' different stages of life have been audited and certified externally under Germany's berufundfamilie (career and family) scheme.
Information on the following Sustainable Development Goals (SDGs) can be found on this page: